Lynda Cox has visited the blog today to tell us a bit about her Christmas traditions and all the ways she's decorated her Christmas tree. She also gave us a peek into West of Forgotten, and has a giveaway open. Be sure to enter by commenting on the blog!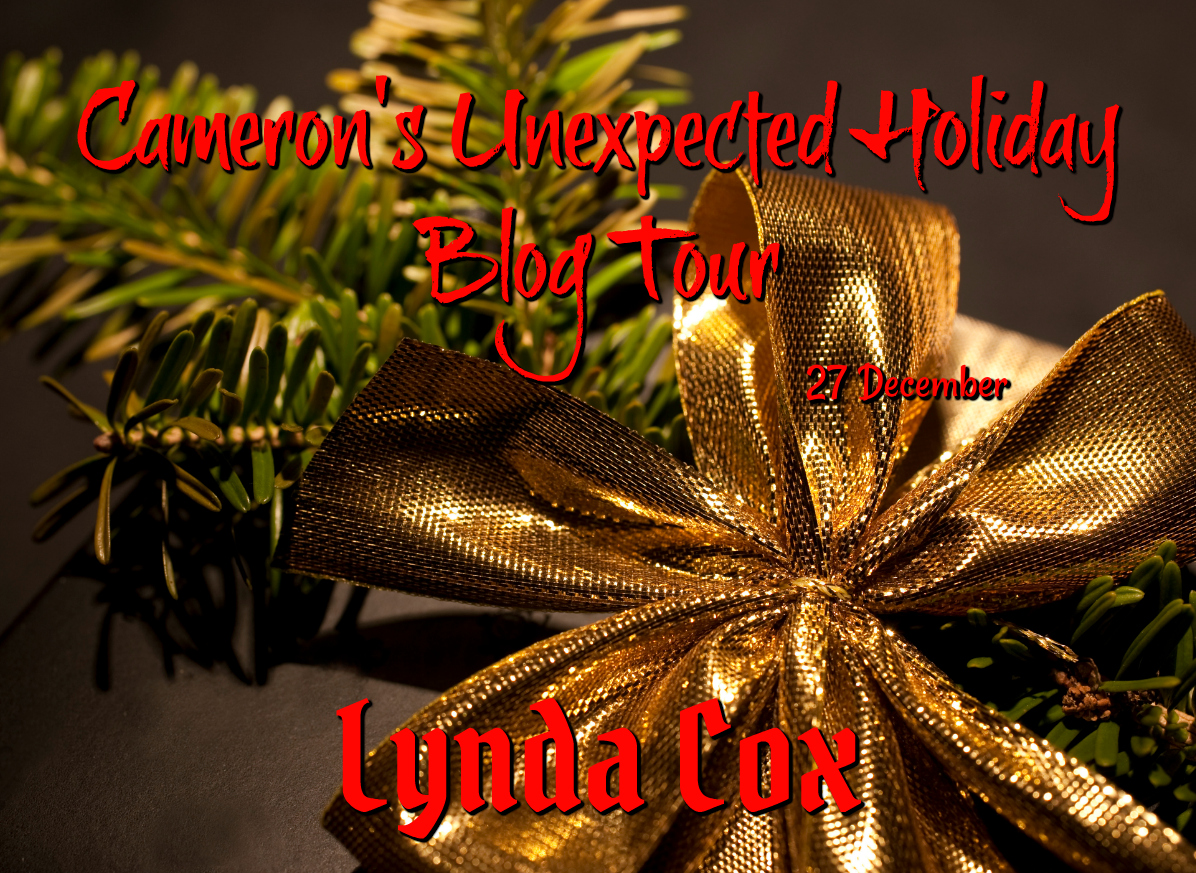 When my kids were at home, traditions were a big thing. Now that they're grown, they have their own traditions for their families. It's just the way it is. One tradition that has carried over through the years, though, is how the tree is decorated. We used to have a big tree that stood in the corner of the living room. Alternating years the tree had a theme. One year, it was totally decorated with little teddy bears, country-flair ribbon (think old country kitchen), old fashioned bubble lights, and popcorn strings. The year of 9/11 even though it was the year that there wasn't a theme, it was my kids who said the tree had to be decorated in red, white, and blue. We hit up the dollar store that year for anything that said "America" to them—small replicas of the Statue of Liberty, little brass bells (try finding the Liberty Bell), American flags. We bought strings of all red, all blue, and all white lights, pulled the little lights out and restrung them in red, white, and blue. (NEVER AGAIN will I do that!) We don't have a large tree anymore. However, I've been on a "Victorian tree" kick for the last three or four years. It's amazing what I can do with a cheap three-foot tree. Put enough lights on it, enough picks in it, enough garland and ribbon and that really cheap little tree looks darn good.
My hubby continues a tradition that started for me when I was child. My grandmother gave me my first nutcracker when I was about twelve or thirteen. Every year, I have received a new nutcracker from someone and I have a bad habit of buying one or two each year, also. Hubby buys me a nutcracker for the collection every year and because I also collect Santa Claus figures and angels, he makes sure I have one of these, too.
---
West of Forgotten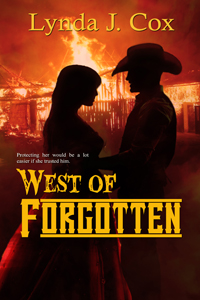 "You are an interesting woman. Beautiful, fascinating, and so full of contradictions." Harrison levered back from her and lifted his hand to cradle the side of her face, the pad of his thumb feathering along the slope of her cheek. "A seemingly very strong woman and yet terrified of a kiss."
Rachel's mouth was dry and she couldn't pry her tongue from the roof of her mouth. Her limbs trembled. Surely he had to hear how fiercely her heart was pounding, so loudly she heard it echoing in her ears.
His voice deepened, grew quieter until it was almost a whisper and she fought the urge to close her eyes and let the warmth in his voice wash fully over her. "A woman with a child but so frightened of intimacy." He leaned even closer to her, his mouth almost on hers, yet not touching her except where his warm palm held her face.
In the darkness, she could just make out his features. Her hands slid up his chest and she didn't know if it was to push him away or pull him closer. She was aware her breathing was shallow and she held her breath when he brushed the pad of his thumb against her lower lip.
"You have a mouth made for kissing, my beautiful wife, but I'm not going to kiss you. Not until you ask me. And, I promise, when that time comes, you'll be asking me to do a whole lot more than just kiss you."
Author Bio:
Once upon a time there was a little girl who said when she grew up, she was going to have dogs like Lassie, own horses, and live on a ranch just like the Ponderosa. Two out of three isn't bad. If she can't live on a ranch, Lynda J Cox writes about characters who do. She has a master's degree in English and decided three credit hours for a second degree in history was three more hours than she wanted to commit to. Cox's award winning romances are what one reviewer called an authentic blend of Old West action and happily ever after romance. Her first book The Devil's Own Desperado was a Laramie Award winner for best debut novel. Her subsequent next three books have all earned 4 or more stars from InD'Tale magazine.
Connect with Lynda
Facebook: Facebook
Twitter: @lyndacox
To find all Lynda's books on Amazon, go through her author page: https://www.amazon.com/Lynda-J.-Cox/e/B009LW3JZ6/
Lynda is giving away one e-book, the winner gets to select which book from Lynda's collection of published works. To enter comment on the blog post. Lynda will select a winner in a week's time, so the contest will remain open until January 2 2018.
Need to catch up on the tour?
Day One Sean Kerr visited us sharing a recipe, an excerpt, and a giveaway. Sean's giveaway is open until December 26th. Catch up with Sean here.
Day Two Dena Garson stopped by to tell us about her holidays, share an excerpt and offer a giveaway. Dena's giveaway is open until the end of the tour. Catch up with Dena here.
Day Three M Jane Colette visited us for a therapy session. She also shared an excerpt and has a few giveaways going. Jane's giveaway is open until the end of the tour. Plus get a FREE ebook when you sign up for her newsletter Catch up with Jane here.
Day Four Lacie Doyle came by to tell us about her Big Fat Greek Wedding style Christmases, share an excerpt from The Deal, and offer up a giveaway. Lacie's giveaway is open until the end of the tour. Catch up with Lacie here.
Day Five Jan Graham visits us and shares a tasty looking recipe, and excerpt and a giveaway. Jan's giveaway is open until the end of the tour. Catch up with Jan here.
Day Six Errin Steven stopped by to share a yummy yet easy to make recipe, her book blurb and a giveaway. Errin's giveaway is open until December 28th. Catch up with Errin here.
Day Seven Matt Converse visited us and shared his horror holiday tradition, as well as an excerpt and a giveaway. Matt's giveaway is open until the end of the tour. Catch up with Matt here.
Day Eight L.A. Remenicky stopped by and shared an appetizer recipe, the blurb from her holiday story and a giveaway. Remenicky's giveaway will be open until December 27th. Catch up with L.A. Remenicky here.
Day Nine come and visit with me. I shared a few cookie recipes, a naughty holiday excerpt, and a giveaway. My giveaway will be open until the end of the tour. Catch up with Cameron here.
Day Ten Lilly Rayman visits the blog and tells us how her Christmas has changed, shares an excerpt, and has a giveaway. Additionally Lilly is giving a FREE book to everyone who visits her blog post. Catch up with Lilly here.
Day Twelve Rosie Chapel came by to tell us about her Christmas historical romance, and share a giveaway. Catch up with Rosie here.
Day Thirteen Kelly Stock stopped in to tell us about her holidays and share an excerpt from her urban fantasy novel, and of course do a giveaway! Catch up with Kelly here.
Day Fourteen Sarah Hawthorne shared a recipe with us, and tells us about her upcoming release. Sarah is also giving away an ebook to each person who visits the blog. Catch up with Sarah here.