Today we welcome M Jane Colette to the blog. She's going to tell us a little bit about what Christmas is like for her. She's also sharing with us an excerpt from Messy Christmas, AND she's got some great giveaways, so be sure to stick around until the end…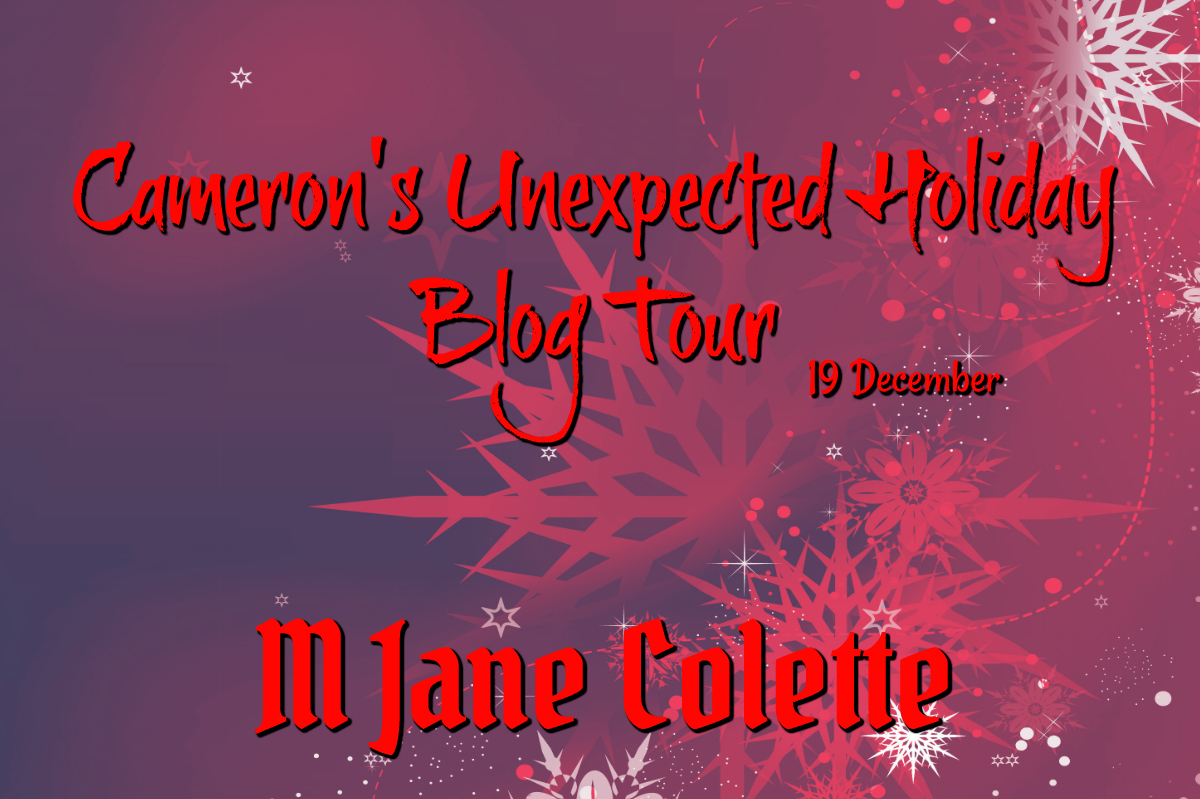 Jane Colette on why she has Christmas issues and needs therapy but is NOT dating her therapist
Therapist: So. Do you want to talk about your Christmas issues?
Jane: I don't have Christmas issues.
Therapist: You do.
Jane: I don't.
Therapist: Jane, I've read your books. The first one actually has a chapter called "Worst Christmas Ever." In the second one, the cataclysmic climax occurs at Christmas Dinner…
Jane: Actually, they make it through dinner fine. The explosion comes after…
Therapist: Splitting hairs. Christmas issues. You. Severe. Shall we talk about them?
Jane: No.
…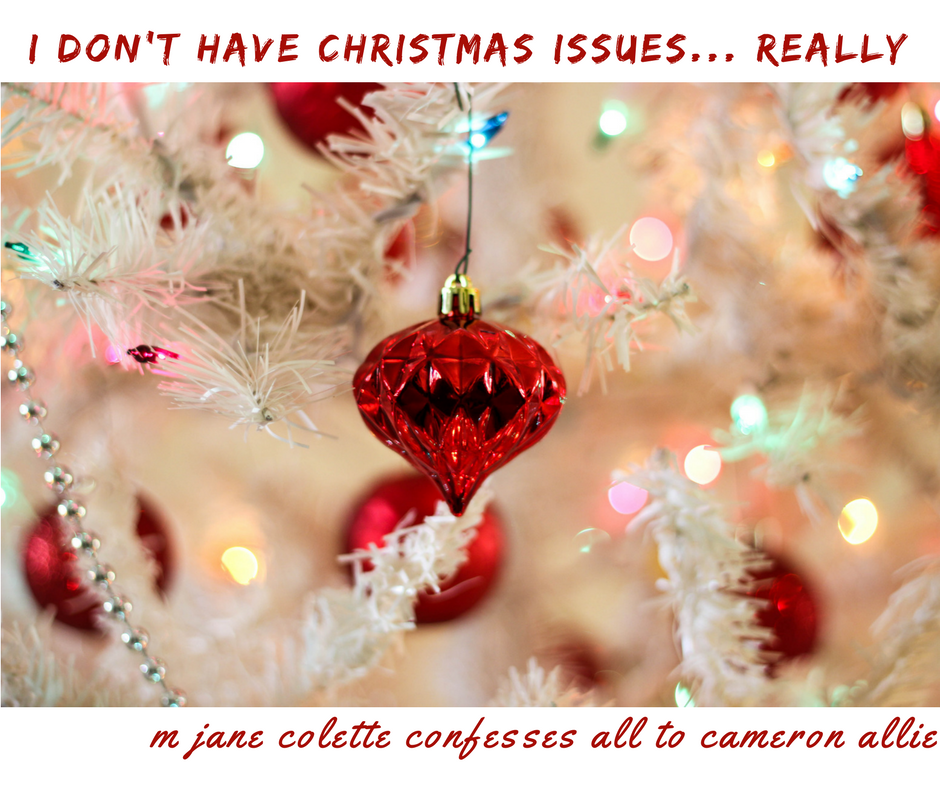 This is how my faux-memoir short story, "Therapy," begins. It's part of a collection I've curated for the YYC Queer Writers, called Queer Christmas in Cowtown, and it's a funny (and sexy) piece in which I very carefully tell neither my therapist nor my reader why I hate Christmas.
And I don't really hate Christmas, you know. I just… struggle with it, as I think many of us do.
I'm not sure why. But my therapist is right. If you read my books, you know I struggle with Christmas. I kinda smack you in the face with it. The action in Tell Me, my first novel, unfolds entirely over the Christmas holidays. The climax in Consequences takes place on Christmas Day and Boxing Day. In Cherry Pie Cure, the heroine discovers her husband is cheating on her on Christmas Eve. And in Messy Christmas, the novella I've released this month, everything goes wrong (and then right, because I'm all about the happy ending—I just want to put you through the emotional wringer first) at Christmas.
I won't tell you why. If you have Christmas issues yourself—well, mine are probably not that different… and if they are… the root causes are the same. I try to deal with them—apparently by writing about them!—but also by trying to make Christmas really awesome for my kids. (I have three). So, our Christmas tree is frequently up on November 1 and always by December 1. Advent calendars are a BIG deal in this non-Christian household—chocolate for the two older kids and a custom-made one for my lactose-intolerant babe who can't eat regular chocolate.
We try to keep Christmas commercially minimalist—no Christmas shopping frenzy here and no present exchanges past the immediate nuclear family. My goal for December is lots of time sledding, skating, and snowball fighting—in Calgary, where we live, December is usually crazy snowy. (But not this year! Not a flake of snow!)
Christmas Eve is a big deal in my family, and we spend it with my parents and my brother and his family, in our parents' Canadian interpretation of a traditional Polish Christmas Eve. It's fabulous and insane: there is too much food and too much noise and too many presents, but the kids wouldn't trade it for anything.
Christmas Day, we go Canadian, and, after a quiet family morning, we spend it with my partner's family. Sometimes it's simple, sometimes it's crazy—in-laws and in-laws of in-laws and partners of partners and… oh my.
On Boxing Day—I'm exhausted and Christmased-out, and I take down the Christmas tree and ALL the decorations… and my real holiday season begins. Boxing Day is chill—I don't shop or return presents or DO ANYTHING. I cuddle my kidlets and loves, and we all eat cold left-overs, and maybe go sledding and watch Christmas movies. In the evening, my partner and I escape to a sheesha lounge.
Sneak back into the house when the kids are asleep and have fabulous… you know. 🙂
Ah.
Christmas.
I really love it once it's over.
By the way, if you end up reading my short story, "Therapy," in the anthology Queer Christmas in Cowtown—I'm NOT dating my therapist. Right now. ;P Because that would be terribly unethical… but oh. What a great starting point for a romance novel…
---
MESSY CHRISTMAS
(Text Me, Cupid—episode one)
by M. Jane Colette
Genre: rom-com meets erotic romance
Meet Will and Florence. He's freshly divorced and in denial. She's twice-burnt and prickly. They're a terrible idea. They know this. But every time their eyes meet, their clothes come off.
Experience their unique, hilarious, and heart-wrenching love story through 2018, in Text Me, Cupid: A Steamy Holiday Love Story in Four Episodes:
• Episode 1: Messy Christmas (December 2017)
• Episode 2: Delayed Valentine (February 2018)
• Episode 3: Bittersweet Halloween (October 2018)
• Episode 4: Saving Christmas (December 2018)
This is how it begins:
Messy Christmas: Text Me Cupid, Episode One
Scene 1:
THE CHALLENGE
December 1, 2017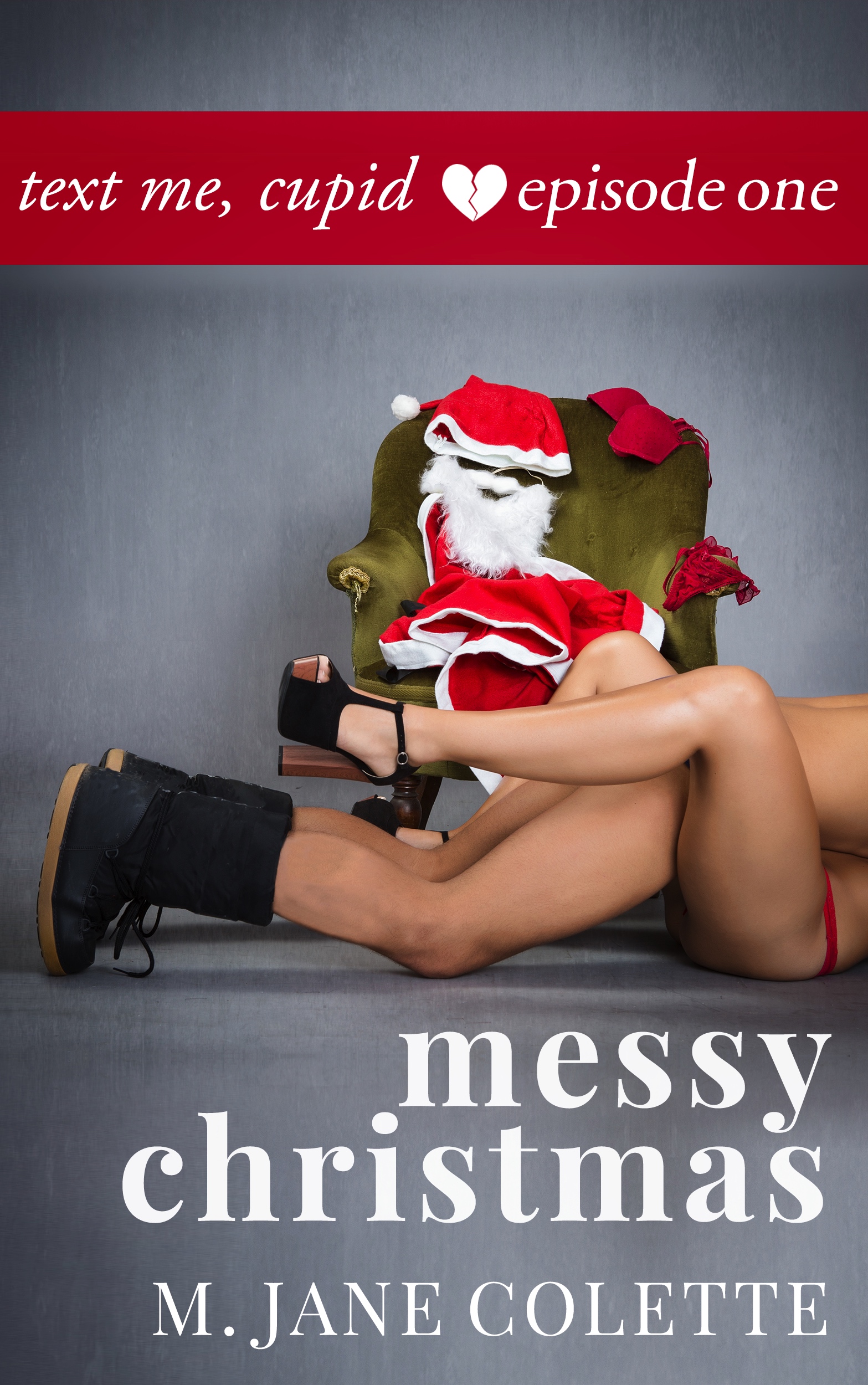 PROFILE: notanightingale
38, Straight, Woman, Single, 173 cm, Fit
Caucasian, Speaks English and Other, Attended high school ?, Religion Other (and laughing about it)
Never smokes, Never drinks, never does drugs, Carnivore, Has kid(s) and doesn't want more, Sagittarius 
K, I've done this before, looking for a partner or soul mate or someone-to-grow-to-love, and you know what? I'm done with that. Honestly: I'm just looking for some casual sex. Specifically, during December. It's a weird season overloaded with memories and childhood trauma—and adult trauma for that matter. Which is already more than what you need to know. All I'm interested in is a one-night stand, or several—not all of them with you, I'm just making it clear that I'm interested in playing with multiple partners. I don't want to get attached and I don't want you to get attached.
And seeing as that's what I'm looking for, you don't really need to know anything else, right? Look at the pics. If I'm cute enough, message me.
I don't respond to creeps, children, married men, or fat people. Sorry. I am that shallow. I might consider couples, if you're both fit and cute. (Shallow. Really shallow. I'm not kidding about that.)
December sucks. Let's make it more fun for each other for one night.
Scene 2:
THE CHALLENGER
December 3, 2017
willornot sent you a message!
willornot: Are you for real?
notanightingale: Are you?
willornot: Meet for coffee to find out?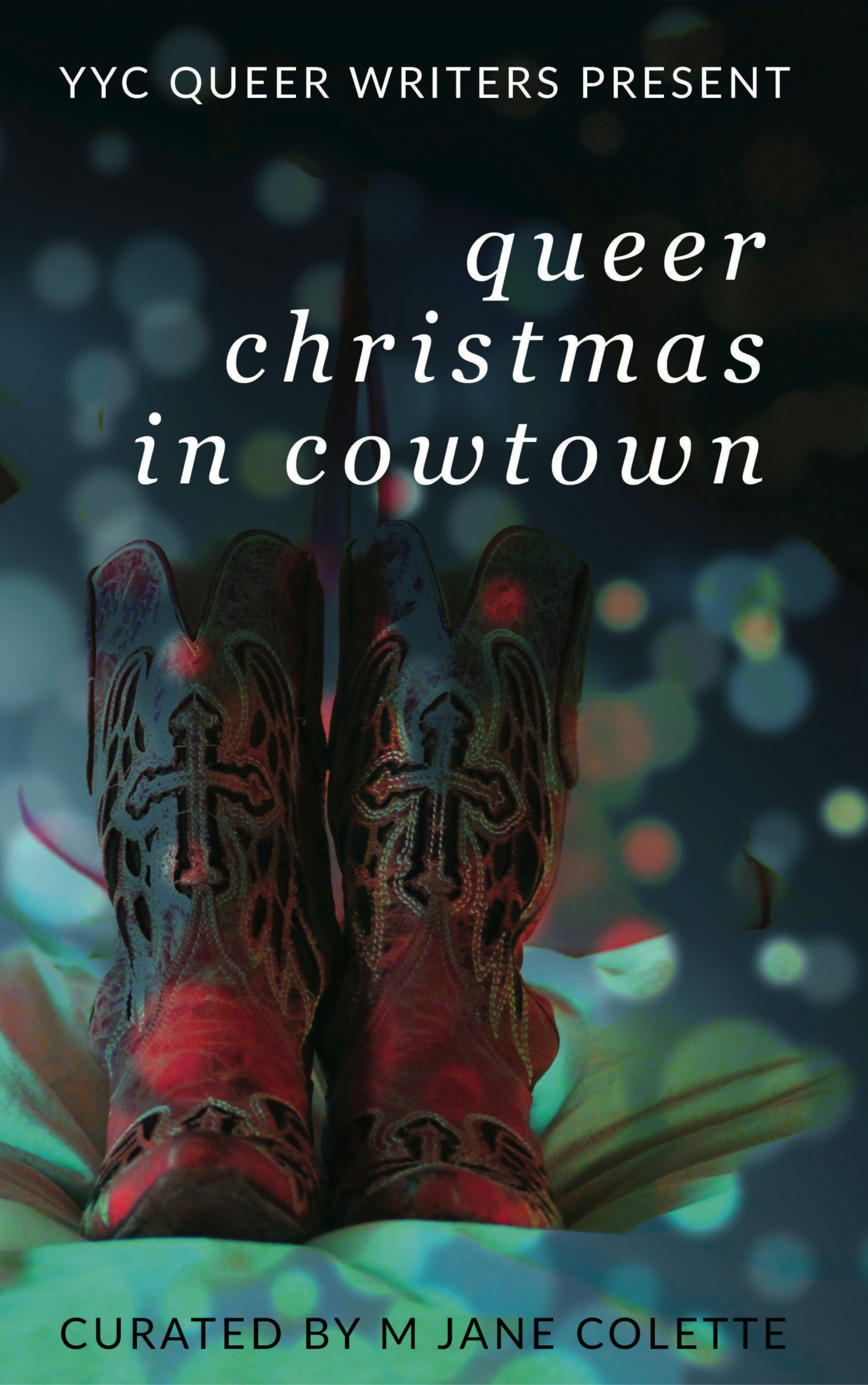 notanightingale: Do you understand and agree to my terms?
willornot: I'm reeling from a recent divorce and incapable of having a meaningful relationship, possibly even a meaningful conversation. Or, at the moment, a meaningful life. The only upside to my situation is that after fifteen years of monogamy I get to chase all the strange I want. And December sucks. And I'm damn fit for a guy a couple of years past forty. Also—bonus—I still have all my hair. So, yeah. Bring it on, Florence.
notanightingale: Did you just figure out my real name from my handle? Oh, Will. We will have fun.
willornot: It was rather obvious. So. Coffee. Saturday morning?
notanightingale: One night stands begin in the evening. Wednesday night? Also, you're not teasing about the hair? I can do bald, but only if it comes with killer abs.
willornot: Fucking full head of hair. Although there's more salt than pepper in it—as you can tell from the pics if you look. Premature greying. It's because I'm so fucking brilliant.
willornot: Also, I do have killer abs. Thank you for inferring.
notanightingale: Also, you like big words. LOL. So—Wednesday night?
willornot: Wednesday night. Cafe Blanca near Eau Claire convenient for you? My apartment's just upstairs.
notanightingale: Perfect.
* * *
The story continues in real time on Facebook ( https://www.facebook.com/mjanecolette2) and Book + Main (https://bookandmainbites.com/mjanecolette); or one click to buy and read in one full go on Amazon: relinks.me/B077VL1PGF
Author Bio: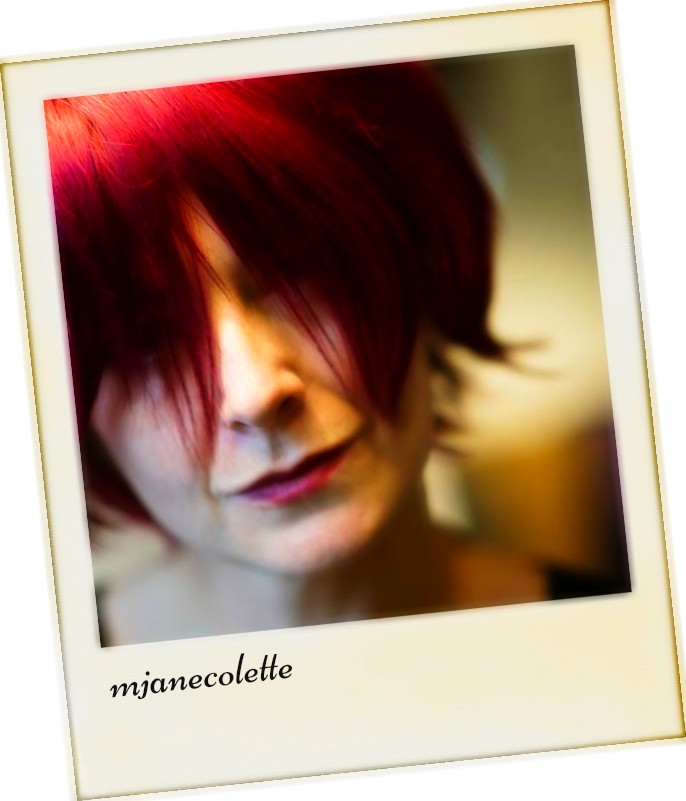 Jane Colette writes tragedy for people who like to laugh, comedy for the melancholy, and erotica for women and men who like their fantasies real. She believes rules and hearts were made to be broken; ditto the constraints of genres. Her published novels include the erotic romance Tell Me, the erotic tragedy (with a happy ending!!) Consequences (of defensive adultery)—now also available as an audiobook—and the romantic comedy Cherry Pie Cure. This December, she's facing her Christmas issues head-on with the releases of Messy Christmas, the first "episode" of Text Me, Cupid, an uber-steamy holiday romance, and Queer Christmas in Cowtown.
Connect with Jane:
(BEST place to CONNECT!! and, if you sign up, you get a free taste of my writing: Taste Me: The Thinking Woman's Erotica)
Where to purchase Jane's books:
For universal buy links to all of M. Jane Colette's books, visit Tell Me, Where do I buy the damn books:
To buy Episode One of Text Me, Cupid, Messy Christmas, click here

Jane is giving away two different prizes. For a chance to enter comment on the blog post
The Messy Christmas ebook to one lucky winner and the audiobook version of Consequences (of defensive adultery) to another one.
And remember, if you sign up for my newsletter (http://eepurl.com/cg-luP), you get a FREE book: Taste Me: The Thinking Woman's Erotica.
This giveaway will be open until the end of the tour. So be sure to comment by December 31st!
Need to catch up on the tour?
Day One Sean Kerr visited us sharing a recipe, an excerpt, and a giveaway. Sean's giveaway is open until December 26th. Catch up with Sean here.
Day Two Dena Garson stopped by to tell us about her holidays, share an excerpt and offer a giveaway. Dena's giveaway is open until the end of the tour. Catch up with Dena here.
Day Four Lacie Doyle came by to tell us about her Big Fat Greek Wedding style Christmases, share an excerpt from The Deal, and offer up a giveaway. Lacie's giveaway is open until the end of the tour. Catch up with Lacie here.
Day Five Jan Graham visits us and shares a tasty looking recipe, and excerpt and a giveaway. Jan's giveaway is open until the end of the tour. Catch up with Jan here.
Day Six Errin Steven stopped by to share a yummy yet easy to make recipe, her book blurb and a giveaway. Errin's giveaway is open until December 28th. Catch up with Errin here.
Day Seven Matt Converse visited us and shared his horror holiday tradition, as well as an excerpt and a giveaway. Matt's giveaway is open until the end of the tour. Catch up with Matt here.
Day Eight L.A. Remenicky stopped by and shared an appetizer recipe, the blurb from her holiday story and a giveaway. Remenicky's giveaway will be open until December 27th. Catch up with L.A. Remenicky here.
Day Nine come and visit with me. I shared a few cookie recipes, a naughty holiday excerpt, and a giveaway. My giveaway will be open until the end of the tour. Catch up with Cameron here.
Day Ten Lilly Rayman visits the blog and tells us how her Christmas has changed, shares an excerpt, and has a giveaway. Additionally Lilly is giving a FREE book to everyone who visits her blog post. Catch up with Lilly here.
Day Eleven Lynda J Cox stopped by to chat about the holidays, and share an excerpt and giveaways. Catch up with Lynda here.
Day Twelve Rosie Chapel came by to tell us about her Christmas historical romance, and share a giveaway. Catch up with Rosie here.
Day Thirteen Kelly Stock stopped in to tell us about her holidays and share an excerpt from her urban fantasy novel, and of course do a giveaway! Catch up with Kelly here.
Day Fourteen Sarah Hawthorne shared a recipe with us, and tells us about her upcoming release. Sarah is also giving away an ebook to each person who visits the blog. Catch up with Sarah here.