Today Rosie Chapel has come to visit! Several of the authors who have been dropping by live in Australia. As I sit here looking out at the snow it's very hard for me to imagine Christmas in a warm climate. Although maybe I should try it…
Be sure to stick around for Rosie's excerpt and giveaway!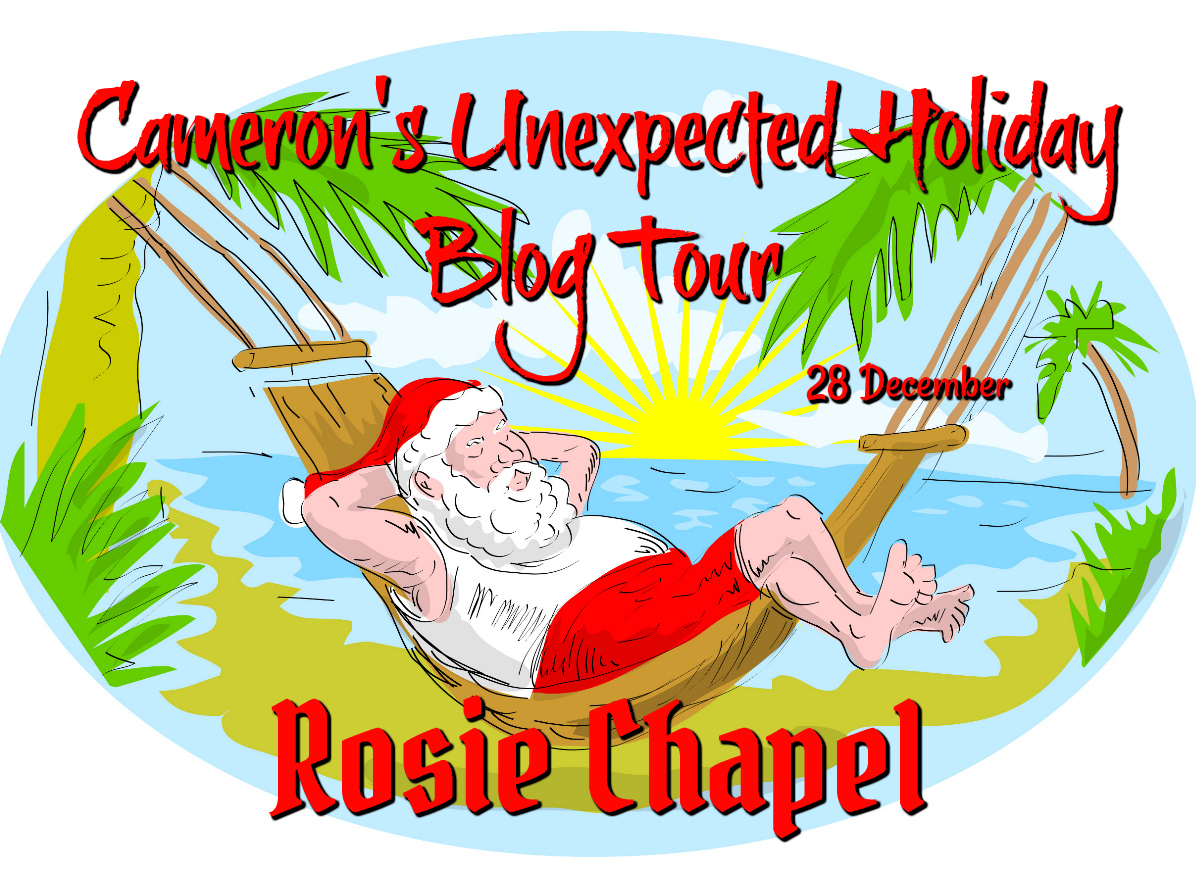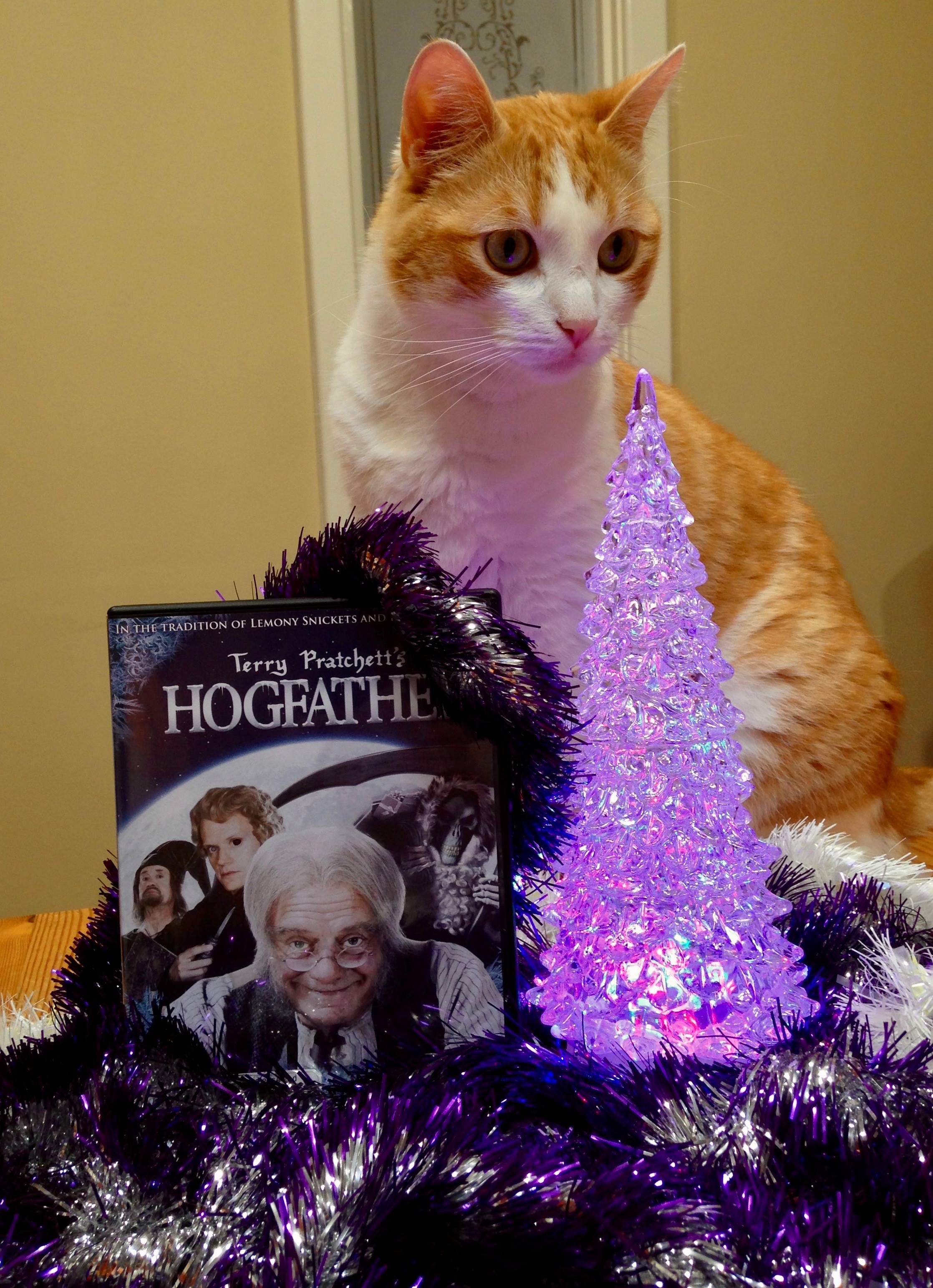 For the first, almost, thirty years of my life I lived in the north east of England where, although we do get snow, it wasn't often at Christmas, but it was always cold with a heavy frost coating the landscape. Then we came to Australia and the seasons were flipped. Suddenly it was all about BBQ's and beaches not roast turkey and roaring fires. It took some getting used to and I must admit, even twenty years later, a summer Christmas isn't quite the same. So, we began our own traditions.
We don't have a tree, well not a proper tree, this is because we have two cats, who think climbing the tree or swinging from the tinsel is the best fun ever, so we had to think outside the box. Wall and window decals have replaced tinsel and trees, along with a few Christmas ornaments.
Every Christmas Eve, accompanied by wine and tasty nibbles (of course) we watch Hogfather, the movie based on Terry Pratchett's novel, and, afterwards – if we're still awake – we might go to a midnight service. Since it's just hubby and me, Christmas Day itself it's usually quiet. Lunch is quickly sorted – I'm not a very adventurous cook, so whatever we do needs to be uncomplicated! Our starter is lightly seared scallops, drizzled with lemon juice, followed by the main dish of prawns, tossed in spicy seasoning, on a bed of rocket and spinach with bocconcini, baby tomatoes and sliced avocado – simple yet the perfect complement to a hot day. We treat ourselves to a bottle of Blush, the most amazing sparkling rosé from one of the wineries in the Swan Valley, just outside Perth. In the afternoon we Skype with family back in England, then later on, chose one of our favourite movies, with the rest of the wine, or a glass of limoncello and, more than likely, chocolate! It's not very exciting, but for us it's a great way to unwind and enjoy an unpressured and peaceful day at the end of a busy year.
---
A Love Unquenchable – Blurb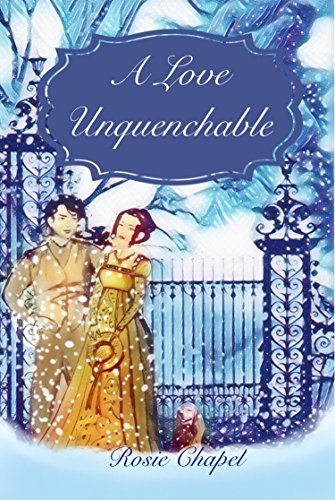 Jessica Drummond, a bright and cheerful young woman, rarely gives romance, let alone love, a thought. Long hours working in her brother's shipping office affords little chance of her ever meeting an eligible bachelor.
Duncan Barrington, veteran of the Napoleonic Wars, believes himself wounded in both body and soul. He has no intention of inflicting his demons on anyone, certainly not a beautiful and, in his opinion, irresponsible city lady.
One cold and snowy morning, the plight of a bedraggled puppy throws Jessica and Duncan together and, as a spark of something indefinable yet wholly unquenchable begins to burn, it is unclear who rescued whom.
Excerpt
Taking this as a sign, Duncan drew Jessica closer, the desire to feel her against him outweighing the warnings in his head and any other consideration that should have stopped such behaviour. Out of the blue, he recalled the phrase, the quote which taunted him earlier; doubt thou the stars are fire, doubt that the sun doth move, doubt truth to be a liar, but never doubt I love. Maimed, not only in body, but also in soul, Duncan had long presumed his emotions just as crippled, yet these words resonated with him, making him feel more alive than he had since his return from the Peninsula. He shook his head trying to clear his mind, but never had he felt like this; it was as though she had somehow hypnotised him for, still holding her hand, he wrapped his other arm around her and brushed his lips lightly against hers.
Author Bio:
Born and educated in the north east of England, Rosie emigrated to Australia with her husband nearly twenty years ago and currently lives near Perth, with her husband and three furkids. After a long career in administration, she returned to university, and recently completed a BA in Classics & Ancient History and Medieval & Early Modern Studies.
Having developed an abiding love for anything connected to Ancient Rome, Rosie decided to channel her passion into fiction, which culminated in her first novel The Pomegranate Tree. Based around the archaeological excavations on Masada, this is the first of four books which make up the 'Hannah's Heirloom' sequence. Although the scenarios are fictional, each book is woven around historical events, with added romance and a twist.
While Rosie was researching the final book in this sequence, she discovered Regency Romances, was immediately hooked and a whole new series was born. In between all this, she has completed a contemporary romance, is very excited to be part of several upcoming anthologies, and keeps trying to placate the insistent voices in her head, clamouring for their own stories.
When not reading, Rosie enjoys catching up with friends, walking her beloved dog, Pepsi, and exploring the scenic beauty of Western Australia, which is right on her doorstep.
Connect with Rosie:
Twitter: @RosieChapel2015
Amazon:
Purchase Rosie's stories here:
The Pomegranate Tree: books2read.com/ThePomegranateTree
Echoes of Stone and Fire: books2read.com/EchoesOfStoneAndFire
Embers of Destiny: books2read.com/EmbersOfDestiny
Etched in Starlight: books2read.com/EtchedInStarlight
Hannah's Heirloom Trilogy – Compilation (kindle only) books2read.com/HannahsHeirloomTrilogy
Once Upon An Earl: books2read.com/OnceUponAnEarl
To Unlock Her Heart: books2read.com/ToUnlockHerHeart
Love on a Winter's Tide: books2read.com/LoveOnAWintersTide
A Love Unquenchable: books2read.com/ALoveUnquenchable
Of Ruins and Romance: books2read.com/OfRuinsAndRomance
Other Works
The Highwayman's Kiss – Once Upon a Love Anthology released 25th Nov 2017
Heart Rescued – Tales from the Season Anthology released 13th December 2017
His Fiery Hoyden – An Unexpected Romance Anthology – due Feb 2018
Luck be a Pirate – Kiss My Luck St Patrick's Day Anthology – due March 2018
Finally Home – Cancer Charity Anthology – due mid 2018 date TBA
Love Kindled – Building Love RMH Anthology – due Dec 2018
Rosie is giving away an e-book version of A Love Unquenchable ~ A Regency Romance. For a chance to win comment on the blog and tell us your own favourite tradition. This contest will remain open until January 2, 2018
Need to catch up on the tour?
Day One Sean Kerr visited us sharing a recipe, an excerpt, and a giveaway. Sean's giveaway is open until December 26th. Catch up with Sean here.
Day Two Dena Garson stopped by to tell us about her holidays, share an excerpt and offer a giveaway. Dena's giveaway is open until the end of the tour. Catch up with Dena here.
Day Three M Jane Colette visited us for a therapy session. She also shared an excerpt and has a few giveaways going. Jane's giveaway is open until the end of the tour. Plus get a FREE ebook when you sign up for her newsletter Catch up with Jane here.
Day Four Lacie Doyle came by to tell us about her Big Fat Greek Wedding style Christmases, share an excerpt from The Deal, and offer up a giveaway. Lacie's giveaway is open until the end of the tour. Catch up with Lacie here.
Day Five Jan Graham visits us and shares a tasty looking recipe, and excerpt and a giveaway. Jan's giveaway is open until the end of the tour. Catch up with Jan here.
Day Six Errin Steven stopped by to share a yummy yet easy to make recipe, her book blurb and a giveaway. Errin's giveaway is open until December 28th. Catch up with Errin here.
Day Seven Matt Converse visited us and shared his horror holiday tradition, as well as an excerpt and a giveaway. Matt's giveaway is open until the end of the tour. Catch up with Matt here.
Day Eight L.A. Remenicky stopped by and shared an appetizer recipe, the blurb from her holiday story and a giveaway. Remenicky's giveaway will be open until December 27th. Catch up with L.A. Remenicky here.
Day Nine come and visit with me. I shared a few cookie recipes, a naughty holiday excerpt, and a giveaway. My giveaway will be open until the end of the tour. Catch up with Cameron here.
Day Ten Lilly Rayman visits the blog and tells us how her Christmas has changed, shares an excerpt, and has a giveaway. Additionally Lilly is giving a FREE book to everyone who visits her blog post. Catch up with Lilly here.
Day Eleven Lynda J Cox stopped by to chat about the holidays, and share an excerpt and giveaways. Catch up with Lynda here.
Day Thirteen Kelly Stock stopped in to tell us about her holidays and share an excerpt from her urban fantasy novel, and of course do a giveaway! Catch up with Kelly here.
Day Fourteen Sarah Hawthorne shared a recipe with us, and tells us about her upcoming release. Sarah is also giving away an ebook to each person who visits the blog. Catch up with Sarah here.