Today we kick of the Holiday Blog Tour with my good friend Sean Kerr. Sean is a fellow eXtasy author, who lives an active social life, writes sexy intense stories, and is such a lovely person. Let's find out how he spends his holidays….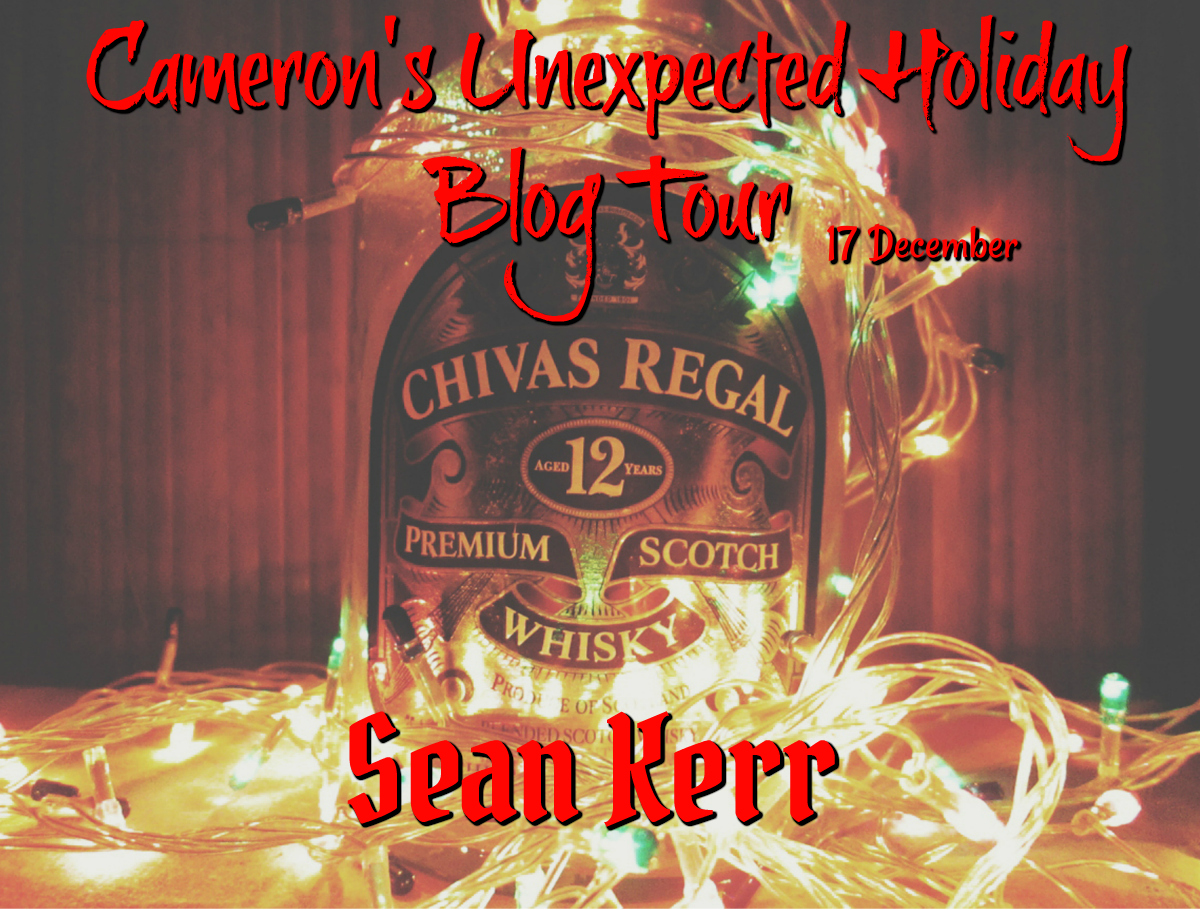 Christmas is a very special time of year for me and my family. I have so very many happy memories from childhood of the festive season, of Christmas trees, eggnog, mince pies, family parties, and most of all, laughter. As an adult, I have carried those traditions on into my own celebrations, and I love every moment of it!
The most important day for me is December 23 rd, because I have all my family over for the day, and I cook a huge banquet of a three-course meal. Now this takes a lot of thought and preparation, and while it is a heck of a lot of work, I love doing it, because it is my family and I love to do it for them.
One of the things that I must have ready for the 23 rd is my Christmas cake, and as such, my preparations start in October! Yes, you read correct, I start cooking in October! My Christmas cake, fruit mincemeat for mince pies, and my Christmas puddings all must be prepared in October in order for them to mature for a couple of months before the big day. This is when I pull out my favorite cook book in all the world, my baking Goddess, Deliah Smith with her Christmas cook book! This is my bible. My entire festive season revolves around this dog eared, food encrusted book.
Preparation for the cake begin a week before I bake it, because all the fruit has to soak in a plethora of different spirits before the cake mixture is assembled.
For the soaking.
3 tablespoons rum
3 tablespoons of brandy
3 tablespoons of cherry brandy
3 tablespoons of port
3 tablespoons of water
Half a teaspoon of ground cinnamon
Half a teaspoon of nutmeg
Half a teaspoon of ground cloves (be very sparing)
Half a teaspoon of salt
1 and a half teaspoons of vanilla extract
1 tablespoon of molasses sugar
450g raisins
225g currants
110g no-soak prunes chopped
50g glace cherries
110g mixed candied peel
50g chopped nuts
All of this is put into a very large saucepan and brought to a very gentle simmer for 15 minutes, stirring from time to time to ensure everything is coated in the mixture and the fruit starts to absorb the delicious alcoholic mixture!
I turn it out into a large bowl once it is cooked for 15 minutes to allow it to cool. Then, I keep stirring it until its almost cool.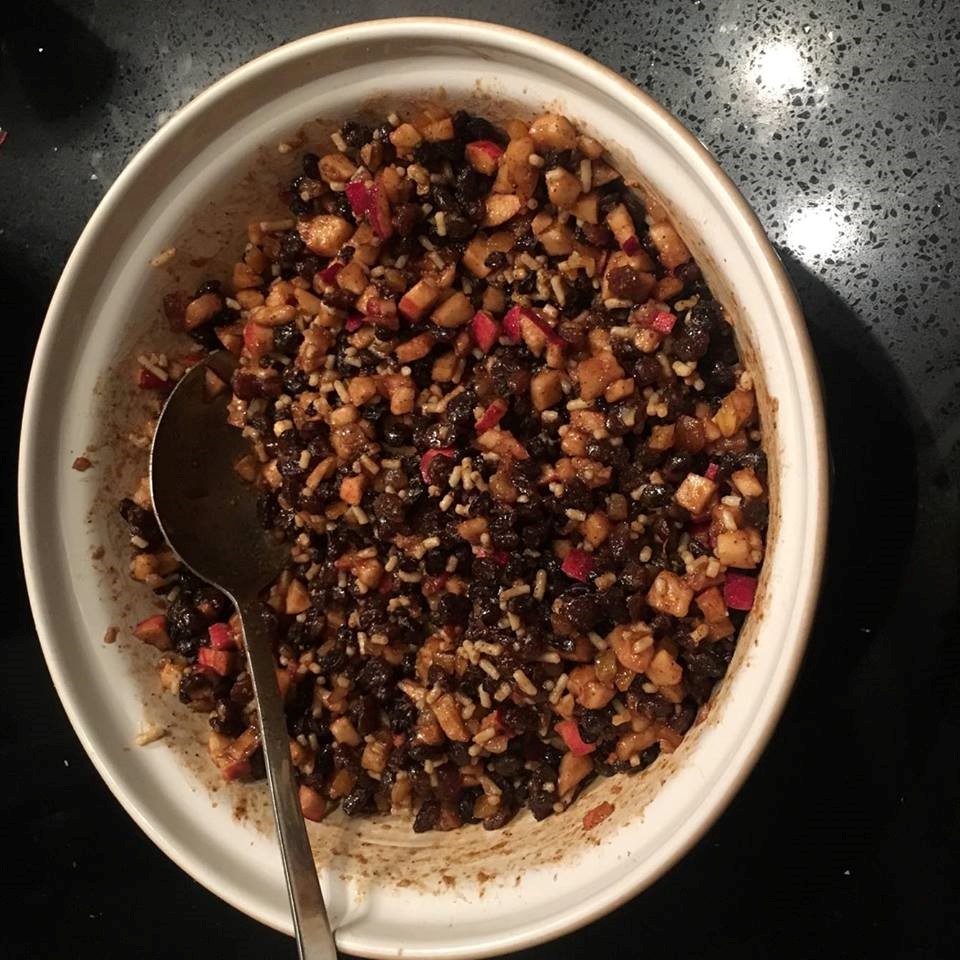 This very sticky mixture then needs to be stored in an airtight container in the fridge for a week to allow all the flavors and liquid to absorb into the fruit.
The Cake mixture
250g self raising flour
250g demerara sugar
250g butter, at room temp
5 eggs
In a very large bowl, chuck all the cake mixture ingredients in at once and mix until combined and fluffy. Then, the fruit mixture needs to be folded into the cake mixture.
Double line a 20cm cake tin with grease proof paper, and fill the tin with the mixture. I put a grease proof paper lid on it as well to stop the top of the cake from burning. This is then baked in the oven at gas mark 1, 275 degrees F, (140 degrees C) for three hours without opening the oven door. Then I use a skewer to pierce the center of the cake, and if it comes out dry, the cake is ready. Allow to cool for 45 minutes before removing the cake from the tin.
I store the cake until December, wrapped in foil inside an air tight container until I am ready to decorate it.  Every year I try a different form of decoration. I use marshmallow fondant to decorate the cake, but you could ice it with Royal icing to get an easy snow effect if you wish.
The picture below is last years decoration, and the picture after that is the year before. This years creation is yet to be decided, but I am planning it, and you will have to look out for my post on Facebook when it is ready to share!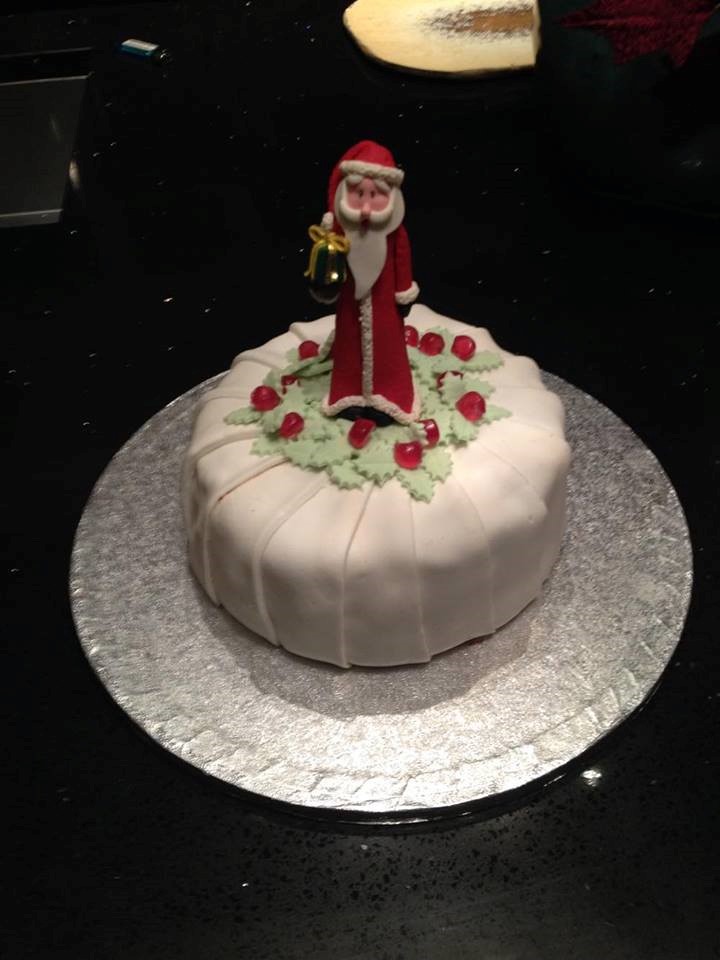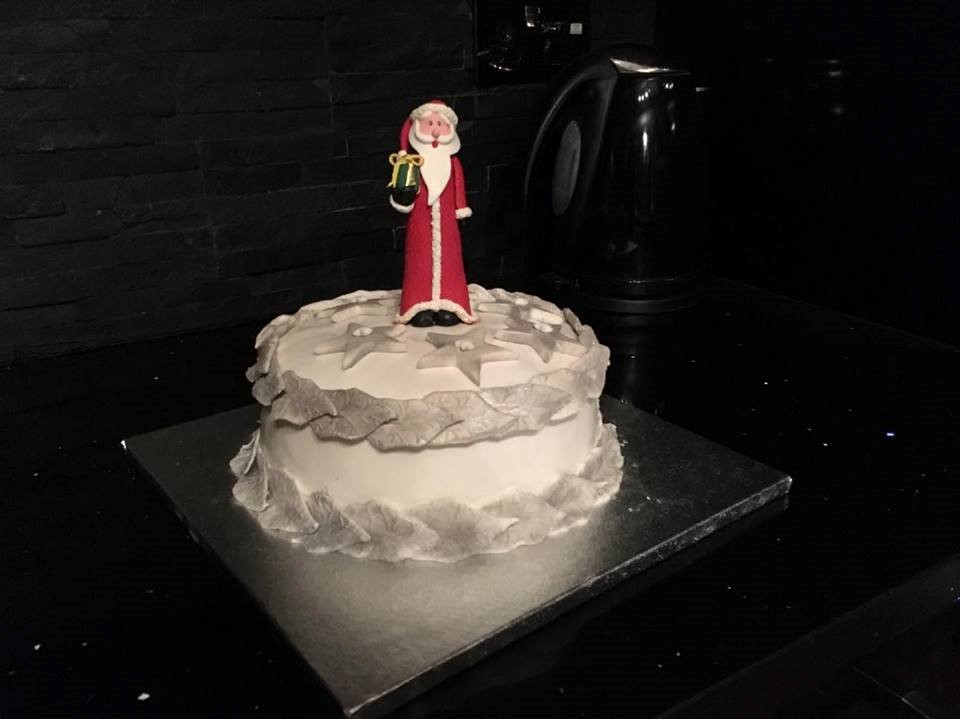 I hope you will give this cake a go. It is so very moist, and it really does fill your mouth with the taste of Christmas!
Thank you so much to the beautiful Cameron Allie for giving me the opportunity to share my Christmas with you, and I would like to take this opportunity to wish you all the very happiest Christmas and New Year.
---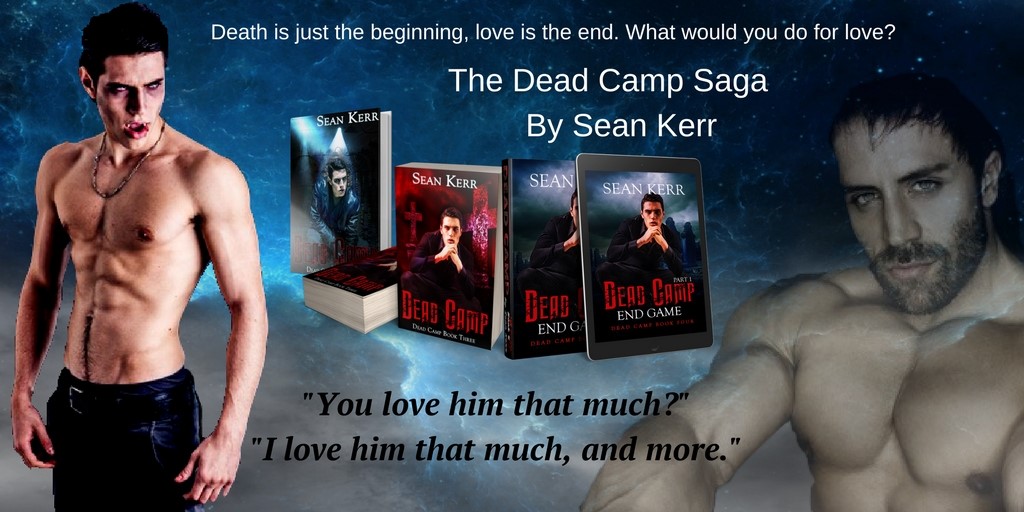 Dead Camp Book 1
Sometimes the past refuses to stay buried, and sometimes it comes back to bite you in the ass.
Eli is an ancient vampire with an ego the size of a planet and a sex drive to match, but his tumultuous past left him broken, so he hides from humanity and cowers from love, left to endure the crushing guilt that haunts his every waking moment. Even his best friend, Malachi, a ghost who is hopelessly in love with Eli, remains unaware of all that transpired in London. Malachi can never know the truth.
When the Angel Daniyyel pays an unwelcome visit, Eli must face his secrets, secrets that he has tried so long to hide. To make matters worse, a chance encounter with the most beautiful man he has ever seen shatters his beloved isolation, pushing him into the world of the living once more. Something about this strange man seems so familiar, but Eli can't even remember who he was before he became a vampire, never mind explain the unwanted emotions the enigmatic stranger ignites in his dead heart. So Eli has a choice – return to the world that ruined him, or continue his self-imposed exile with no hope of salvation.
Dead Camp book 1 Excerpt
With a sickening wet sound, his body finally broke free of the earth. A cry of agony burst from between his perfect lips and his head fell back against my shoulder. I felt his long eyelashes brush against my neck as his eyes flickered in defiance of the blackness trying to consume him.
"Stay with me fella, stay with me, we'll be home in a jiffy."
Home, back to my castle, what the fuck was I thinking? I was out of my little fucking mind. I didn't know the man. I owed him nothing. I had an Angel in my dining room and a German soldier in my dungeon and to top things off, I lived with a ghost. Yet I still wanted to take him home? No, I was intent on taking him home, I had decided that the moment I saw him.
But why, why should I get involved, why should I tread that path again, the path that could only lead to pain. It always did. And yet, as I held him in my arms I felt it, something inescapable, something that I could not understand, a stirring, a feeling, like something found when all hope of ever finding it had been forgotten. Something complicated.
A tingle of warning trickled up and down my spine making my hair stand on end. I lowered the hunk to the ground, slowly, carefully and whispered into his perfectly shaped ear. "Remain quiet."
In a flash of lightning speed, I leapt into a tree, clinging with one hand to a thick branch while my legs wrapped around its thick girth. Someone was out there and not just Mr Fuck Me He's Perfect. The smell of human, living heart pumping human was unmistakable, that incomparable odour carried on the wind to entice my nostrils and excite my senses, and I was dutifully excited. But there was something else there too, a feint undercurrent, an elusive aftertaste that went beyond sweat and skid-marks, an elusive scent that pricked at my memory, the smell of Demon.
I saw him then, a German soldier winding his way through the field of corpses. His uniform, a grey green feldbluse replete with bottle green collar and shoulder straps, made him almost invisible amongst the branches and the sludge. I could not see his face beneath his field cap but I could easily make out the eagle and swastika emblem embroidered on the bottle green cloth and I noted with disgust the Sturmgewehr semi-automatic rifle hanging loosely from his shoulder.
The Nazi stood barely six metres away from my injured future husband. Do not move lovely man, I said to myself, do not move and don't make a sound and if you can, be still your beating heart, because to me it sounded like a jackhammer pounding through the forest. He was frightened and in pain. His eyes darted everywhere looking for me, desperate for me, pleading for me to drag him out of that Hell.
I saw the agony flash across his face before the sound escaped his lips. My entire body tensed. Too late, the soldier heard his pain.
He was running then, running towards my Adonis in the pit. Without hesitation, I soared through the air and landed with feline grace before him. The soldier fell backwards with a bloodcurdling scream. The rifle landed at my feet and I picked it up, rising to my full magnificent height, slowly and with purpose, relishing every moment of fear that blossomed across the soldiers white features. I snapped the weapon as easily as though it were a twig and threw the shattered weapon at his feet, watching with satisfied relish as he scrabbled backwards in the mud, his mouth curling away from his face as his terror burst from his throat.
"Demon! You are not from the camp. What are you?"
My teeth extended and my eyes flashed black. My Vampire was out. In one swift movement, barely visible to the human eye, I leapt at him, pulling him off the floor with effortless ease, lifting his flailing body high above my head. I threw him with all my might at the nearest tree. His spine snapped with an audible bang as his fragile body wrapped itself backwards around the trunk of the trembling pine, his lifeless body sliding to the ground and my stomach rumbled. Dinner was served.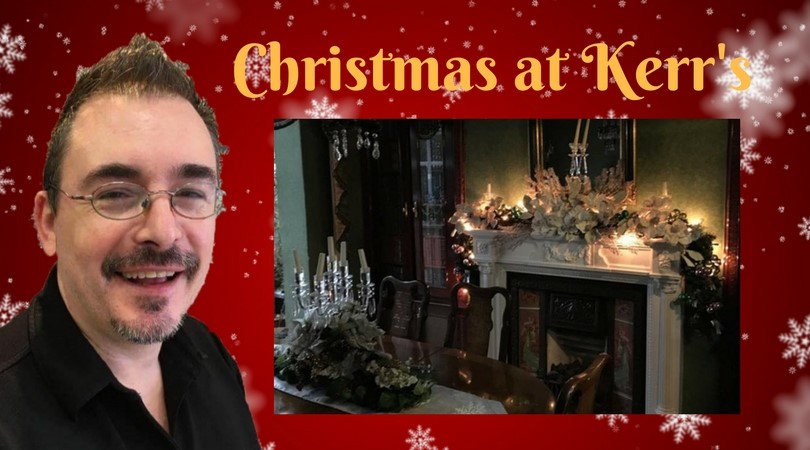 About the author:
Hi everyone, I would like to introduce myself. My name is Sean Kerr, and I am a 47-year-old gay man living in Cardiff, Wales with my husband of 28 years, Derek. We have two cats, Rita and Harry, and a host of tropical fish.
By day, I am an Interior designer, and I have had a shop, Home Zone, in Cardiff with my amazing business partner, Jayne for eleven and a half years. It has and continues to be a struggle. The recession hit a few years after we opened, and it has been challenging, to say the least. I consider myself to be lucky though because the shop pays me a wage, and I have been lucky enough to furnish my house with lovely things because of it, and I really do have some spectacular curtains lol.
I worked on building sites for years, and I used the money earned from that to put myself through college, specialist paint techniques etc. I trained in fine art, and then I went out and painted murals on client's walls, and created Roman Bathrooms and fantasy hand painted bedrooms, all the rage back in the late eighties and nineties. I then became an Interior Designer for a large DIY chain, and that is where I met Jayne, my business partner, and the rest is history.
By night I am an Author, and I am very proud to be an author for Extasy Books. It took me some years to get to this point. I spent a very long time trying to get an agent because I thought it was the right thing to do, and after a heck of a lot of refusals, I nearly gave up. I came so close to hitting the delete button on Dead Camp 1 because I thought I did not stand a chance. At the very last moment, I decided to have a go at approaching a few publishers directly, and I sent the manuscript to six. Within two weeks, I had offers of publication from three! Let's just say that there may have been tears lol. It was my chance, at last, to become a part of a world that I have always loved and admired from a distance, and it is one of the very best things that has ever happened to me.
I currently have four books under my belt in my Dead Camp series, as well as a short novella called Hush Little Baby. Dead Camp is my take on the Vampire genre, a Paranormal Romance series that is set against a backdrop of World War 2. However, the series uses key moments from History to tell one enormous saga, and I have loved every single moment of writing it. There will be five books in the Dead Camp series.
Hush is a pure horror story with more than a nod towards such classic programmes as The Twilight Zone and Tales of The Unexpected. The project happened just after I completed Dead Camp 3 and it is a story that I had to get out of my system. It's definitely a different beast to my Vampire saga, and I hope it will make you go to bed with the lights on lol!
As I write this, I am working on Dead Camp 5, the last book in the series. I will feel very sad to leave it behind. Yet, at the same time, I am so proud of this saga which has been such an important part of my life for the last couple of years. I love writing, so very much. It has always been my dream, and the wonderful Extasy Books has made my dream come true, and it is a world that I am totally in love with. It is a world I hope to be a part of for a very long time to come.
Follow Sean here:
Extasy Books Links
Dead Camp 1 http://bit.ly/29rxaDr
Dead Camp 2 http://bit.ly/29lYjWj
Dead Camp 3 http://bit.ly/2uNvr86
Dead Camp 4 http://bit.ly/2vNs0ey
Amazon Universal Links
Dead Camp 1 getBook.at/DeadCamp1
Dead Camp 2 getBook.at/DeadCamp2
Dead Camp 3 getBook.at/DeadCamp3
Dead Camp 4 getBook.at/DC4
Amazon Universal Paperback Links
getBook.at/DeadCamp1paperback
getBook.at/DeadCamp2paperback
getBook.at/DeadCamp3paperback
getBook.at/DeadCamp4paperback
Hush Little baby
Extasy Books Link http://www.devinedestinies.com/hush-little-baby/?search=Hush%20Little%20Baby&sub_category=1
Amazon Universal Links myBook.to/Hushebookamazon
Amazon Paperback Universal Link getBook.at/Hushpaperback
The Birthday Present Short Story
Extasy Link http://www.extasybooks.com/the-birthday-present/
***Sean's giveaway is now closed***
Sean is leading off our holiday tour bash with a giveaway. For a chance to win an ebook copy of your choice of one of Sean's books enter your email address in the Rafflecopter below. You'll be added to Sean's newsletter list.
This contest will remain open until December 26th at midnight EST. The winner will be selected on the 27th.
Need to catch up on the tour?
Day Two Dena Garson stopped by to tell us about her holidays, share an excerpt and offer a giveaway. Dena's giveaway is open until the end of the tour. Catch up with Dena here.
Day Three M Jane Colette visited us for a therapy session. She also shared an excerpt and has a few giveaways going. Jane's giveaway is open until the end of the tour. Plus get a FREE ebook when you sign up for her newsletter. Catch up with Jane here.
Day Four Lacie Doyle came by to tell us about her Big Fat Greek Wedding style Christmases, share an excerpt from The Deal, and offer up a giveaway. Lacie's giveaway is open until the end of the tour. Catch up with Lacie here.
Day Five Jan Graham visits us and shares a tasty looking recipe, and excerpt and a giveaway. Jan's giveaway is open until the end of the tour. Catch up with Jan here.
Day Six Errin Steven stopped by to share a yummy yet easy to make recipe, her book blurb and a giveaway. Errin's giveaway is open until December 28th. Catch up with Errin here.
Day Seven Matt Converse visited us and shared his horror holiday tradition, as well as an excerpt and a giveaway. Matt's giveaway is open until the end of the tour. Catch up with Matt here.
Day Eight L.A. Remenicky stopped by and shared an appetizer recipe, the blurb from her holiday story and a giveaway. Remenicky's giveaway will be open until December 27th. Catch up with L.A. Remenicky here.
Day Nine come and visit with me. I shared a few cookie recipes, a naughty holiday excerpt, and a giveaway. My giveaway will be open until the end of the tour. Catch up with Cameron here.
Day Ten Lilly Rayman visits the blog and tells us how her Christmas has changed, shares an excerpt, and has a giveaway. Additionally Lilly is giving a FREE book to everyone who visits her blog post. Catch up with Lilly here.
Day Eleven Lynda J Cox stopped by to chat about the holidays, and share an excerpt and giveaways. Catch up with Lynda here.
Day Twelve Rosie Chapel came by to tell us about her Christmas historical romance, and share a giveaway. Catch up with Rosie here.
Day Thirteen Kelly Stock stopped in to tell us about her holidays and share an excerpt from her urban fantasy novel, and of course do a giveaway! Catch up with Kelly here.
Day Fourteen Sarah Hawthorne shared a recipe with us, and tells us about her upcoming release. Sarah is also giving away an ebook to each person who visits the blog. Catch up with Sarah here.