Today we welcome Dena Garson to the blog, to tell us a bit about her holidays, and to share with us an excerpt from her novel Snow Effect. Be sure to stick around to the end to find out what sort of goodies Dena might be giving away…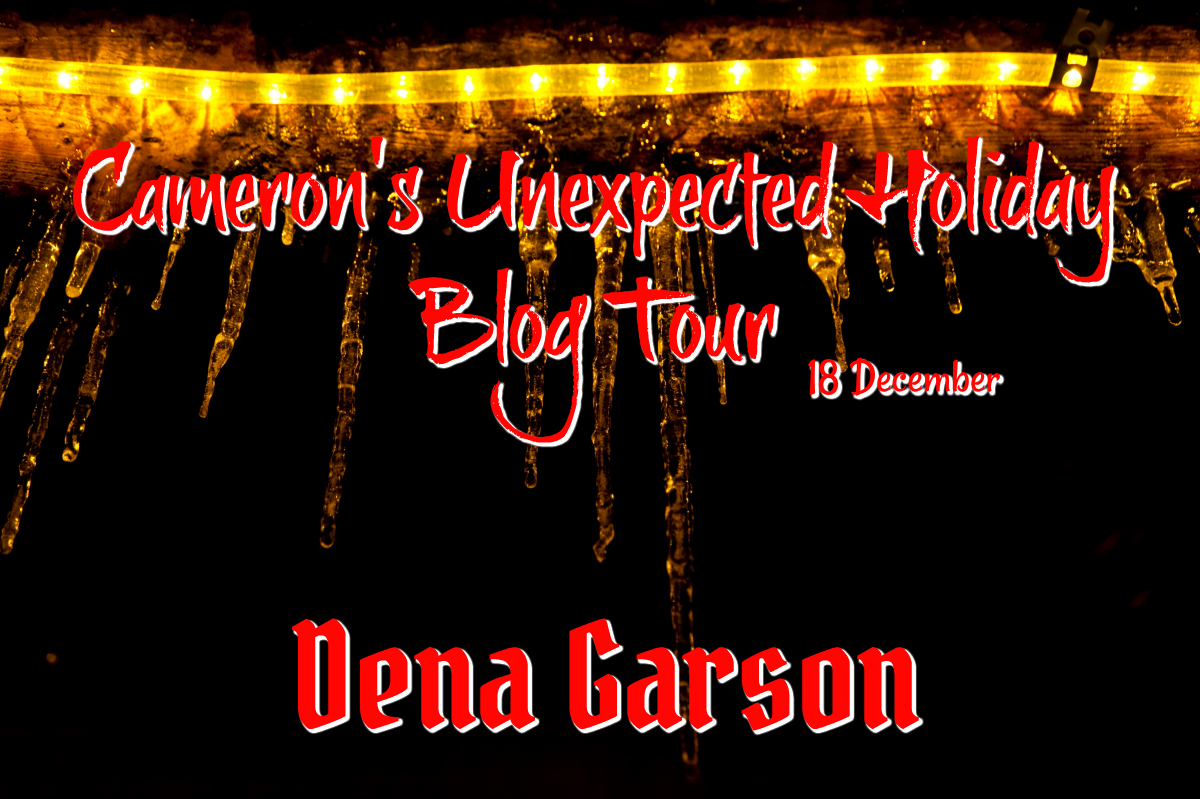 I love decorating for Christmas. I admit it – the lights are my favorite. I have them outside and inside. On my mantel. In my flower bed and flower pots. In glass jars on the book shelf. Along my garage. Where ever I can put them that someone won't trip on the cord or that my cats (AKA the fuzzy jerks) won't chew or bat around.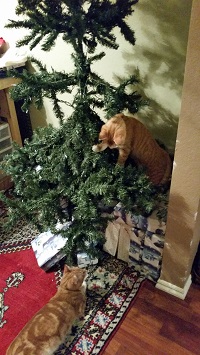 Normally my Christmas tree is up immediately after Thanksgiving. I like to spend the long weekend decorating so I can enjoy it all month long. This year I was delayed because I had to wait for my new tree to be finished.
We adopted two kittens a little over a year ago. Two boys – brothers. And they are a handful!! From day one they were climbing and breaking everything that got in their path. The Christmas tree last year was nothing but a source of entertainment for them. It fell over more than once despite my pitiful attempts to anchor it. THIS year is going to be different! Instead of the pre-lit tree I ordered a handmade wooden tree. In theory they shouldn't be able to climb onto the limbs and knock it over. In truth, I fully expect them to find a way to climb the darn thing and topple it before the month is over.
We'll see…
I frequently share stories on Facebook about the jerks and post pictures of their path of destruction. Feel free to commiserate and share your stories in the comments of this post. Or, if you have a pet who actually behaves, share it too and the rest of us will be jealous. Anyone who comments will be entered into the drawing for my giveaway. I have a gift set that includes a Christmas dream catcher, Snow Effect mini notepad, snowflake pen, and snowflake tissue pack (US only – if the winner is international, I'll send winner's choice of an ebook from my backlist).
Oh! From now until Dec. 31st you can get my second chance romance, Snow Effect, for only 99 cents (USD)! It's a sweet, sexy romance that shows how powerful first love can be.
---
Snow Effect –by Dena Garson
Blurb:
Nicki Cartwright is one snowflake away from losing her dazzling TV camera smile.  Between her mother interfering in her non-existent love life, a spotlight-stealing co-worker, and the threat of the snow storm of the decade, Nicki wants nothing more than to run away to a tropical beach. Instead, she lets herself be talked into attending the McNair's 50th anniversary party.
Randy Stephenson's drive from Chicago was uneventful until a winter blast made the last thirty-something miles nearly impassable. By the time he makes it to his grandparent's cabin, an anniversary party is the last thing he wanted to endure. But finding Nicki there, the girl he had always regretting leaving, makes him glad he came.
Turns out fate-or maybe just a set of scheming grandparents-has plans for them. Stranded at the cabin, alone and with no real party in sight, they'll have to face old hurts and an electric attraction. Is great sex, a little honesty, and a potentially priceless painting enough to mend a broken heart?
Excerpt:
Randy stomped the snow off his boots at the back-porch door before entering the small storage room that acted as a weather barrier to the cabin. Like so many years before, he was alone at Pops' and Grams' cabin with Nicki Cartwright. Perhaps he was being given a chance to explain why he left and why he'd never been able to face her and apologize.
When he opened the cabin door, he saw her sitting in the same place. She had curled up in the oversized chair and wrapped a blanket around herself. She seemed to be lost in her thoughts. Was she as unsettled as him to be here? Or were thoughts of someone else distracting her? A pang of jealousy caught him off guard.
That was stupid. She'd probably had several boyfriends in the last eight years. He had no claim on Nicki's affections. And it wasn't as if he had been chaste.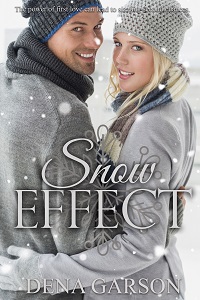 Still he couldn't shake the primal urge to pound on his chest and roar at any other man who might get within ten feet of Nicki. Randy shook the thought from his head and kicked the porch door closed behind him. "It's sleeting more than it is snowing now."
"I thought I heard ice hitting the window."
"The roads will be slick in the morning if this keeps up."
She nodded in agreement. "I guess you got here just in time."
Randy held her gaze. "Looks like it."
Something unspoken passed between them. Nicki squirmed in her chair. It made him want to disturb her. To get under her skin and never leave. But he didn't want her to be afraid of him. Besides, it wasn't as if he was going to bite her.
At least not in a bad way.
And, even then, only if she asked.
Nicole fingered one corner of the blanket, twisting it around and around. "So, how have you been?"
"I've been fine." He walked to the couch across from where Nicki sat and dropped his bags on the floor next to it. "Business is booming." He slipped his coat off and draped it across the back. He rested his elbows on his thighs and looked her in the eye. "You look good, Nicki," he said quietly. Honestly.
"Most people call me Nicole."
Randy smiled at her attempt to sidestep his compliment. He scanned her from head to toe, at least what he could see from beneath the blanket. "You still look like Nicki to me."
She blushed under his scrutiny. "Yeah, well…" she stammered. "What have you been up to? I heard you started your own architectural firm."
He leaned against the back of the couch and draped one arm across the top of the cushions. "I did. Actually it's a partnership with one of the guys I went to school with. We specialize in renovating historical buildings to make them commercial friendly without losing the historical value of the property."
Nicki nodded. "Didn't your firm get some kind of award recently for your work in one of the Chicago suburbs?"
"Yeah, we did." It pleased him that she kept tabs on him. "How did you know? I haven't even told Pop or Gram yet."
"It must have come across in one of the newswires at the station." A faint blush appeared on her cheeks. "Don't worry, though." She pulled one slender hand from under the blanket and waved it in the air as if to brush away the thought. "I haven't said anything to them. So, if you wanted to surprise them, it isn't ruined."
"Thanks. It's not that big of a deal even if you did tell them. I just wanted to surprise Gram. She always makes a big deal about things like that. I thought she'd get a kick out of housing the plaque for me."
"She'll love it."
In reality, the award meant a lot to him and Vince. It would open many doors for their firm and create new business opportunities. New business meant they might be able to open a second office like they had talked about for a couple of years.
"What about you? How's your television show going?"
"Good." Nicki nodded. "I get to interview local artists and keep up with new exhibits in town. So, yeah, it's good."
"Glad to hear it."
Nicki continued to nod. Was she trying to convince him that it was good? Or herself?
"Gram said the show was a new concept for the station and they went out on a limb to give you a chance with it," he prompted.
"Yeah." She smiled. Now she looked like the Nicki he remembered. "At the time, no one in the state had done anything like it. Bob took a chance on me and the show." She tilted her head to one side. "It's been working out. We've been getting great ratings and it supports the governor's campaign to promote the arts in the community."
"Do I sense a but in there?"
"Well…" Nicki's voice trailed off as she turned her head away. "We'll see how it turns out."
"What's the problem? Don't you like doing the show?"
When she faced him he saw a troubled look in her eye before she could mask it.
"Mostly. I love doing the interviews and the research and going to the gallery openings. The politics that go with running a show get old after a while but it is part of the deal."
Once again he was unsure who she needed to convince. Before he could press her, she changed the subject.
"So, how long were you planning to stay around?"
Was she already trying to get rid of him? "I didn't make definite return plans. Through the weekend at least."
Randy surprised himself with his answer. He'd told Vince he'd be back Sunday night, but something about Nicki's prickly attitude made him want to stay just to get to the bottom of it. "What about you? Did you take vacation days to come out here?"
"A couple, but I can head back in the morning."
"Seriously. Don't leave because of me."
"I don't think it's a good idea for me to stay." Nicki pulled the blanket up to cover her arms and chest.
"Why? We're two grown adults."
"Two adults who have a history."
Randy couldn't resist asking, "Did I ruin things between us so badly that you can't even stand to be in the same place as me?"
Nicki held his gaze before answering. "I'd like to think not. But I spent so many years putting it behind me that I'm not sure I want to go back into that dark place to figure it out."
Randy nodded, more in acknowledgement that he'd heard what she said than agreement. "For what it's worth, I'm sorry."
"What exactly are you apologizing for?"
"For walking away and not telling you why. For not returning your calls. For not getting in touch with you even once over the last eight years." In a softer tone he added, "For hurting you."
Nicki nodded stiffly and turned her face away.
Randy's heart twisted painfully in his chest. He'd hurt her and he regretted it more than anything he'd ever done. What could he do to make it right?
He crossed his arms over his chest and stared into the empty fireplace. Memories of the day he'd left Sumner for Chicago flitted through his mind.
Nicki stood from the chair, halting his trip down memory lane.
"I think I'll turn in. Are you going to stay up for a while?" she asked.
"Probably only long enough to grab a bite to eat. I'm a little tired from the drive."
"I took a casserole out of the freezer when I got here. It's in the fridge. There's some lunch meat, too."
"That'll work. Thanks."
Nicki turned to go then stopped. "I, uh, I took the back bedroom. It looked like both of the bedrooms were made up down here. I didn't check upstairs, though."
"I'm pretty sure the drive will catch up with me pretty soon and I won't care where I crash. I'll just take the other one down here."
"Okay. Well, goodnight then."
Randy watched until Nicki disappeared around the corner. Even in the loose-fitting pajamas and T-shirt, he could tell she worked to stayed in shape. She had always been delicate looking but now she had womanly curves in all the right places. His body hardened just thinking about exploring those curves.
It may be too late for regrets but perhaps it wasn't too late to begin something new.
Author Bio:
Dena Garson is an award winning author of contemporary, paranormal, fantasy, and sci-fi romance. She holds a BBA and a MBA in Business and works in the wacky world of quality and process improvement. Making up her own reality on paper is what keeps her sane.
She is the mother of two rowdy boys, two rambunctious cats (AKA the fuzzy jerks), and a loving Labrador. When she isn't writing you can find her at her at the sewing machine or stringing beads. She is also a devoted Whovian and Dallas Cowboys fan.
Connect with Dena:
You can purchase Dena's books here:
As part of the blog tour Dena will be running a contest. One winner, the prize depends on where you live. For a chance to win comment below on the blog post. This contest will remain open until the end of the tour. Winner to be selected on December 31st.
US Winners: Gift set that includes snowflake earrings, jewelry pouch, and a tissue pack
International: Choice of ebook from my back list (must exclude the Cosmic Cabaret Anthology and London Calling Anthology)
Need to catch up on the tour?
Day One Sean Kerr visited us sharing a recipe, an excerpt, and a giveaway. Sean's giveaway is open until December 26th. Catch up with Sean here.
Day Three M Jane Colette visited us for a therapy session. She also shared an excerpt and has a few giveaways going. Jane's giveaway is open until the end of the tour. Plus get a FREE ebook when you sign up for her newsletter. Catch up with Jane here.
Day Four Lacie Doyle came by to tell us about her Big Fat Greek Wedding style Christmases, share an excerpt from The Deal, and offer up a giveaway. Lacie's giveaway is open until the end of the tour. Catch up with Lacie here.
Day Five Jan Graham visits us and shares a tasty looking recipe, and excerpt and a giveaway. Jan's giveaway is open until the end of the tour. Catch up with Jan here.
Day Six Errin Steven stopped by to share a yummy yet easy to make recipe, her book blurb and a giveaway. Errin's giveaway is open until December 28th. Catch up with Errin here.
Day Seven Matt Converse visited us and shared his horror holiday tradition, as well as an excerpt and a giveaway. Matt's giveaway is open until the end of the tour. Catch up with Matt here.
Day Eight L.A. Remenicky stopped by and shared an appetizer recipe, the blurb from her holiday story and a giveaway. Remenicky's giveaway will be open until December 27th. Catch up with L.A. Remenicky here.
Day Nine come and visit with me. I shared a few cookie recipes, a naughty holiday excerpt, and a giveaway. My giveaway will be open until the end of the tour. Catch up with Cameron here.
Day Ten Lilly Rayman visits the blog and tells us how her Christmas has changed, shares an excerpt, and has a giveaway. Additionally Lilly is giving a FREE book to everyone who visits her blog post. Catch up with Lilly here.
Day Eleven Lynda J Cox stopped by to chat about the holidays, and share an excerpt and giveaways. Catch up with Lynda here.
Day Twelve Rosie Chapel came by to tell us about her Christmas historical romance, and share a giveaway. Catch up with Rosie here.
Day Thirteen Kelly Stock stopped in to tell us about her holidays and share an excerpt from her urban fantasy novel, and of course do a giveaway! Catch up with Kelly here.
Day Fourteen Sarah Hawthorne shared a recipe with us, and tells us about her upcoming release. Sarah is also giving away an ebook to each person who visits the blog. Catch up with Sarah here.