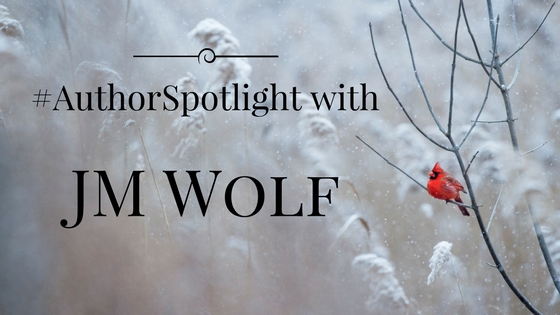 This is the second time JM Wolf has come to visit us. Today we're celebrating his new release Jace's Trial. JM is a new author. His debut novel came out in September, and if you'd like to catch up on his first interview you can read about it by clicking here.
Please give a warm welcome to JM!
1. What are your writing career goals?

For me, I just want to keep writing stories that people will love. I think that's my biggest writing career goal. I didn't start my career to be the next J.K. Rowling, or to be someone famous in general. I started because I love books and I enjoy creating worlds where I can give my characters their happy endings.
2. What has been the hardest scene for you to write?

That depends on the book. If we're talking about from The Black Feather, the hardest scenes for me to write were the action scenes because I tried going into as much detail as I could so my readers could properly visualize what is going on without giving them too much details where it's long and drawn out. But also, Scott's relationship with his abused father was a tough one to write because I suffered from having a father who was always rough with me.
If we're talking about Jace's Trial, that's a whole other animal right there. There have been a lot of scenes I wrote that were a tough pill to swallow. For starters, describing Jace's depression and why he gave up music forever. I gave up music once upon a time and writing about it brought back some unhappy memories of that. Jace's mental breakdown was another scene that was hard because I had a similar incident happen to me, so I'm basically telling my readers about my own breakdown in very painful details.
I think with all my books, the hardest scenes I'll write are the ones that have me open raw emotions and memories. Whether it's Scott's relationship with his abused father in The Black Feather, or Jace's mental battles in Jace's Trial. I leave myself exposed and vulnerable, but I know it'd be worth it to give my readers a story worth telling.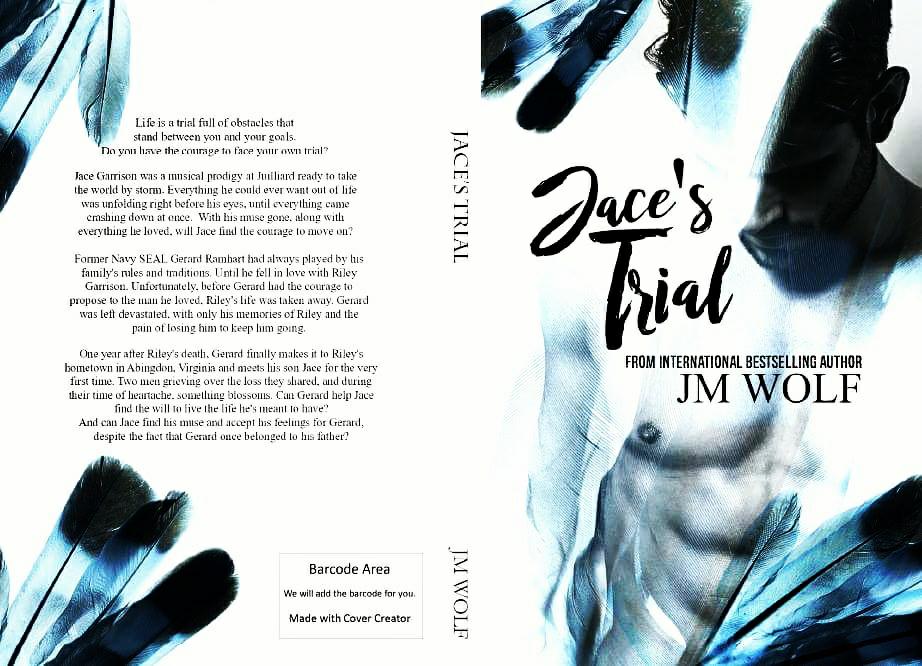 3. As a writer, what do you think you struggle with the most? (Could be an element of craft/motivation/promo and the business side)

I think the promotional side is what I struggle with the most because as much as I would love to have readers check out my books, I'm also terrified of people hating it so much. It's why I'm always hesitant to send my books to bloggers to read because if they hate it and leave a negative review, I don't want potential readers to avoid it simply because someone didn't like it. I'm trying to have more faith in my work, but it's a working progress lol.
4. How do you come up with your titles?
The titles come with the story as they appear in my head. It was like that with The Black Feather and Jace's Trial. With The Black Feather, once I clearly imagined the first chapter with Bastion's feather gently falling from the sky, I knew that the name of the book would be The Black Feather, especially since that feather played a huge part throughout the book. With Jace's Trial, I wanted something different. Originally it was going to be called "Little Red Lover", but overtime I was thinking about Trials. Trials are about overcoming obstacles to reach your goals. Life at times are like a trial. You have obstacles standing in the way throughout your life that you must overcome. So, Jace's Trial became the new title.
5. Tell us a little bit about your newest release.

So Jace's Trial is the first book in the Trials in Abingdon series. It's a May/December trope (basically a romance with a huge age gap) about Jace who's a major musical prodigy but gave up his musical dreams after his father passed away overseas. A year later, he meets his father's boyfriend Gerard who showed up to Abingdon for the memorial. Once Jace and Gerard meet, things get awkward when they realized there was a strong connection between them. So Jace must overcome his griefs and figure out what to do about falling in love with his father's old boyfriend.
It's a very emotional book that will make you feel like you're on a rollercoaster. You will laugh, you will cry, you will have hot sex scenes, and total aww moments. It also can be read as a standalone and has a HEA.
6. Your last release (your debut novel The Black Feather) came out in September and was a paranormal m/m romance, the first of a trilogy. Why did you decide to focus on a contemporary as your next book, rather than the sequel to The Black Feather?

That's a very good question. So originally, I started working on the sequel to TBF. What put it on pause was when a potential reader asked if I would ever write a non PNR/Shifter story because she wasn't a fan of the genre but was interested in reading my work. That got me thinking about how many readers are out there who aren't a fan of paranormal. I wanted to give them something that they could read as well. So, when Jace's Trial popped into my head, I tried writing both books at once. Unfortunately, that didn't work well, so I put TBF's sequel on hold, so I could finish Jace's book. Now that Jace's Trial is ready to be released, I'm back to focusing on Bastion and Scott's sequel. Once the sequel to TBF is finished, I'll be working on book 2 in the Trials of Abingdon.
---
Jace's Trial (Trials in Abingdon Book One)
Blurb:
Life is a trial full of obstacles that stand between you and your goals. Do you have the courage to face your own trial?
Jace Garrison was a musical prodigy at Juilliard ready to take the world by storm. Everything he could ever want out of life was unfolding right before his eyes, until everything came crashing down at once.
With his muse gone, along with everything he loved, will Jace find the courage to move on?
Former Navy SEAL Gerard Ramhart had always played by his family's rules and traditions. Until he fell in love with Riley Garrison. Unfortunately, before Gerard had the courage to propose to the man he loved, Riley's life was taken away. Gerard was left devastated, with only his memories of Riley and the pain of losing him to keep him going.
One year after Riley's death, Gerard finally makes it to Riley's hometown in Abingdon, Virginia and meets his son Jace for the very first time. Two men grieving over the loss they shared, and during their time of heartache, something blossoms. Can Gerard help Jace find the will to live the life he's meant to have? And can Jace find his muse and accept his feelings for Gerard, despite the fact that Gerard once belonged to his father?
TRIGGER WARNING:
This book contains content of physical and mental abuse, grieving, and bottled emotions.
* This is Book 1 in the series, but can be read as a standalone story- no cliffhangers.*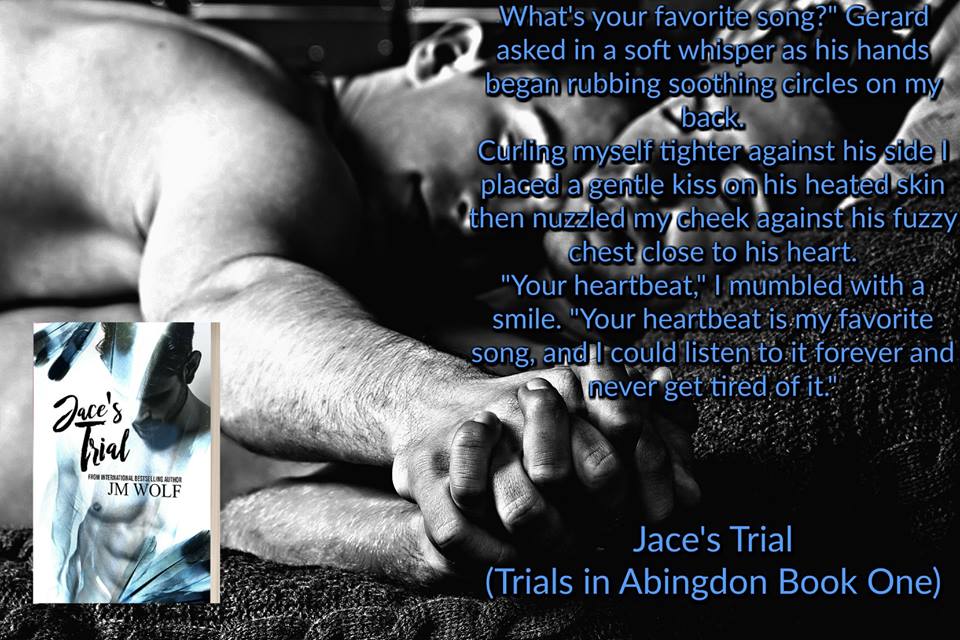 Excerpt:
"I've never been good at expressing myself without my music. It's why I was bottling it all up when Dad died. Without my music I had no idea how to cope with what I was feeling. I let it stay like that for too long. And then you came along. You saw me having a meltdown, yet you still held onto me and haven't left my side since."
Jace reached out a hand and gripped my left knee. "I'm sorry, Gerard. And thank you for coming to my rescue."
I smiled at the poor young man filled with guilt and wrapped my arm around him, pulling him to me until his head rested on my shoulder. His bare skin pressed against mine, it sent sparks along my body.
Jace seemed to relax his body as he curled himself in my arm. He sighed in contentment and wrapped himself around my torso, nuzzling against my shoulder. I was caught off guard by the sudden act of affection he was giving me, but I wasn't going to turn it down.
"Do you want to see something?" I whispered in his ear.
Jace grinned. "If it's your dick I've already seen it, remember? I'd be lying if I said I didn't want to see it again though."
I laughed at his bold statement, but my cock instantly responded to Jace's words. "No, it's not my dick. It's something I think you'll still like though."
Using my free hand so I could keep Jace held close, I reached to my nightstand taking the picture of myself and Riley I looked at every night and held it out for Jace. He looked at me puzzled before taking the picture in his hands and observing the photo for himself. His jaw dropped slightly when he saw who was in it.
"You and my dad," Jace said softly.
I nodded. "It was the last photo we took together before I came back to the States. I keep it with me at all times. I look at it every night."
Jace traced a shaking hand over the image of his dad in the photo, emotions filling in his eyes. He turned the photo and discovered the short message written on the back. The message Riley wrote to me.
"Thank you for this second chance of happiness," Jace croaked as he recited the message.
"Yeah. Your dad wrote it before I left him behind to come home."
Jace eyed the picture for some time before sighing and said, "I wish I had your strength. I wish I was able to cope with the loss better. I wanted to show you that I wasn't some fragile kid, but in the end you saw me at my worst. So much for trying to prove that I wasn't weak."
"Breaking down like that doesn't make you weak, Jace. I knew you were fragile, but I also saw your strength. You didn't want to dwell on the past so you pushed onward. I may have seen you as Riley's kid, but you're no kid in general. You're a strong, determined, beautiful young adult inside and out."
Jace smiled at me with watery eyes, and I knew right then and there that he wouldn't be able to keep his emotions contained anymore. I saw Riley in him, but I never once compared the two. Jace may have inherited Riley's looks, but I saw Jace for who he was.
"I broke down too, when your father died," I admitted. "It wasn't as bad as yours, but it did happen. I didn't have people to talk to about my problems the way you do. With no one I could confide in, I'd kept it to myself just like you did. Until a bar fight broke me out of it. So I knew what you were going through. I was just as fragile as you were, so you have about as much strength as I did. And you want to know something?"
"What?" Jace asked.
"It takes a strong man to admit he was wrong. So, you're stronger than you give yourself credit for."