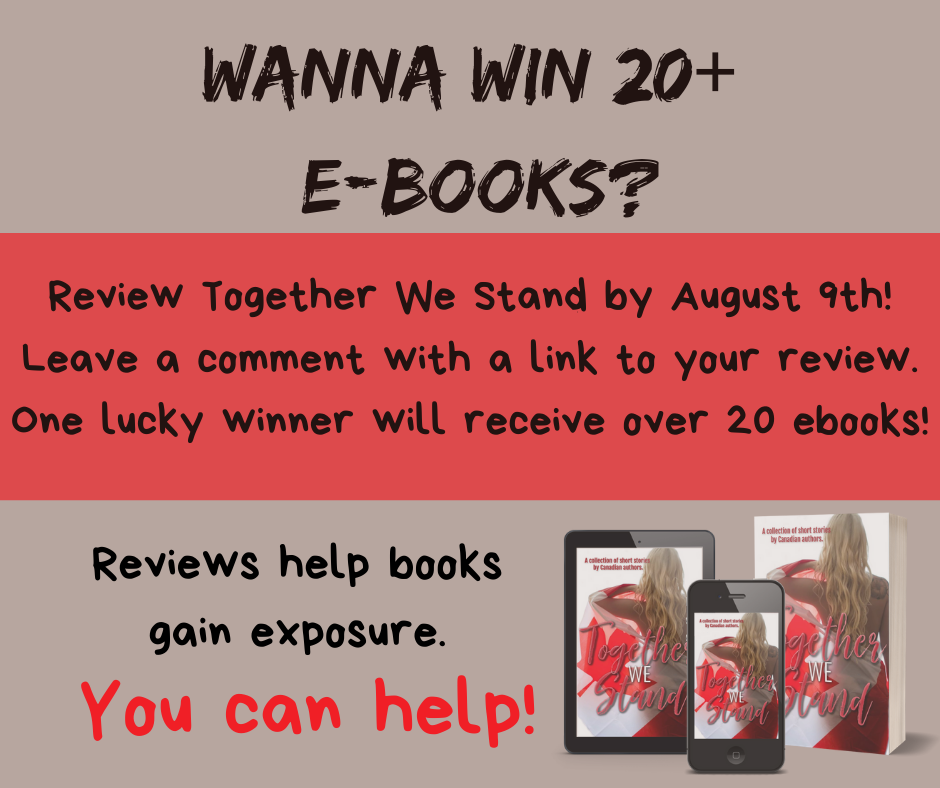 Want a chance to win over 20 ebooks?
All you have to do is leave a review for the Together We Stand anthology on or before August 9th. Post a link or photo of your review to the FB post in the Together We Stand Party Room, or post it on Instagram and tag me (cameron_allie_author). On August 10th we'll be selecting a winner at random. Reviews should be posted to Amazon and/or Goodreads.
What books will the winner get?
C.A. King's Miracles Not Included
Cassia Brightmore's Lincoln Hospital
Tricia Daniel's Intractable Souls
Jean Kelso, book to be determined
Gillian Jone's My Mind's Eye, Love Won, and Call Me
P. Stormcrow's Bound By Red
V.J. Allison's Away to Me and Under Your Scars
DD Prince's Alphahole
Maria Vickers', winner's choice of one of her solo books
JA Lafrance's The ECE and Her Billionaire, and Gaston's Confession
Sue Langford's You Can't Break Me
Andrea Joy, winner's choice between: Dark Desire or Then There Was You
Crystal St.Clair's Reflections
J.M. Walker's Broken Scars
Cameron Allie's Unexpected Changes Bundle One (includes: My Mistletoe Master, Not His Type, and The Perfect Fix), Neptune's Passion, and winner's choice of one story from the Love Me or Leave Me series
Still need to order your copy of Together We Stand? Not a problem! Together We Stand