Another Passionate Inker! I met Aidee Ladnier through Passionate Ink (the Romance Writers of American's online erotica chapter). She's the only PI m/m author on the tour, so let's see how she spends her holidays, and be sure to stick around for her contest!
What is your favourite Christmas song?

God Rest Ye Merry Gentlemen. There's something a little gothic about this song. It sounds vaguely menacing when it's played slow and somber. As a child that made it a little exotic to my ears. All the other carols were happy and upbeat or calm and peaceful. Of course, it's probably the minor key. All songs in a minor key sound a little spooky.
What food do you most look forward to over the holidays?

Turkey and dressing with cranberry sauce. I gorge myself on this starting with Thanksgiving and going right through into the new year. They are foods that say Home to me since my family only made those for the holidays. We usually had a turkey and a ham at Christmas. Now, as my husband, mother, and stepfather all hate turkey, I never get it unless it's at a restaurant. So whenever it hits the menus, I order it every time.
Do you have a holiday beverage you like? Alcoholic or non-alcoholic?

Red Hot Apple Cider or Cinnamon Hot Chocolate. I love both of these. We always mulled our apple cider and added Red Hots candies to it. It gave the cider a festive red glow and that extra spicy bite of cinnamon. And you might have guessed, I add cinnamon to everything I can, including my hot chocolate. Hot chocolate with a cinnamon kick warms my tummy and my soul.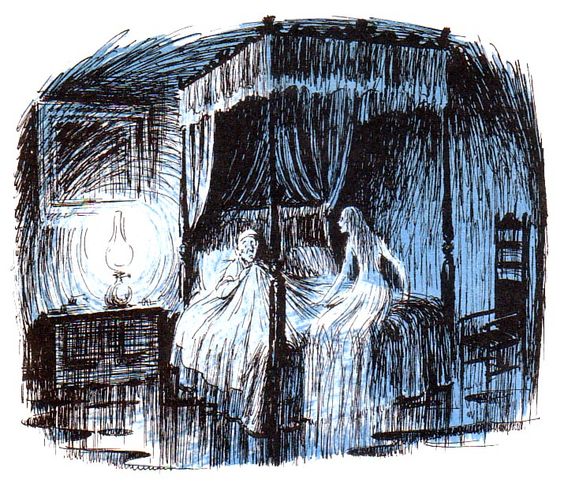 Is there a book you like reading at this time of year?

A Christmas Carol by Charles Dickens. It's a staple at my house. I love the idea of a Christmas ghost story so we'll drag it out or another holiday ghost story and read them aloud at my house. Another of my favorite Christmas ghost stories is The Water Ghost of Harrowby Hall by John Kendrick about a young heir who is tired of the flooding each year and sets out to find a solution to his haunting. Not as Christmassy as Dickens, but still a very fun end of the year ghost story.
Do you participate in Boxing Day shopping? Is Boxing Day a tradition in your country?

Most of my shopping is online these days, so if there is any Boxing Day shopping going on, it's from the comfort of my couch. LOL! Boxing Day isn't a well-practiced tradition where I grew up (the Southern United States) but I've celebrated it a few times with family and friends.
Do you get your shopping done in advance or leave it to the last minute?

I always get my shopping done as far in advance as possible. I tend to buy my holiday gifts all year and then spend my December baking cookies! I hate having to find things at the last minute so I parcel out the joy of selecting gifts for my loved ones. It makes the entire year a Christmas party.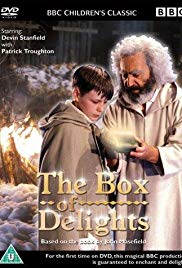 What's your favourite Christmas movie?

Hmmm. That's a difficult one. I love a lot of Christmas movies and tend to glut myself on Hallmark movies every December. But one show I go back to year after year is a BBC mini-series called The Box of Delights. My local PBS station always ran it around Christmas and I marvelled at the different traditions of 1930s Britain. I loved the Punch and Judy man and his mysterious box that turned one way made you go swift and turned another made you go small. It had Herne the Hunter, dastardly kidnappers, and evil magicians. It was the perfect thing to watch when it was too cold to get out at night in late December
When do you decorate your house?

My DH is very strict and says I cannot decorate the house until after Thanksgiving. That said, the decorations always stay up through January 5th, Twelfth Night. It amazes me that everyone thinks the 12 days of Christmas lead up to December 25th when that was only the first day! Everyone needs to read a good Regency Historical novel set at Christmas time. They celebrated Christmas for two weeks and had so much fun decorating the tree, putting on amateur theatricals, holding balls and parties, and of course, kissing under the mistletoe.
When you were a child what was the best Christmas gift you remember receiving?

It would have to be the chemistry set. I loved performing my own science experiments. I made all kinds of noxious concoctions. The set stayed on my bedroom desk, perpetually open and inviting. I even used it to make a homemade rocket once. Of course, I didn't actually take it outside when I put the ingredients together so there was a sizeable dent in my bedroom ceiling that I never got around to mentioning to my parents…
Is there a unique holiday tradition your family keeps?

We open one present on Christmas Eve…and one on Christmas Eve Eve. This goes back to my grandfather who just could not wait until Christmas Day. He was always excited about opening presents and my grandmother always indulged him.
When do you open Christmas presents?

For an entire week. I have family and friends spread out all over the United States and usually presents are exchanged anywhere between December 20-30. Everybody wants to give, receive, and be there when you open them. My sister in Omaha even live streams Christmas so we can see the nieces and nephews opening all the presents.
What's your favourite outdoor winter activity? If it doesn't snow where you live what makes it feel like Christmas to you?

Christmas is the chill wind that blows right through you here in the South. People make fun of our warm temperatures, but just like it's a humid heat, it's a wet cold. It will take your breath away. There's nothing like stargazing on a clear, cold winter night and then running inside to have hot chocolate laced with cinnamon!
Contest!
Aidee is giving away a few prizes. Three different winners. Comment on the blog for your chance to win. Winners will be selected on January 3rd and will have one week to be in touch regarding their prize.
The First Prize: $25 Amazon gift certificate
The Second Prize: Any ebook from my backlist
The Third Prize: Copy of my Christmas novella A Hundred Promises of Love
Since I'm pimping my audiobook, it's files are attached as well. Here is the blurb:
Frank's family taught him that his wolf was dangerous, unwanted. Now his best friend's brother wants him in bed and on stage. But giving into his wolf's need for love could risk the quiet life Frank has created for himself–and his heart. Settled in the small town of Waycroft Falls, Frank is content to be a lone wolf among the white picket fences and dollar book bins until he finds himself sniffing his best friend's brother. Tom smells like hot apple pie and his Broadway smile has Frank lolling his tongue. But when the visiting actor learns Frank's secret and plies him with hot kisses to get him to star in his play, Frank can't help but wonder if Tom is only acting. 
Tom ran away from family obligations to be a Broadway star. If he could make it there, he could make it anywhere…but he didn't. Trudging home to Waycroft Falls to open his sister's new performance space brings him face to face with a werewolf–a werewolf that would be perfect for Tom's shoestring production of Beauty and the Beast. Staying in Tiny Town USA would be worth it if he can somehow convince the sexy wolf to expose his furry condition on stage and howl privately in Tom's bed. 
Wolf Around The Corner, a paranormal semi-finalist in Passionate Ink's 2017 Sexy Scribbles Contest, is a full-length fairytale romance with a side of wolf shifter. If you like your romance with gorgeous men, humor, and small town magic, you'll love Wolf Around the Corner! Buy your copy now and settle in to watch the drama unfold!

You can purchase the audio book here:
Connection with Aidee here:
And here's an excerpt – since it's an audiobook, it's an audio sample from SoundCloud!