Although she's been on the blog before, let me re-introduce you to Dena Garson. Dena is my sprinting partner. Many a night we've spent cranking out the words with the timer going. I think I can credit at least three book to being completed because she's been there to push me to the end, though I think it's more like six books, maybe even more than that. So let's hear how she celebrates Christmas, and don't forget to check out her contest!
What is your favourite Christmas song?

O Holy Night
What food do you most look forward to over the holidays?

Homemade butter cookies.
Yum! Do you have a holiday beverage you like? Alcoholic or non-alcoholic?

My mom always makes a Spice Tea mix just before Christmas. It's a hot tea – we use it all through the winter months.
That sounds good. Is there a book you like reading at this time of year?

No, I don't have one that I read a specific times of the year. I have a couple that I re-read when the mood strikes me. My brother's in-laws always read The Night Before Christmas and play a gift exchange along with the reading. That was kinda fun when we visited and played with them.
Do you participate in Boxing Day shopping? Is Boxing Day a tradition in your country?

No – most people in the States don't celebrate a traditional Boxing Day. At least not anywhere I've ever lived.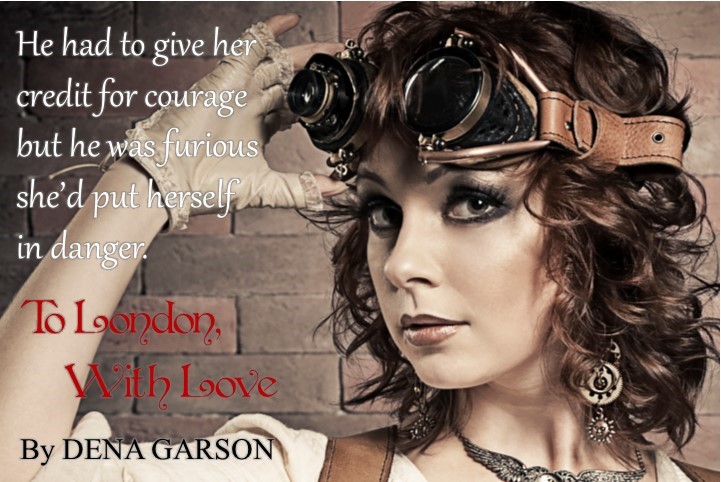 Do you get your shopping done in advance or leave it to the last minute?

Oh God – always in advance. There's usually a few stragglers but I do the bulk of my shopping on Black Friday.
What's your favourite Christmas movie?

Nightmare Before Christmas. Or if you don't think that's Christmas-y enough then A Charlie Brown Christmas would be my pick.
When do you decorate your house?

Usually I decorate over the weekend after Thanksgiving. This year my house was topsy-turvy due to a remodel project so I was a couple weeks late getting the inside done. I did manage to get a few strands of lights put up outside on time though!
Renovations are so time consuming. When you were a child what was the best Christmas gift you remember receiving?

I remember my brother and I getting bicycles one year while we were visiting my grandmother. Her house sat on a pretty steep hill so it was awesome (and scary) ridding down the driveway. I was probably around 6 years old.
Is there a unique holiday tradition your family keeps?

Not really but we do have certain foods that my mom only makes around the holidays so I always look forward to that.
When do you open Christmas presents?

Christmas morning. Early.
What's your favourite outdoor winter activity? If it doesn't snow where you live what makes it feel like Christmas to you?

My favorite winter activity is hanging out on the couch, in my comfy cozy jammies, under a warm fuzzy blanket, while reading a good book. LOL We don't get a lot of snow here in Oklahoma and it rarely lasts long when we do.
I think Christmas lights are what makes it feel like Christmas.
Contest!
Comment on the blog for your chance to win Dena's contest. If the chosen winner is domestic (from the US) they'll win Christmas dream catcher, Christmas tissue pack, Her Clockwork Heart mini notebook, Christmas pen and some author swag. If the winner is international they'll win an ebook copy of Snow Effect. A winner will be selected on January 3rd, and will have one week to be in touch about claiming their prize.
To London, With Love
Genre: Steampunk Romance
After her brother is nearly killed while bringing sensitive information to his superiors, Margaret "Maggie" Ingleton takes it upon herself to complete his mission. All she has to do is deliver a letter to London. How hard can it be? Little does she realize that she'll be risking not only her life, but that of the only man she's ever loved.
When Colin Stanbury makes a routine delivery to his home city he never expects to pick up a stowaway. Maggie has always been a heady mix of proper lady and imp so finding her aboard his airship can only mean trouble. Despite Maggie's claim that she needs to go to London to help a friend in need, he suspects she's up to something. Yet he can't help playing the gallant hero to her damsel in distress.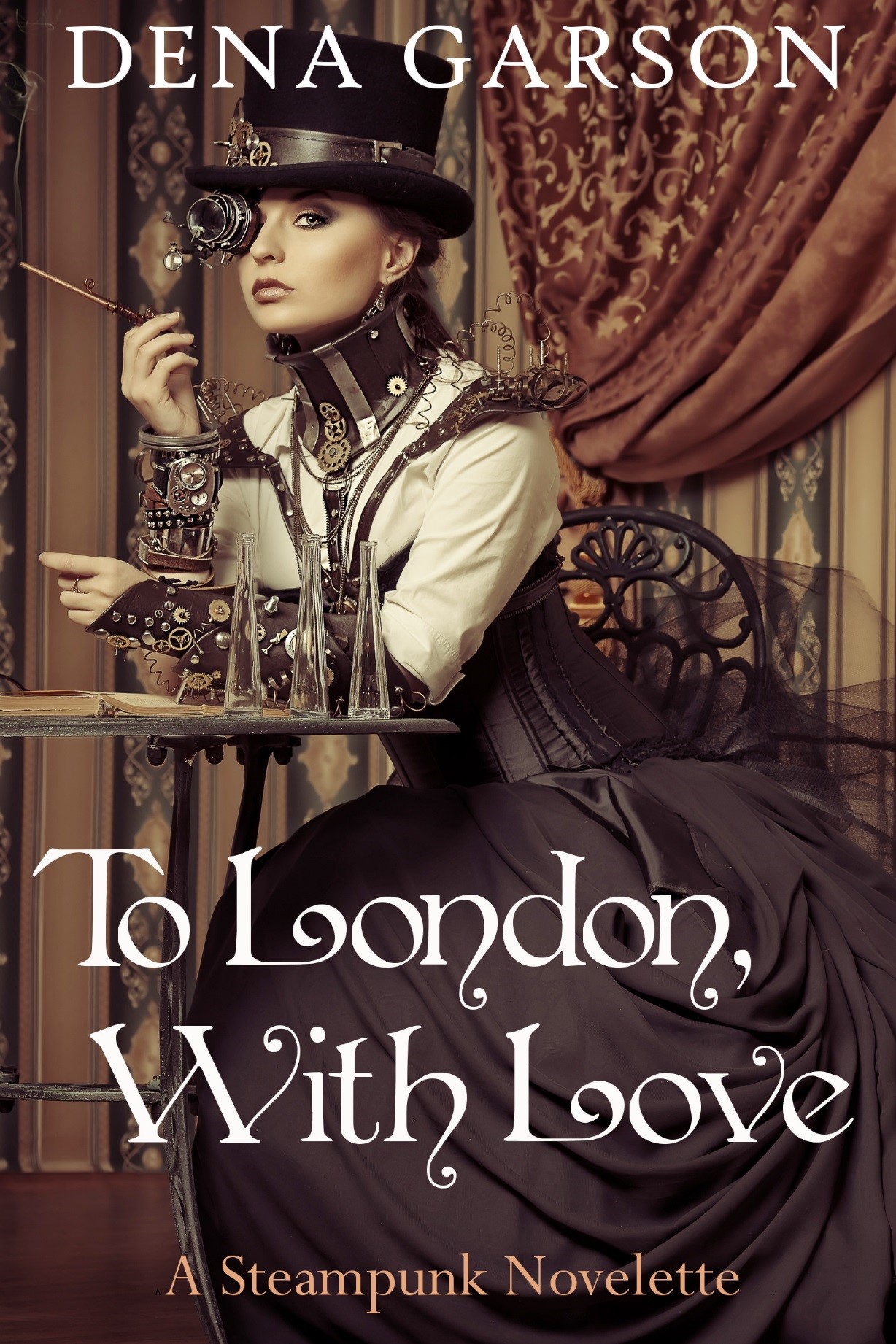 Where can you buy To London With Love?
Excerpt
Colin jerked open the door to one cabinet and looked inside. It was relatively empty and there were no droppings or shredded material indicating mice had burrowed inside. He popped open the next compartment and searched. Still no sign of mice.
When he opened the third door, he fell back in surprise. "What the—"
"Now don't be angry," Margaret Ingleton pleaded from her hiding place.
"Don't be angry?" He grabbed her by the arms and pulled her out of the closet with little finesse and probably more force than needed but he accomplished the task without hurting either of them. "I should take you over my knee right now for stowing away on my ship! What the deuces is wrong with you?" God she smelled good. How long had it been since he'd last seen her?
She shot him a look of annoyance as she straightened her skirt. A few locks of her blond hair had slipped lose. She pushed them back into place. Even after riding in a cramped cabinet she was still beautiful enough to make him ache.
Author Bio:
Dena Garson is an award winning author of contemporary, paranormal, fantasy, and sci-fi romance. She holds a BBA and a MBA in Business and works in the wacky world of quality and process improvement. Making up her own reality on paper is what keeps her sane.
She is the mother of two rowdy boys as well as two rambunctious cats (AKA the fuzzy jerks). When she isn't writing you can find her at her at the sewing machine or stringing beads. She is also a devoted Whovian and Dallas Cowboys fan.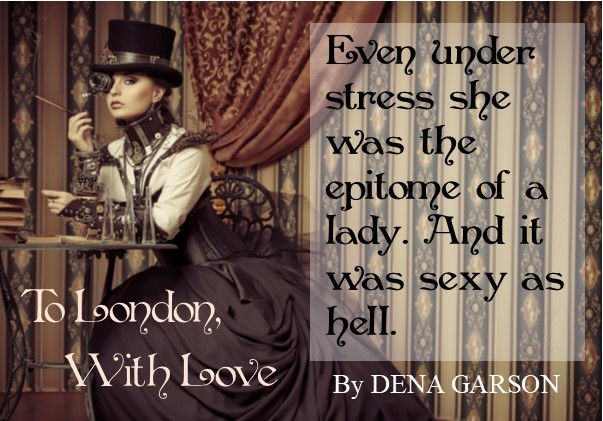 Website