Ian Cadena is another author we've had on the blog a few times. I just love watching him and Sean Kerr interacting together. They're so fun to follow. I can't wait to see what they have in store for Shimmer this year, and watching them go live during take overs is a HOOT!
Be sure to stick around after the interview to see what Ian is giving away!
What is your favourite Christmas song?

OH gosh, Sooooo many. But I pretty much like every version of Carol of the Bells
What food do you most look forward to over the holidays?

Turkey and pies!
Do you have a holiday beverage you like? Alcoholic or non-alcoholic?

I love Eggnog. I like it both with some rum and non-alcoholic. I've been searching for a great Holiday Cocktail but have yet to find one that I would love to have over and over. Although, I do make a pretty good pumpkin pie martini.
Pumpkin pie martini? I'm not sure whether I'm impressed or disgusted LOL. Is there a book you like reading at this time of year?

I should have a Christmas classic that I enjoy reading over and over, but honestly, I go to movies for this time of year. Isn't that horrible? What kind of author am I? 😛
Do you participate in Boxing Day shopping? Is Boxing Day a tradition in your country?

We don't do Boxing Day here in the States. I don't know what it is and I don't even like the "sport" of boxing 😛
In Canada and the UK it's our big shopping/sales day of the year. Although Black Friday is pretty big now too. Do you get your shopping done in advance or leave it to the last minute?

I shop online. I hate fighting crowds period and care even less for traffic. Regular traffic here in Austin, TX is horrific already, but then add in HOLIDAY TRAFFIC—OH, Hell no! It's wonderful I can shop online now. It's bad enough I still have to go the post office to get some gifts out.
What's your favourite Christmas movie?

I love all movie versions of A Christmas Carol. Some of my favorites are SCROOGED with Bill Murray and A Christmas Carol with Patrick Stewart. And of course, another holiday favorite is National Lampoon's Christmas Vacation.
National Lampoon's Christmas Vacation is my husband's favourite. When do you decorate your house?

The day after Thanksgiving. We were fortunate this year that James' cousin was visiting. So, he helped out and it was the "family" decorating.
When you were a child what was the best Christmas gift you remember receiving?

The best gift I received was hearing the bells of Santa's sleigh. We got home from midnight mass and my brother and I just climbed into our beds (we shared a room). It wasn't but a few moments later and then we heard sleigh bells loud and clear outside our window and moving around the house. It was Santa! I had no doubt! I bolted upright and looked to my brother in awe! I couldn't believe it. I struggled with if I should peer outside the window or not, because then Santa might not leave any presents if he caught me peeking. And before I could decide I heard the front door slam and my sister break into laughter. I knew I had been fooled. I rushed out of my room and to the foyer to see my sister with one of our bell decorations. She had run around the house jingling those bells to deceive my brother and I…and it worked. I was angry. But I thought…wow, for just a moment…Santa had never been more real!!!. Then my sister asked if I wanted to go with her. She planned on running up and down the neighborhood with the bells. My anger left immediately. What a great idea. So, I took off with my sister into the night, prancing up and down the block jingling bells. We did this for years to come. I did it with the hope that I could give some other kid the gift of hearing Santa's sleigh and making Santa real.
Aww! Is there a unique holiday tradition your family keeps?

Having tamales on Christmas Eve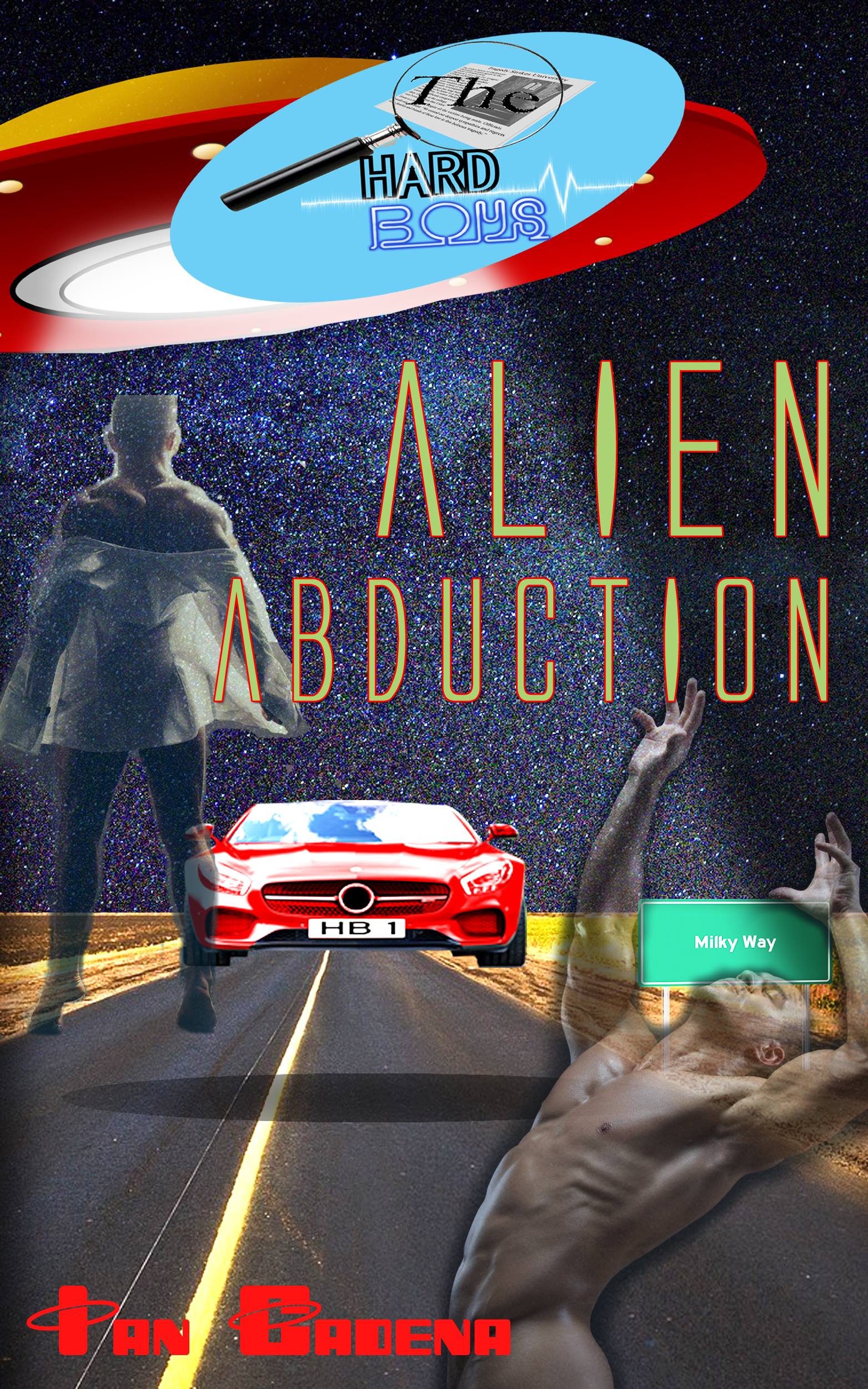 When do you open Christmas presents?

Bright and early on Christmas morning as a kid. As an adult, still on Christmas day. There was one time as a kid though that we got back from midnight mass to find the entire living room flooded with presents. That was the one time our parents let us open a few on Christmas Eve. Although, technically, it was Christmas day.
What's your favourite outdoor winter activity? If it doesn't snow where you live what makes it feel like Christmas to you?

It doesn't snow here. I love to jog in the cold though (weird I know). Festive Christmas lights make it feel like Christmas to me. As a child, my parents would drive us around to look at Christmas lights and as an adult, I still enjoy seeing light displays and will drive around to view them.
Contest!
Ian will be giving away a ebook copy of The Hard Boys: Alien Abduction. For your chance to win comment on the blog post. A winner will be randomly selected on January 2nd and will have one week to be in touch regarding the claiming of their prize.
The Dark
I wrote this quite some time ago for my mom. This story is based on a true account that happened to my mother as a child. One night while me and my siblings were still kids, my brother woke in the middle of the night to see a man-shaped figure looming over my bed. He leapt at it and then struck the floor seeing nothing in the room. I slept through the whole ordeal. After telling my mom about this she decided to share (scare the crap outta me) her real-life encounter with us. "Then it stopped. Its head flowed around on its shoulders, as it seemed to have discovered the crib. It loomed there motionless, examining the small cage from across the room. Then Pat knew—it was looking for her." It's a snowy night in a spooky new house and Pat fears bedtime because when the lights go out a malevolent entity stalks The Dark!
THE DARK (available on KU)
Alien Abduction (The Hard Boys)
"A sexy romp that offers one view of what happens should you be taken by aliens." – Gay Book Reviews Ethan & Justin Hard, along with their best friend Sparky, have formed Enigma Investigations to search out paranormal activity. Case 1. When their first potential…and adorable…client experiences missing time after a UFO sighting the Hard boys are all too eager to jump on his case. Will the Hard boys be able to solve what happened during his lapse of time?
The Hard Boys Meet Frankenseed
"Another fun and crazy tale." – Gay Book Reviews Experiencing Para-Hormonal Activity? Then Ethan & Justin Hard will be all over your case! Case #2. Mysteria is engulfed by power-outages and tumultuous weather. Ethan and Justin Hard must figure out what the cause is before the whole town is destroyed. But with the Hard boys' newly super-charged anatomies, they may very well be the culprits!
The Nexus:
"Max recorded his sister with his digital camcorder from a distance. They stood on a gentle green grassy plain just on the outskirts of their new town. His mom suggested Max document the beginning of their 'fresh start,' as she kept putting it. Why couldn't she just say divorce? He already heard the word plenty of times. Why did grownups try and give good names to bad things? It made him wonder if there really were such things as monsters, and grownups just decided to call them something else so kids wouldn't find out." Max Dane didn't know anything about magick with a 'K,' Wiccan practices or magical realism until he arrived in Ravencrest. But he soon learns the town is steeped in mystical folklore, legend, and tradition. The Sisters Grimm and other townspeople celebrate holidays such as Samhain with enthusiasm. He didn't expect to spend Halloween living in Ravencrest and he certainly didn't expect to spend his twelfth birthday caught in the middle of a divorce: A divorce that was his fault. He could easily say it was because of his epilepsy and the hallucinations it caused. Although, his new friends in Ravencrest think he's having psychic visions. But Max knows the truth behind his parents' separation. It's because he's a monster! Book 1 of 4. inspired by Celtic, Norse, and Native American mythology.

Connect with Ian: