Buy a novel and get a FREE short story!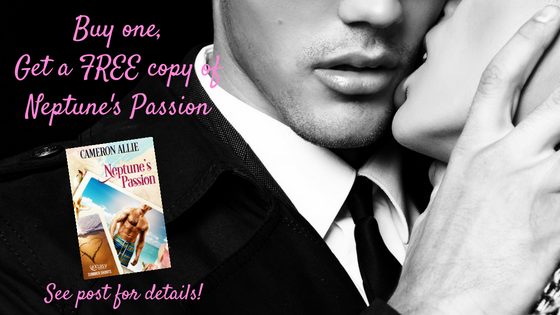 For the months of July and August if you purchase one of the novels in the Unexpected Changes series (My Mistletoe Master, Not His Type, The Perfect Fix, or Somewhere to Belong) directly from the publisher (EXtasy Books) and send me proof of purchase, I'll send you a FREE copy of Neptune's Passion.
Send proof of purchase to cameron@cameronallie.com.

I'll send you a FREE copy of Neptune's Passion, a fun summer read!
Neptune's Passion
Hot Greek male looking for roommate for tropical vacation. Must be female. Must be sexy brunette, with a passion for reading. Must be Natalie Donovan.
When Griff asked her whether, to cut costs, she'd like to room with him at their friends' wedding, Natalie should have said no. But now as they sip margaritas on a white sand beach, Natalie finds flirting with her long time crush a little too easy. And finds sleeping next to him, night after night, to be too much temptation.
Excerpt:
A few chapters further, Natalie got interrupted when water was dripped onto her legs. Frowning she glanced up and found Griff looming over her. With his Greek ancestry, dark features, and sharp blue gaze he resembled the Roman God Neptune. In the fading daylight, water glistened on his body. The only missing pieces: the big beard, and the trident.
"If you want to keep your book safe I recommend you put it away."
Confused she asked, "Why?"
She shrieked, when without warning Griff squatted down, placed one hand under her bent legs, the other behind her back, and lifted her into his arms. Natalie struggled to get away from his cold, wet body. "Put me down."
In the pool, their friends laughed and cheered him on.
"You're going in the water. You can do it alone or with the book."
"Fine." She huffed. "Put me down, though."
He did as she asked, but suggested, "You might want to lose the cover-up too."
Natalie growled her displeasure over that, but set her book on the chair and dropped her white beach cover-up over top of it. She went a step further and put her glasses on the table. If she was reading the situation correctly, it would be safer if she left them behind. She stared up at a now slightly fuzzy Griff. "Better?"
His gaze ate her up, and with deep male appreciation he replied, "Much."
Feeling playful, Natalie crossed her arms under her breasts. "I'm not going in the pool."
He grinned. "Oh, yes you are."
Deciding she wouldn't make it easy, Natalie deked around him and darted away. She wasn't nearly fast enough. She hadn't even made it passed the end of the pool before he caught her around the waist. Hoisting her up once more, Griff stood at the deep end of the pool. "In you go."
She squealed in protest as he stepped off the ledge, dropping them both into the water.