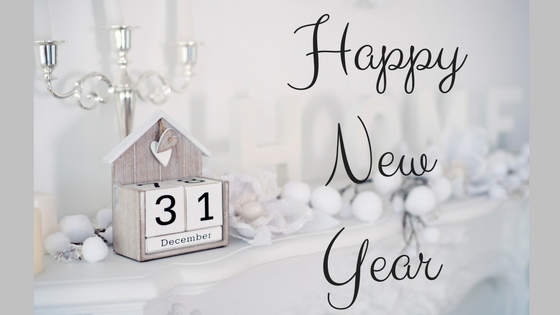 Wishing you and yours a happy new year!
This time of year seems to be when most people look back on the past year and make resolutions about the coming one. For me that moment in time generally comes around my birthday rather than New Years. When I become a year older, that's when I start thinking, "what the heck have I been doing all this time?"
This past year I didn't get that feeling, I think because my dream of being a published author came true.
Since my first novel came out in December of 2016 I've published a total of 8 stories. The Unexpected Changes series now consists of four novels and one short story. Our Love Story (my first M/M attempt) currently has two short stories in it's collection, and I've also written and published Neptune's Passion, a short friends to lovers story.
In addition to pumping out these stories I've made some great new author friends this year. I've hosted over 52 authors on my blog, and participated in several Facebook take over events. If you haven't already seen Cameron's Unexpected Holiday Blog Tour you should take a peek through the last 15 blog posts. I played host to 14 different authors, each one told us about their holidays, shared an excerpt and a giveaway. Most of the giveaways are now closed but a few are still open (particularly by the authors at the end of the tour). Many of the authors also gave us a yummy recipe. There were a few cakes, some salted almond bark, cookies, and more!
On a more personal level my husband and I found out we were pregnant. We'd been planning on starting our family and so far we're lucky to have an uncomplicated pregnancy (aside from all the unpleasant side effects of pregnancy). In April we're expecting our first child, and the gender is going to be a surprise. Our quiet household is soon going to be filled with more than random meows. We're hoping Darcy gets along well with the new baby.
For those of you wondering what's coming up this year….
Well, I'm going to be putting a big push on writing in January and February. I'd like to get ahead before the baby arrives, because I'm not entirely sure what to expect once it's here. And with my sister getting married this year as well it's sure to be a busy 2018!
Currently Unexpected Bliss is in the hands of the editor. This is Liam's novella, the one and only M/M story in the Unexpected Changes series. If you've read The Perfect Fix then you should remember Liam, Emma's gay best friend. Things between him and Mark didn't work out so well…. we're hoping to see a February release date for Unexpected Bliss.
I'm planning on two more in the Unexpected Changes series. I have yet to determine whether they will be novellas or short stories. I'm also planning three more short stories in the Our Love Story series. My goal is to have all 5 turned in to eXtasy before I deliver this baby, and if I can I'd like to get a solid chunk of something new going.
What have I got planned for after those two series are finished?
I always have projects on the go. Currently I'm working on a short friends to lovers story, but I also have a contemporary BDSM trilogy in the works, a paranormal wolf-shifter series started, and a menage sci-fi trilogy simmering on the back burner. I would also like to write a trilogy for Ed Moore's siblings (you remember Lorenzo, Romeo and Ariel from The Perfect Fix?). Those are next up on my list followed by several other projects.
But I'm interested to hear what you think. Which of these series are you most interested in reading more about?