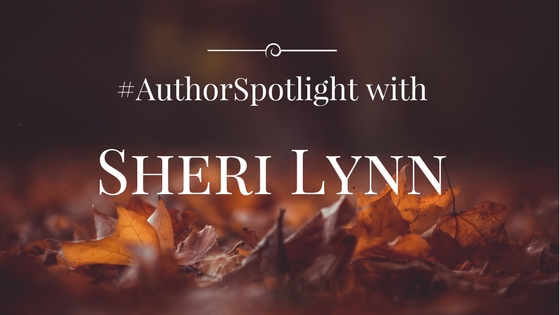 Sheri Lynn is another new-to-me author who I meet in a romance reader's Facebook group. She has a vivid imagination, and writes in multiple genres. She's in a few upcoming anthologies, one is for the holidays called, Mischief Under the Mistletoe. The editor's note about knitting lamps made me giggle. 😛
So let's get to know Sheri!
1. Tell us a little bit about yourself.

I live in Alabama, the beautiful. My mom is from here and when my dad retired from the Army we moved here. It was just before my 16th birthday. I was the girl that played with her Barbie's until her mid-teens. Yep. Loved making up stories. I live on the Alabama River with my husband and daughter. She will be leaving for college next year, and I am already having separation anxiety. I have two sons that have been out on their own for several years now. My goal is to write full-time one day, but not with a daughter going off to college in less than a year. I have a part-time bookkeeper job, but I do write in the office on occasion (shhhh!).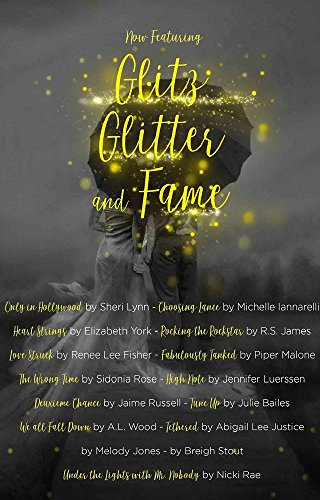 2. Can you tell us a little bit about your latest release/upcoming release? And what readers can expect when they open one of your books?

I just had a release in a YA Fantasy boxset on November 7, 2017, Magic and Shadows. My story is The Protected Prophecy, written under Sheri Downing. It's a good vs. evil story set in a post-apocalyptic setting.
I don't know how much I can say about two upcoming releases in anthologies, but I can tell you a little so readers can be on the lookout.
I have a story in the Mischief Under the Mistletoe Christmas anthology that can be pre-ordered on Dec. 1 and releases on Dec. 7, 2017. My story is titled Rebecca the Red-Bottomed Reindeer, and yes, it is a spanking romance. This is a great set with amazing talent.
Mischief Under the Mistletoe
Fourteen fierce festive stories in one AMAZING anthology extravaganza, fresh from international and number one bestselling authors alongside hot new talent! Editor's Note: These delightfully naughty Christmas spanking stories feature scorching romance and BDSM. Some involve age play, all involve spanking. There's also a bit of LGBT+, some magic, and a drunken incident with a photocopier. If this isn't your scene, it might be better to find a nice book about knitting lamp shades, instead.
Featuring These Authors!
Maren Smith, Amelia Smarts, Allysa Hart, Delia Grace, Shelly Douglas, Gracie Malling, Joelle Casteel, Brandy Golden, Kelly Dawson, Sheri Lynn, Jaye Elise, Kathryn R. Blake, Molly Alvarado and Katie Douglas.
I also have a story in the Glitz, Glitter & Fame anthology with 13 other fabulous authors. It's already available for pre-order and releases on January 1, 2018. My story is Only in Hollywood. Here's a little bit about it:
Billie Jo's parents surprised her with a dream vacation during college break, a summer in Hollywood with her cousin. Being mistaken as Cruz Noble's hired stress relief wasn't in her job description when she accepted the part-time assistant job at the studio her cousin works for.
Their first introduction was a horribly awkward misconception on his part, but Cruz not only wants to make it right, he wants Billie Jo. With zero interest in movie stars and their larger than life existence, can Hollywood's biggest star get the girl in real life?
3. You write in multiple genres within the romance umbrella. Can you tell us what draws you to the genres you choose to write in? And what are some of the challenges of writing within those genres?

The stories and characters come to me. I don't necessarily go looking for them, unless I'm involved in a themed anthology. The challenges are that I want my writing to be accurate and that does require research. Google is my friend. I read up on anything I am unsure about and ask anyone I think can steer me in the right direction. In Charm Him Disarm Him I had to learn about wormholes. I am currently working on a story that I have researched how to keep warm and survive in harsh winters without electricity. I also have a Pirate novel in the works, and that has involved quite a bit of research of their history and the history of the islands my story takes place in.
4. Is there any particular author or book that influenced you in any way, either growing up or as an adult?

I read anything I got my hands on that interested me growing up. In romance, Johanna Lindsey and Jude Devereaux. Devoured everything they wrote. I loved 50 Shades and Twilight. V.C. Andrews. I've read James Patterson, Patricia Cornwell, and though his books are usually found under Christian fiction and do have those undertones, I love Ted Dekker. Dekker's book Skin was amazing.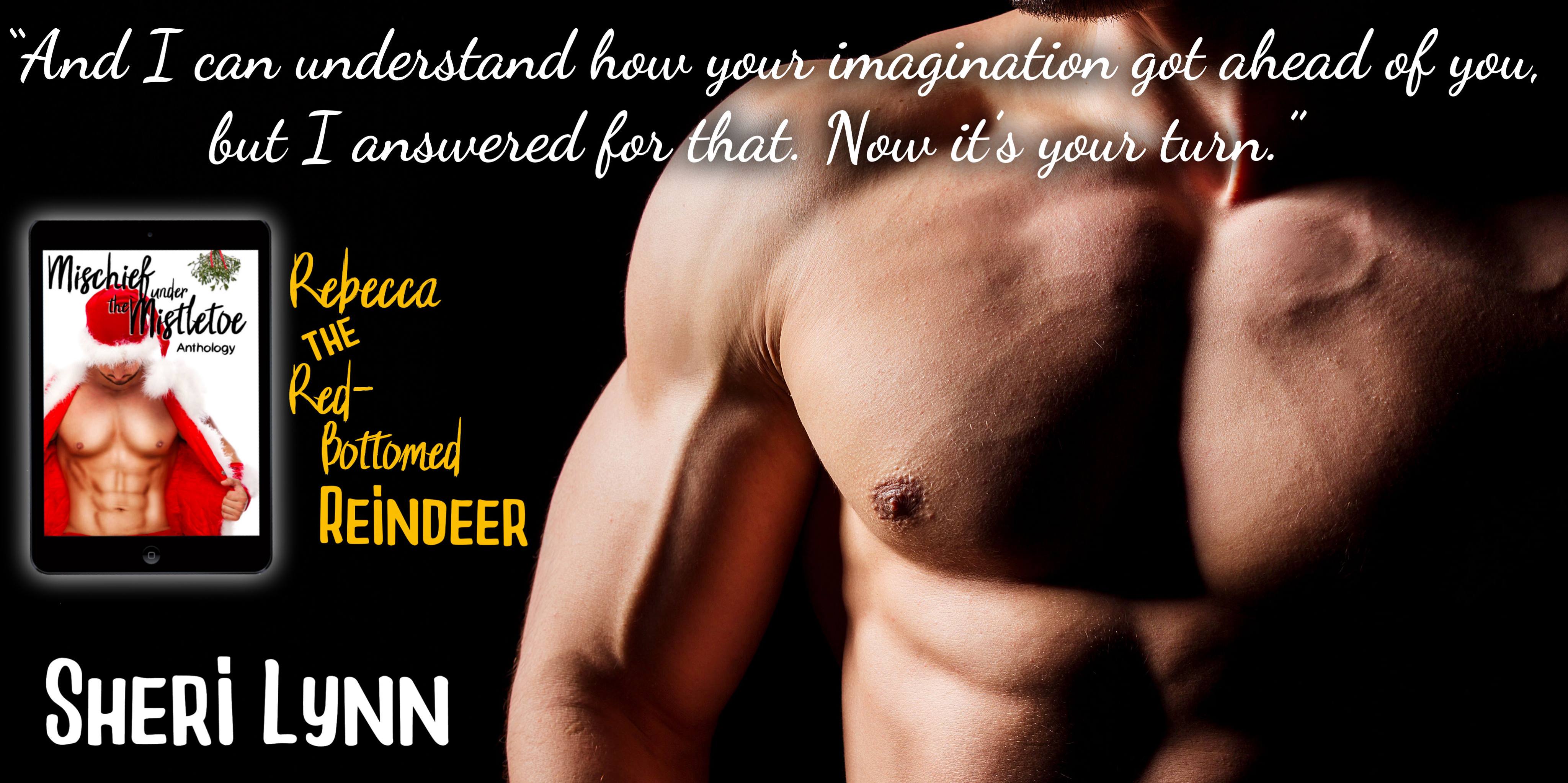 5. Does/has anything in real life influence your writing? (Life experiences, films, books, celebrities, music, places, etc.)

Definitely. I use places I've been and lived. I want my writing to be authentic, but I have had to research some areas that I haven't been. I know it comes natural to me to write confident, able men because my dad and my husband both retired military. It's what I know. Of course the women are also confident and able. That kind of goes with the territory in being part of a military family.
6. What do you find to be the most difficult part of the writing process?

Time. I don't get many opportunities to devote just to writing. Not only do I have a husband and daughter at home, but 4 dogs. Many times I just get seated and my laptop open when the Golden Retrievers start barking incessantly. And like I hear from most authors though I don't think I ever get writer's block, but I have periods where I have to walk away from it for a bit. I never force myself to write (unless I'm on a deadline).
---
Excerpt from Rebecca the Red-Bottomed Reindeer found in the Mischief Under the Mistletoe anthology.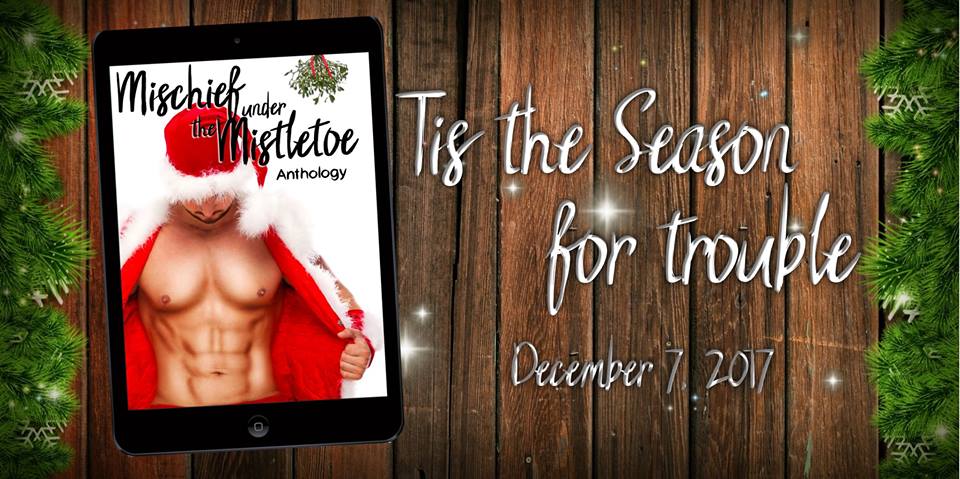 Losing her balance, her knee slammed into the stage and her torso followed.  Planting her palms in front of her, she lifted her shoulders and breasts realizing she landed right smack in front of a customer.  The lights played havoc with her vision.  Not that it surprised her to have a man ogling her breasts, but she felt the intensity in his stare.  Raising her eyes, she glimpsed a furor in his eyes before he became enveloped in darkness again.  Looking down she noticed her necklace she never took off rotated from behind her neck and under her hair.  Her brother gave it to her and this man focused on it.
She figured it cost a fair amount, Australian Opals, a unique, lovely piece, but not something anyone might take note of the way this man fixated on it.  It meant more to her because it came from her brother.  He bought it years before he met his wife, April.  Back when he and his hot best friend, Jake, took impromptu road trips.  This he picked up in Santa Fe.  Before she had time to react to her revelation, fingers clamped down over her upper arms.  He dragged her off the stage.  Kicking her legs, her feet, she searched for anything to halt this onslaught.  He had a tight grip on her which gave him the ability to keep her upper body from crashing with the table he vacated.  Her lower half didn't fare as well.  Her left knee plopped on the table causing the table to rock and flip to its side.  This rotated her body smashing her to the floor on her right thigh.
It didn't end there.  Their eyes met for a second.  Long enough for her to understand this wasn't over.  Bending toward her, his left arm encircled her waist hauling her up from the dirty concrete floor.  Her feet dangled in front of him, her doe-tailed butt in the air.  Even with the music blaring, it didn't mute the crack of the first thwack against her bare flesh.  She yelped unable to fathom he spanked her, a hard spanking, and in public.  He got a few more strikes in before the bouncers arrived.
Finding herself on her hands in knees, she looked up in time to see him receive a punch in the jaw.  "No!  Don't hurt him!" she screamed as they forced him out of the building.  By the time she found the ability to stand, she ran out to find him, but didn't see him anywhere.  Her knees shook and she found it difficult to breathe.  Leaning forward she rested her hands on her upper thighs.  Jake.  When was the last time she saw him before him tonight?  When she was in high school and he came over to the house for Thanksgiving?  Would he tell her brother that he saw her here?  She never expected anyone to find out.  With Jose's Jewels being an hour and half from her hometown, she thought she could keep it a secret.
Connect with Sheri:
https://twitter.com/sherilynnauthor
https://www.facebook.com/sherilynnauthor/
https://www.amazon.com/-/e/B0182IRER8
Sign up for her newsletter:  http://eepurl.com/cWoyZ5
Pre-order your copy of Glitz, Glitter & Fame:  https://www.amazon.com/Glitz-Glitter-Fame-L-Wood-ebook/dp/B0777RFQDC/ref