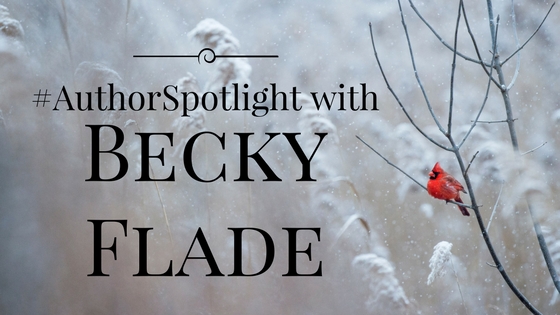 Becky Flade joins us today to talk about her writing process and her latest release, A Love Restrained, which is currently on sale for Kindle readers until the end of the day. I'm in total agreement to her answer for number six, and her answer to question 5 is AWESOME by the way. I'm hoping she writes that story!
So let's get to know Becky!
1. Tell us a little bit about yourself.

Well first, thanks so much for having me. I really appreciate it. I'm a 41 year old Philadelphia native, married with three daughters (ages 24 thru 9), one son-in-law, two grandsons (ages 5 and almost 2), and a crazy cat – he thinks I'm his mama.
2. Can you tell us a little bit about your latest release/upcoming release? And what readers can expect when they open one of your books?

Last month I released my newest title, A Love Restrained. It's unique in that while it's my 8th book it's the first I set in my hometown. Kylee Parker is Philly PD and has a very firm sense of right and wrong, but her moral compass is tested when she falls for Jayson. Jayson's secrets, and his scars, run deep. He loves Kylee and can't walk away, not even when his secrets threaten both their lives.
When a reader opens one of my books I hope they find romance that gives them hope and suspense that gives them the chills. And at least one big twist.
3. You write romantic suspense. What drew you to that genre? What's the most challenging part(s) of writing suspense?

I believe the heightened sensations one experiences during any suspenseful book, movie, etc., helps pull the reader/viewer more firmly into the emotional elements of the story as well. And that's actually what drew me. The happily ever after feels like a bigger pay off when they didn't just fall in love, they also escaped a serial killer (disclaimer: There are no serial killers in A Love Restrained). The most challenging part? Hmmm. Balancing the suspense with the romance. If you're off on either side, neither work.
4. Is there any particular author or book that influenced you in any way, either growing up or as an adult?

I absolutely LOVED Mary Higgins Clark novels as a kid and later Nora Roberts/JD Robb. I would yes, there's some influence there. Maybe they're really what drew me to the genre.
5. Does/has anything in real life influence your writing? (Life experiences, films, books, celebrities, music, places, etc.)

I think every author/writer puts something of themselves into a story and I don't think it's on purpose. It's like your children: They're their own person from their first breath but parts of you are there: the squint in your eye, the ability to make hot dog roll out of your tongue, stuff like that.
Or do you mean how I almost got ran over by a taxi today and came up with an entire idea for a new book about a woman who gets clipped by a taxi, just hard enough to lose consciousness when she hits her head on the pavement, and wakes up with a gorgeous stranger tending to her? Turns out he's been stalking her, saw her get knocked down and ran to her aid. But is he really stalking her? Or is he a PI hired to find out what she knows about missing girls?
Because both are absolutely true.
6. What do you find to be the most difficult part of the writing process?

Editing. Sweet Jesus, editing is the devil's playground. But so important. So necessary. And it's not enough to rely on spellcheck, it takes a lot of work, on my end, before I even submit and then? It gets worse because the publisher's editors take weed whackers to my story. They cut of limbs. They decimate sentences I thought were literary gold. But they are professional editors for a reason, and with little exception, they're right. They trim the fat and make the book that much juicier. I've done self-pub as well and I pay for professional editors when I do. It's that important. It's also just as painful.
---
Enjoy the following excerpt from A Love Restrained: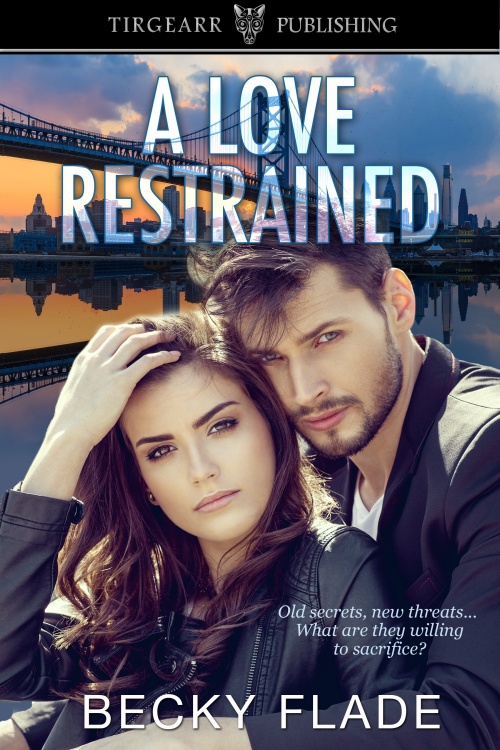 Spring in the city brought people out of winter hibernation like a siren song, but as the temperature rose, so in turn, did the crime rate. Cops had  to be sharp as they walked the streets of Philadelphia. In her ten years on the force, on these streets, she'd seen a lot of crazy and often stupid  criminals do a lot of crazy and often stupid things. But to be so brazen,  or so plain dumb, as to do a hand-to-hand drug buy right in front of two uniformed officers rode high on her list of top ten.
"Tell me you saw that?"
"Saw what?" Hunks of half chewed soft pretzel fell from Sherman's mouth.
Pete Sherman's not a bad cop, just not an observant one whose paunch  portrayed his love of all things fried and his reupholstered recliner. He hadn't seen a thing in the last six months. But he took direction well, despite the fact he had seniority.
"There, across the street." She pointed. "The junkie walking east just scored off the guy in the leather bomber heading west. I swear the dealer looked right at us before the exchange. Call it in, Pete, and grab the junkie. I'm going after the dealer."
Sherman didn't argue. She took off into a quick lope, kept her footsteps light so as to not alert the man she pursued. The spring day had drawn people out and the complaints of the pedestrians she weaved through grew loud. The guy glanced over his shoulder, and the edge of his mouth tipped into a grin before he sprinted around the corner.
"Cocky jerk." She turned the corner, and shouted, "Stop! Police."
She ran clean and fast, closing the distance between them with little effort. The dealer ducked into an alley she knew to be a dead end. She slowed and put one hand on the butt of her service pistol as she approached. He had his back to her, his hands on his hips as he stared at the brick wall in front of him.
"Philly PD, you're under arrest. Slowly put your hands above your head and against the wall to your left." She closed the few feet between them, using her free hand to release the handcuffs from her belt, the other remaining on her weapon. She cuffed him, with practiced efficiency, and then read him his rights before leading him out of the alley, preferring to do the pat down with her partner present.
"Kylee Parker, I'll admit I daydreamed a time or two about you cuffing me, but it was never in this context."
A LOVE RESTRAINED
A romantic suspense
by Becky Flade
Philadelphia police officer Kylee Parker is dedicated to protecting and serving. She sees the work in absolutes: right and wrong, black and white, good guys and bad guys. That is, until she chases a drug dealer into a dead-end alley and finds the bad boy she had a painful crush on throughout her teen years has turned into a more dangerous and more attractive man.
Jayson Donovan knows he doesn't deserve someone as good as Kylee Parker. As the right hand man to a local drug-pushing mobster, he's solidly on the wrong side of Kylee's moral compass. But he can't help reaching for her time and again when he knows he shouldn't.
Even when his secrets threaten them both.
Where to purchase A Love Restrained
Amazon US | Amazon UK | Barnes & Noble | Smashwords | iBooks | Kobo
Add to Goodreads
About the Author:
Home is where the heart is and Becky makes hers with her very own knight in slightly tarnished armor, their three daughters, son-in-law, two grandsons, and their psychotic cat Jaxon. When she's not busy living her own happily ever after, she's writing about someone else's.
Contact Details:
http://www.beckyfladeauthor.com/
https://www.facebook.com/BeckyFlade
https://twitter.com/beckyflade
http://www.amazon.com/Becky-Flade/
http://www.goodreads.com/Becky_Flade
sign up for Becky's quarterly newsletter here à http://eepurl.com/7WDZj