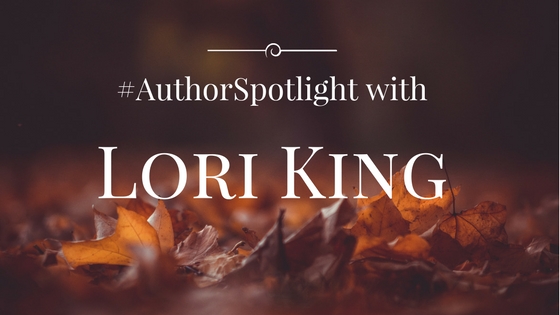 Lori King is joining us today. She's a new-to-me author who I met online in a lovely romance reader chat group. After chatting with her today I realize that many of her answers mimic what my own would be, we have very similar opinions on social media and focusing for deadlines. Today she's here to tell us about her latest book Frost-Bitten.
So let's get to know Lori!
1. Tell us a little bit about yourself.

I'm pretty normal on the outside. I have three sons ages 16, 15, and 8, two dogs, two turtles, oh, and a husband! I'm the president of the elementary school PTO, and I volunteer at the local VA. When you get to know me, you find out I'm a romantic at heart, with a dirty sorta twist. I like alpha heroes with soft hearts, and feisty women with sharp tongues. Oh, and sex! Lots of delicious love making in my Happily Ever Afters!
2. Can you tell us a little bit about your latest release/upcoming release? And what readers can expect when they open one of your books?

My book, Frost-Bitten, released this month! It's a paranormal suspense about a pregnant tiger shifter who escapes being kidnapped by a lion only to end up in the arms of a polar bear!
3. You write in multiple genres within the romance umbrella. Can you tell us what draws you to the genres you choose to write in? And what are some of the challenges of writing within those genres?

I get bored easily, so I write a variety of things. The rundown: Military, BDSM, Ménage, Contemporary, Western, Paranormal, Shifters, New Adult, and even poetry. My biggest challenge is staying focused long enough to hit my deadline! LOL I think writing paranormal and shifters is my favorite style, because I can make up the rules. There's no limit to how far out the stories can be in that genre. I've been writing poetry since I was a kid though because it helps me process my emotions and deal with my depression and anxiety.
4. Is there any particular author or book that influenced you in any way, either growing up or as an adult?

So many authors have influenced me. My first erotic series was by Bertrice Small, it's called Skye O'Malley. I read it when I was about thirteen, and that was when I realized that books didn't have to fade to black when things got sexy. I embraced the idea that writers could write more realistic relationships, and I think that's led me to where I'm at in my career.
5. Does/has anything in real life influence your writing? (Life experiences, films, books, celebrities, music, places, etc.)

Honestly, absolutely everything inspires me in some way. I pull from the people and places around me, life experiences, and even random news reports when necessary. I've got an endless imagination.
6. What do you find to be the most difficult part of the writing process?

For me, the hardest part is staying focused on writing and getting my daily word count. Because of my Author ADHD, I tend to wait until last minute to push through to the end of the story. One of these days I'll write a book without the pressure of a deadline…
---

Dr. Quinn Jameson has secured his future by immersing himself in his career, but no amount of money in the world can ease his loneliness. Polar bear shifters aren't pack creatures, but his soul craves more out of life. When a feisty, female tiger shifter begs him for help, he's unable to resist and finds himself embroiled in a dangerous situation.
Aubrey Celine is in a bad spot. Pregnant and on the run, she's out of options until she wakes up in the hospital under the care of a delicious-looking Doctor. Can she trust another man after what her ex has put her through? Or has her heart frozen solid?
In the midst of an epic blizzard, these two strangers must rely on each other to stay alive, but every time they're alone, the heat between them could melt the ice caps. How far will they go to avoid getting frost bite?
Amazon https://www.amazon.com/dp/B075RWG8WT
B&N https://www.barnesandnoble.com/w/frost-bitten-lori-king/1127129185
iTunes https://itunes.apple.com/us/book/frost-bitten/id1287252177
KOBO https://www.kobo.com/us/en/ebook/frost-bitten-1
Excerpt:
"All set. Your friend is currently searching the neighborhood for his runaway fiancée; he believes you went AWOL, against medical advice," he explained as he started the ignition. "Stay down a little longer if you don't want to be spotted."
Aubrey did as she was told, hunching down on the buttery-soft bench seat with only the car's luxurious interior and one delicious-smelling man to look at. Trapped in this enclosed space with Dr. Jameson, she became keenly aware of her body's attraction to him. Damn hormones.
"It's normal," he murmured.
"I'm sorry?"
"The arousal. It's normal during pregnancy. Your hormones are a bit chaotic." He glanced over at her, and Aubrey felt her face heat up. "I just didn't want you to be embarrassed about it."
"Well, you majorly failed at that, Doc," she grumbled.
"My name is Quinn. Considering I just helped you escape a dastardly villain, I think we should be on first name terms." Several more minutes passed before he spoke again.
"We just crossed the river, so you should be okay to sit up now," he instructed, turning the car off the main road.
"Where are we going?" Aubrey struggled to get her bearings in an unfamiliar part of the city.
"My house." He looked her way again and shifted the gears flawlessly. "Unless you have another destination in mind?"
"I didn't have any destination in mind. I just had to get out. Honestly, I didn't even pause to consider the risk of leaving when I saw my opening. I just ran," her voice cracked, and she swallowed the lump in her throat. She had no idea where the out of character streak of fearlessness had come from. Alex had been threatening her the entire time he'd held her captive, and until the moment she'd noticed the lock wasn't secured, she'd never even seriously considered making an escape attempt.
"I know who you're running from, but what I don't understand is why? What did this guy, Alex, do to you?"
"He kidnapped me."
Connect with Lori:
Website: http://LoriKingBooks.com
Facebook: http://facebook.com/LoriKingBooks
Twitter: http://twitter.com/LoriKingBooks
Instagram: https://www.instagram.com/lorikingbooks/
Goodreads: https://www.goodreads.com/author/show/6455081.Lori_King
Bookbub: https://www.bookbub.com/authors/lori-king
Google+: https://plus.google.com/u/0/108428992523267219179
Pinterest: https://www.pinterest.com/lorikingauthor/
Instagram: https://www.instagram.com/lorikingbooks/
Tumblr: http://lorikingbooks.tumblr.com/