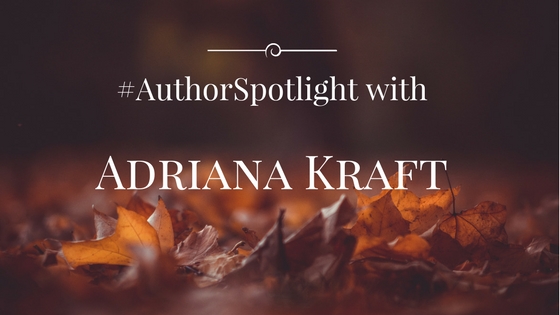 Normally I host these author spotlights on Wednesdays, however last week due to a scheduling mishap on my part we missed getting to chat with Adriana Kraft (hey, one mistake in a year's worth of hosting these interviews isn't too horrible). Luckily for us, Adriana offered to give me another go.
Also, tonight she's going to be taking part in a reader's chat and will be doing a giveaway. Check out the information below:

Readers' Chat with giveaway
Adriana will be at Barb's PJ Party Friday night October 6, 9pm Eastern (6pm Pacific) giving away one copy April Swings. Lots of other authors with erotic romance giveaways!
Chat info:   http://reviewsbycacb.blogspot.com/p/barbs-pj-party.html
Chat Link:   http://www.writerspace.com/chat/ 
Now, let's finally, get to know Adriana!
1. Tell us a little bit about yourself.

My husband and I write together under our pen name, Adriana Kraft. The quickest way to get a bead on who we are and what we care about is to track the hashtags we tweet most often: #Health, #Boomers, #Pride, #Polyamory, and #Sexpositivity. We've expanded on these in a blog post you can read at this LINK, but here's the short version. Yes, we're baby boomers, and not among the youngest. Staying healthy is our highest priority, and writing spicy fiction is one of the ways we do that. It helps keep the juices flowing for us, and we hope for our readers as well. LGBTQ Pride, polyamory, and sex positivity are top values that guide who we write about and how we write about them.
2. Can you tell us a little bit about your upcoming release? And what readers can expect when they open one of your books?

In reverse order – whether readers open our romantic suspense or our erotic romance, they can expect characters they care about, hot sex scenes, and a compelling story. Our suspense stories deliver one man, one woman, danger and intrigue. Our erotic romance is edgier and nearly always includes ménage or polyamory, sometimes with two women and a man, sometimes with two (or more) couples.
Recent and upcoming releases – We're thrilled Extasy Books is re-releasing our erotic romance ménage series Meghan's Playhouse, which has been unavailable for over four years. Books One and Two have been released already, and Book Three is scheduled for October 13.
Meghan's Playhouse:
Book One: Seducing Cat
Book Two: A Woman for Zachary
Book Three: April Swings, forthcoming
When we began writing Book One, we simply planned to write a one-shot erotic romp. We had in mind a vague plot idea we thought would be fun to provide a structure for some spicy sex scenes: What if there was a young, vibrant, bisexual modern-day Aphrodite who brought couples together by having sex with each partner? So we invented (we thought) Meghan Keenan to fill the role. Characters have a way of taking over, though, and Meg wasn't satisfied with just being a piece of fluff having hot sex scenes. The series quickly developed, tracking her adventures through her twenties to her own happy ending, which we're keeping secret for now. We've also added one new book to the series.
What soon became clear to us was that Meg isn't just having casual sex – she's investing in a love relationship with her paramours, each and every time. Though she plots and schemes how to bring each pair together, it is in fact her love for each of her partners that enables her to be the conduit through which they discover (or re-discover) each other. We feel very comfortable labeling this series a Polyamory series. In Seducing Cat (Book One), Meg helps her carpenter boyfriend and her drama director (an English professor) recognize that the sparks that always fly when they take each other on are in fact caused by lust and attraction, not repulsion.
Since we're baby boomers, we often like to write characters our own age (and, we hope, give readers hope that love and hot sex can last a lifetime!). In A Woman for Zachary (Book Two), Meg quickly assesses that her new Broadway drama coach and the dashing older man who's brought Meg to New York are made for each other. April Swings (Book Three) features an early thirties couple whose marriage has gone flat. In desperation, they book a cruise on a ship where Meg just happens to star in the on-board shows, and Meg is only too happy to help them rekindle their flames, along with some assistance from her new main squeeze.
3. Do you believe in true love? Soul mates?
Yes, I'm married to him. It's the happy ending I would wish for everyone, of whatever gender combination and in whatever numerical combination is right for them. I think if we didn't believe it was possible, we couldn't write it. Soul mates doesn't mean we agree about everything or that we never argue or that it doesn't get tough sometimes. It means at our core, in addition to loving each other deeply, we value the same things, and we're there for each other when something goes wrong, or even when one of us has let the other down. Like our characters, we're flawed human beings, and we and they deserve a lasting love that values the whole person, flaws and all.

4. Is there any particular author or book that influenced you in any way, either growing up or as an adult?

A host of them, and different for each of us. I credit Gone With the Wind for my impetus to write fiction – in my teens, I wanted to change the ending. I wanted Scarlett not to lose Rhett – I probably wanted Clark Gable for myself! As an adult, I devoured the diaries of Anaïs Nin. I also deeply admire Jane Austen and read back through her entire output every so often, always finding something new. For my husband, Zane Grey novels in his youth, Louis L'Amour, and classic erotica in adulthood—The Story of O, Fanny Hill, Henry Miller. At one fiction convention, we attended the costume party as Henry Miller and Anaïs Nin – but we were missing the third party of their polyamory relationship!
5. Does/has anything in real life influence your writing? (Life experiences, films, books, celebrities, music, places, etc.)
Everything that's ever happened to either of us is grist for the mill and can find its way into a story – which is not to say that everything we've written has happened to us! But nuances of place – the Lift Bridge in Duluth, MN, a Brooklyn walk-up apartment over a laundromat, a century-old foursquare home in a small Wisconsin town, horse farms in McHenry County Illinois, where our ancestors settled in the 1800s – stick with us and flesh out the settings we give our books. Our characters? Though we're academics with advanced degrees and often write professors as characters, we come from families filled with farmers and blue-collar workers, and we're no strangers to trauma and life struggles. All our experience feeds into who we write. Oh, and the hot sex scenes? We like to keep our readers guessing…
6. What do you find to be the most difficult part of the writing process?
I think because there are two of us, we don't really run into what you might call writer's block; when we're stuck, we talk it out, and usually something shakes loose. When that doesn't happen, we just have to wait the characters out. We've set the stage, developed who the characters are, outlined our plot, and started writing – but sometimes they don't go where we thought they would, and we have to stop and wait for the dust to settle. The fascinating part of this process for me is that often the change hinges on a tiny detail we threw in early on that turns out to be important. It's as though not only the characters but their environment has a life of its own, and our role is to drop in on it, stay faithful to it, discern how it fits together, and not miss anything.
---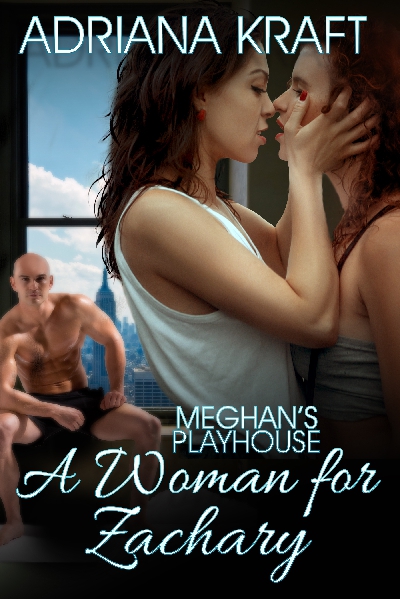 BLURB: A Woman for Zachary
It's New York! Broadway beckons, but Meg has more fun keeping an erotic triangle going with her current flame, Zach Cullen, and her drama coach, Josie Patrice.
Zachary Cullen has ignored Josette Patrice's overtures for years, but she agrees to take on his latest protégé-slash-arm-candy Meghan Keenan in her off-Broadway workshop theater. Though the girl has incredible talent, Josie would stake her reputation on that little thing being a switch-hitter, like herself, and she doesn't want Zach to be duped. Josie sets out to seduce Meg and expose her for what she is, but all bets are off when Meg turns the tables on Josie to hook her up with Zach.
 EXCERPT from A Woman for Zachary
"Your latest protégé does show promise, Zach." Josette Patrice focused on the group of actors rehearsing onstage and avoided looking at Zachary Cullen as they stood shoulder to shoulder in the back of the small, semi-darkened playhouse.
"Hmm."
Josie smiled. Was he pondering Meghan Keenan's thespian talents, or her bedroom talents? Josie was certain the petite twenty-one-year-old would excel in both venues.
Not for the first time, Josie wondered why the highly successful fifty-something entrepreneur invested so much time and money trying to find the next Broadway star. Was it his ego, his desire to take young struggling actresses and help them make their way to New York City—specifically, to her?  Or was it the side benefit of sex with gorgeous young women that kept Zach on the lookout for talent as he traveled from one business interest to the next? Meghan was the third young woman he'd brought her over the past ten years.
"She seems more wooden, less natural than when I first saw her in that little community playhouse back in Wisconsin," Zach said, breaking the silence.
Lost in her own thoughts, Josie startled at the gravelly sound of Zach's deep voice. It was that slow, strong drawl that had appealed to her since the first time they'd met. That, and his burning eyes that seemed capable of peering into her soul.
Josie wet her lips watching the stage lights bounce off the girl's auburn hair, as if setting her afire. Had Meg been caught up in Zach's vision for her, or in his nearly overwhelming air of masculinity? She had to admit his broad shoulders and tapered hips triggered her own lusty imagination. Damn. She hated the fact that she had difficulty ignoring his manliness, and he never even looked at her as a woman.
Purchase your copy of A Woman for Zachary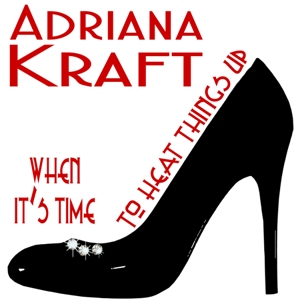 Connect with Adriana:
Website: http://www.adrianakraft.com/
Blog: http://www.adrianakraft.com/blog
FaceBook Page http://www.facebook.com/pages/Adriana-Kraft/182846025133440
Twitter http://twitter.com/AdrianaKraft
GoodReads http://www.goodreads.com/author/list/1578571.Adriana_Kraft
Newsletter http://eepurl.com/uRvCr
Pinterest http://www.pinterest.com/adrianakraft5/boards/
Amazon Author Page https://www.amazon.com/author/adrianakraft