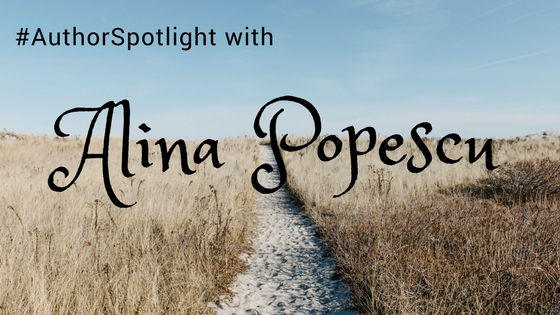 This week on #AuthorSpotlight I've invited Alina Popescu to tell us all about herself and her books. I met Alina through some sprinting session (if you're unfamiliar with what a sprinting session is, please visit this blog post to learn more).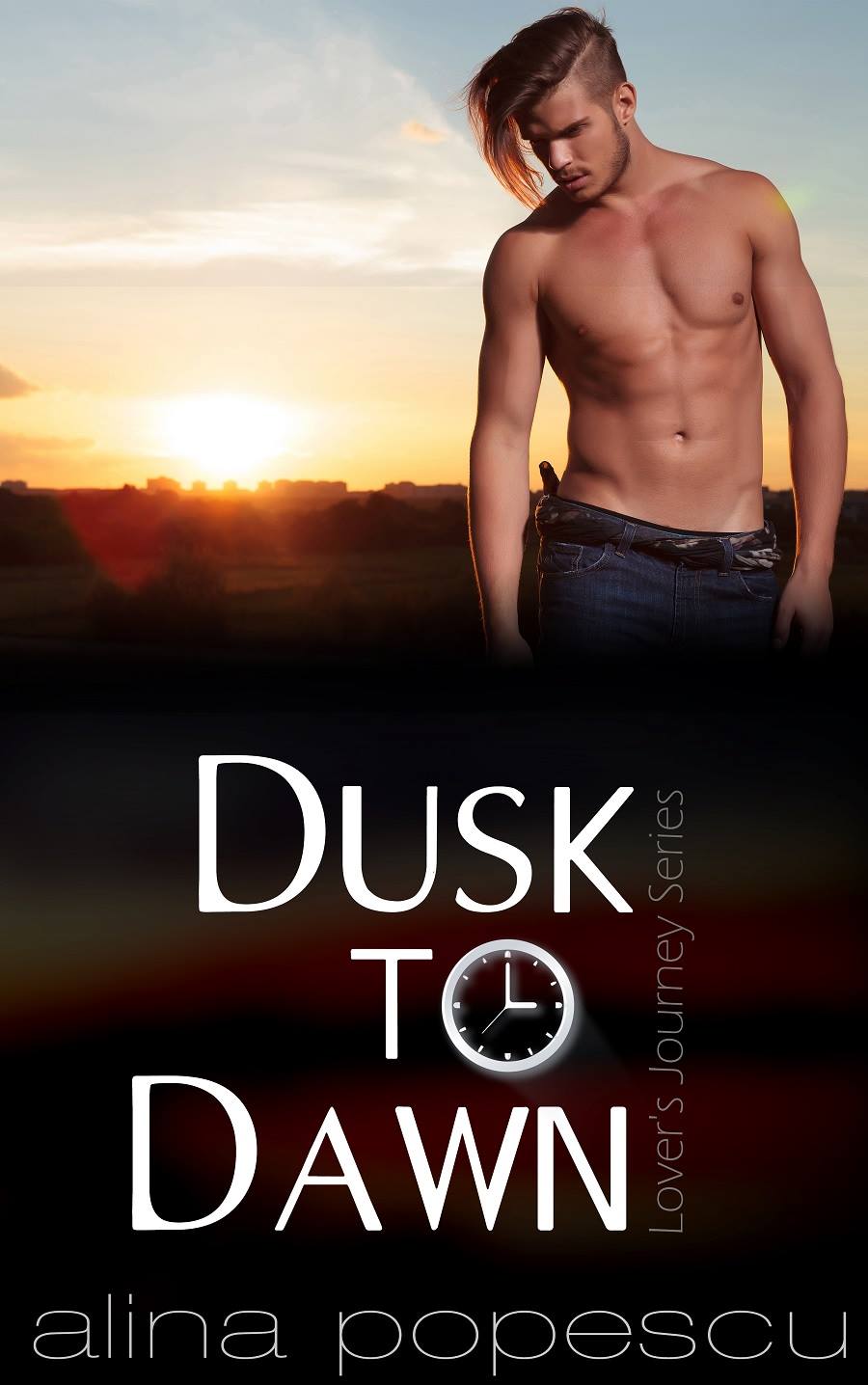 Most of the authors I interview are from the U.S. or the U.K or Canada. I've also had a few from Australia, but today we're about to meet an author from outside those countries. I'll let her tell you where she's from. Another really neat things about Alina is that we've both had the same sexy cover model appear on one of our covers! The man on Dusk To Dawn by Alina, is also on the cover of my novel, Not His Type. Small World, eh?
So let's get to know Alina!
1. Tell us a little bit about yourself.

First off, thanks so much for having me on your blog! I'm honored and thrilled we're having this chat.
I am, as all my bios say, a writer, traveler, and coffee addict. I am Romanian, born and raised, and I grew up in a family that loved books. So I pestered them to teach me how to read and write long before starting school. I first wanted to read on my own because I saw my parents do it, but then I fell in love with the stories I was reading and kept at it. I started writing my own stories when I was about ten and never looked back.
2. Can you tell us a little bit about your upcoming release? And what readers can expect when they open one of your books?

My upcoming release is a contemporary romance novella called Travel and Spice. It's the second book in the Famous on the Internet series. The series focuses on Internet famous people. Travel and Spice and the first book, Br0th3rly, featured bloggers, but the next books will bring YouTubers and other online personalities to the stage.
I'd recommend not to expect anything when you open one of my books. I usually put my own twists on genres, tropes, and established worlds. For instance, with Travel and Spice, I finally wrote a light-hearted romance, which is quite different from my angsty, darker stories that tend to be what I mainly write.
3. You've written in a few genres within the romance umbrella. Do you have a favorite? Is there a particular sub-genre that you have found more challenging than others?

I don't have a favorite genre, not really. I enjoy science fiction, fantasy, and paranormal a little more than contemporary, but that seems to depend on my mood. Science fiction is a bit more challenging the more you want to go into hard sci-fi. My solution for it was to start studying physics, then quickly realized I needed a refresher in math first 😀 So Khan Academy is my best friend now, and I am going through fifth grade math at the moment.

4. Is there any particular author or book that influenced you in any way, either growing up or as an adult?

I think every book I read, good or bad, influenced me a little. It added to my cultural and literary background, and I picked up things along the way. But no, I couldn't name one book or one author as a major influence.
5. Does/has anything in real life influence your writing? (Life experiences, films, books, celebrities, music, places, etc.)

A lot of the experiences I've been through or witnessed influenced my stories. I am known to use people, places, events from my life. Sometimes, it's more of a certain fear or need or passion that makes it into one of my characters.
My Lover's Journey series, for example, explored a lot of my childhood and school life memories. I used people I knew as inspiration for the characters and my own schools as a setting. It's the same for music, books, movies, places I've visited. They tend to find their way into my writing. Celebrities too, although I tend to use more to shape a character, or an archetype, as it happens in the Famous on the Internet series. For Travel and Spice I used my own experiences as a travel blogger and those of other blogger friends who traveled the world to the point of becoming nomads.
6. What do you find to be the most difficult part of the writing process?

Hmm, sticking to the habit of writing every day. Despite it being my main career path these days, and despite my knowing I shouldn't wait for inspiration to strike, the ideas of artists working when the mood is right still pester me. I have been a lot better at writing every day this year, but it's not always a success.
The other huge problem I have is with competing story ideas. I had to come up with a very detailed and strict schedule that dictates the order in which I write my stories. Otherwise, I can't decide on one and my progress is… nonexistent.
---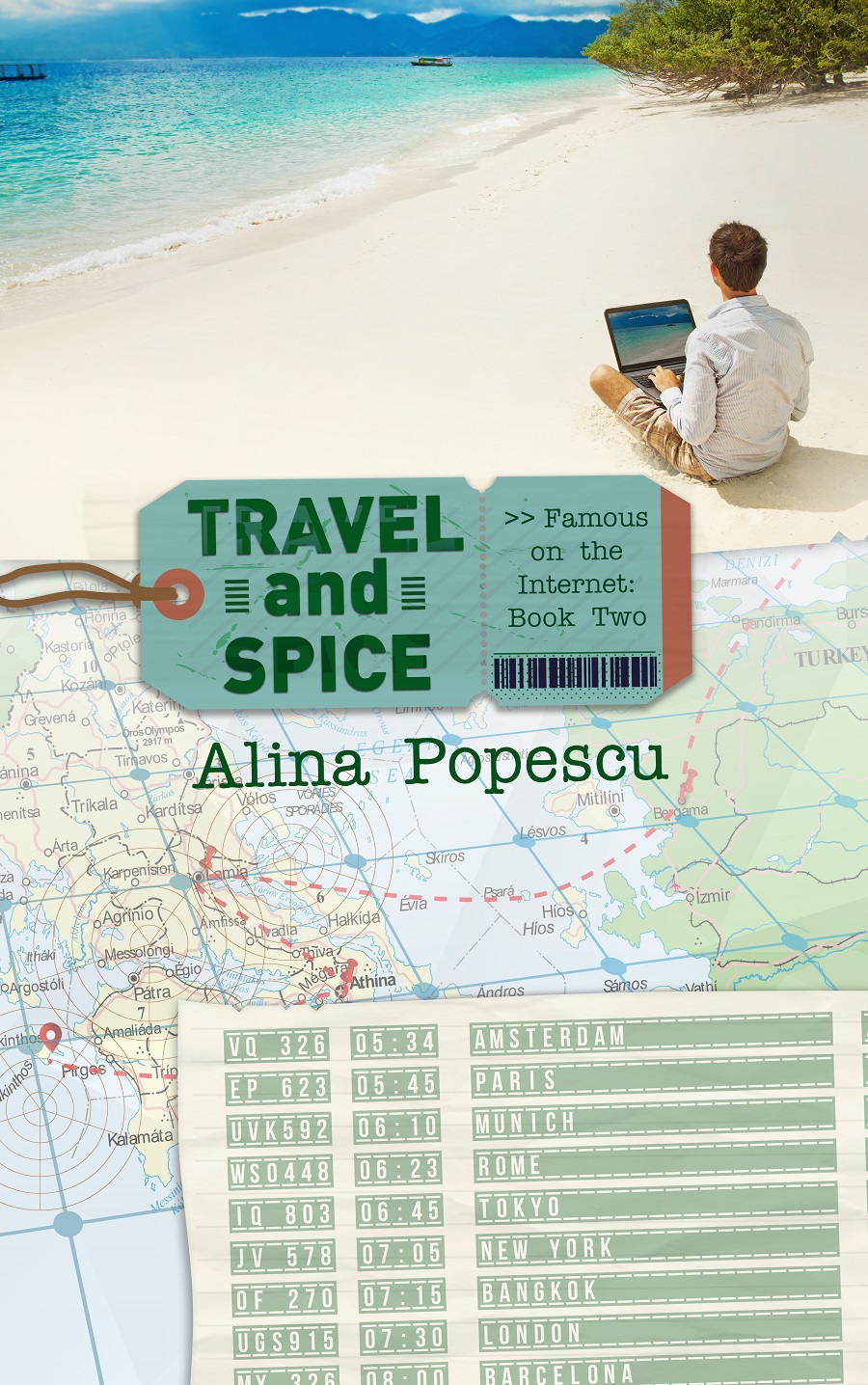 Excerpt – Travel and Spice
Dante's gayness had never been a secret. Not really. Despite the small-town upbringing, they were close enough to Hartford to not be completely backward. So, when he'd started talking about boys with his friends, all of them girls, it had been obvious.
Riverbrook had always been a tight-knit community. Growing up gay hadn't been brutal, it hadn't scarred Dante. But it hadn't been easy either. The LGBT community was almost non-existent, apart from some older dude who never talked about it, a couple of lesbians that spent their summers in town, and some crazy kids that were just passing through. Dante had little to no people to relate to, and the mean comments directed at him broke his confidence on a weekly basis.
The only other openly different guy in town had been Tommy. But Tommy was bi, and he'd just happened to have a steady girlfriend through his last two years in high school. People had acted like everything had gone back to normal, and Dante was the only freak left.
He wondered how they'd act now. With all the books and TV series and famous queers out there, would it be any better? Would he care either way? Deep down, he knew he would. Despite traveling the world and moving to New York City after college, Dante missed the small-town life. He missed not worrying about locking anything, or going for a run in the middle of the night, or walking home from anywhere. There was no crime to speak of in Riverbrook. No rapes or murders or muggings. Other than some petty thefts and some drunk and disorderly incidents, it was as quiet as one could ever hope.
Maybe after facing his past, the rift between Dante and his home town would be mended. Or maybe he'd run away screaming, to never return.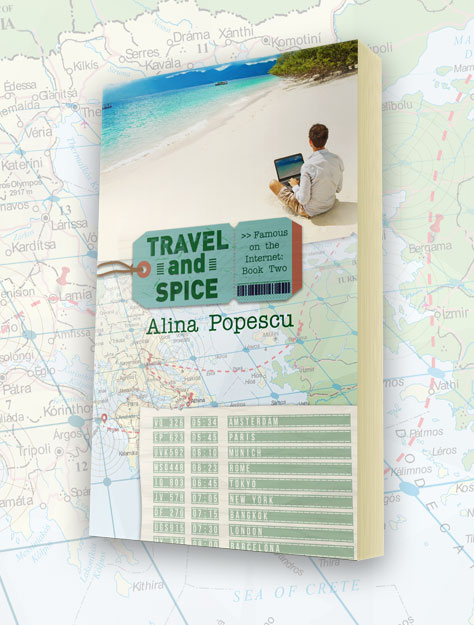 Blurb
Famous travel blogger returns home to have his life thrown off balance by his high school crush.
Dante Sandford is at the top of his game. He's paid to travel the world and share his spicy stories on his blog. He's still young, gorgeous, and confident. When Dante's high school reunion knocks on his door, he's reminded of everything he's lacking. More so when his old crush, Tommy Clancy, makes a pass at him. Or when the hot romance blows in Dante's face because of his lifestyle.
Tommy has always been the hottest man in Riverbrook. Possibly the world. He's stunning, smart, and the kindest soul Dante has ever known. He's also read Dante's blog along with all his steamy encounters. No wonder Tommy doesn't trust Dante for anything more than a casual hookup.
Dante returns to hometown Riverbrook to face his past of bullying and feeling like a misfit. He instead ends up dealing with the reality of being a travel blogger: relationships are close to impossible. That won't stop Dante from trying to convince Tommy his short-lived flings are not by design.
Price – 2.99 or free with Kindle Unlimited subscriptions
Amazon US – https://www.amazon.com/dp/B073VKTTGB
Amazon UK – https://www.amazon.co.uk.dp/B073VKTTGB
Amazon DE – https://www.amazon.de/dp/B073VKTTGB
Amazon AU – https://www.amazon.com.au/dp/B073VKTTGB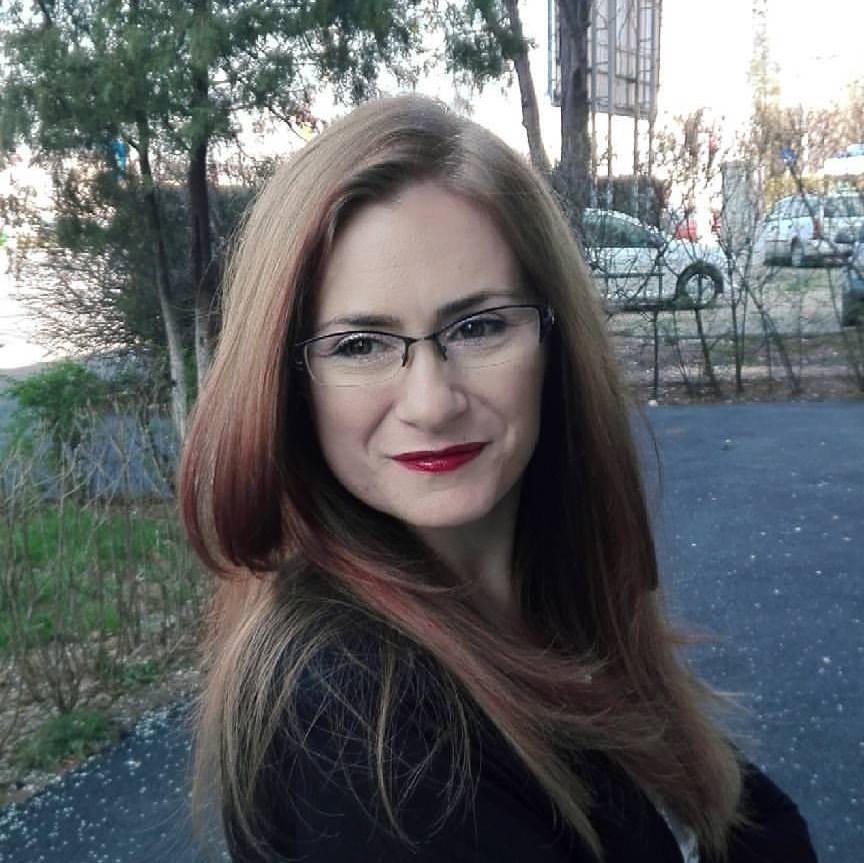 About the author
Writer, traveler, and coffee addict, Alina Popescu has been in love with books all her life. She started writing when she was ten and she has always been drawn to sci-fi, fantasy, and the supernatural realm. Born and raised in Romania, she finds her inspiration in books of all genres, in movies, and the occasional manga comic book. She is a proud geek who needs her fast Internet and gadgets more than she needs air.
Keep up with Alina Popescu's books and get rewards by signing up for her newsletter.
Social Links
Site & Blog: http://alina-popescu.com
Facebook:  https://www.facebook.com/authoralinapopescu
Twitter: http://twitter.com/alina_popescu
Instagram: http://instagram.com/alinapopescuwriter
Goodreads:  https://www.goodreads.com/alina-popescu
Google+:  https://www.google.com/+AlinaPopescu