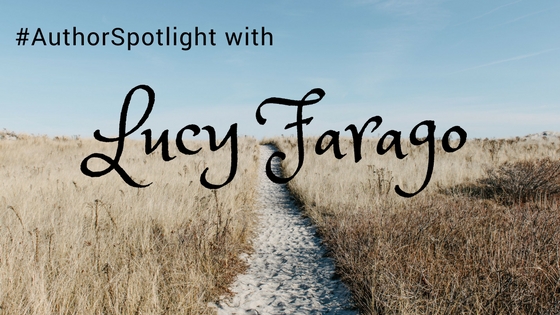 When I travelled down to the states in May for the Romantic Times Convention in Atlanta, Georgia, I connected with a lot of Canadian authors (imagine that!). Over the past two months I've featured several of them on the blog. Today we have another Canadian author, Lucy Farago.
I attended one of the reader events she was co-hosting, and then later that day we connected in promotion alley. Our discuss started as we attempted to determine what one particular swag item was (turns out it was one of those plastic holders to wrap your cords/headphones around). We talked a few times over the week, and Lucy was kind enough to tell me about her adventures in publishing, and was willing to give me helpful advice about my writing career.
Even though she's busy at the RWA conference this week, she managed to stop by today to tell us about her latest romantic suspense. She has also kindly offered to giveaway an ebook copy of her new release to one lucky winner. Comment on the blog post for your chance to win!
So let's get to know Lucy!
1. Tell us a little bit about yourself.

I'm a Canadian mother of three grown children and one crazy husky. I teach yoga and I'm a book keeper when I'm not writing…or reading. I love to read. I'm the person who says what others are thinking. It's been known to get me in trouble, but I've reached a point in my life where I don't care. Life is far too short to tolerate stupidity.
2. Can you tell us a little bit about your latest release? And what readers can expect when they open one of your books?

A Necessary Lie is the first of my new Search and Recover series. Working for an elite investigations unit, a man known only as Cowboy is assigned a case in the one city that hides the secrets that threaten the life he's made for himself. The woman he's assigned to bodyguard blames herself for her best friend disappearances and will stop at nothing to find her when she goes missing. But secrets and lies start to unravel, testing promises made in passion.
I try and mix mystery, romance and humor. I hope I am successful.
3. You write romantic suspense. What drew you to that genre rather than something like contemporary romance? What is most rewarding part of writing romantic suspense?

I'm a huge Agatha Christie fan. Who doesn't like a good mystery? I think mystery keeps the reader on their toes. Hannibal Smith (A-team) loves it when a plan comes together. I'm giddy when I've nailed the suspense part of my stories. I want to send the reader in one direction and completely catch them off guard with the endings.
4. Is there any particular author or book that influenced you in any way, either growing up or as an adult?

Susan Elizabeth Phillips and Karen Marie Moning are two of my favorite authors. I strive to write as good as they do. Neither write in my genre but Susan is the queen of layers and Karen has perfected the art of sexual tension. Drynda Jones is another favorite of mine. She is the master at humor. I learn something new every time I read one of these ladies.
5. Does/has anything in real life influence your writing? (Life experiences, films, books, celebrities, music, places, etc.)

Music with good lyrics does. Sometimes a song is the perfect setup, or prequel to a great book. It gets me thinking, but as of yet nothing has really influenced me except my own imagination. I'm a people watcher. I enjoy coming up with answers as to why they do the things they do.
6. What do you find to be the most difficult part of the writing process?

Plotting the suspense gets me every time. I write an outline so I have some idea of where I am going but it always changes and it isn't until I'm three quarters of the way through that I really know my characters and the story line. I'm basically writing 2 stories that have to blend into one.
---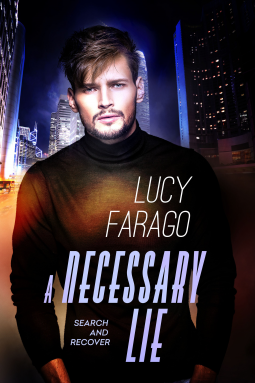 Excerpt from A Necessary Lie:
"Can I help you?" he said with a thick, sexy drawl that almost made her headache disappear.
Of course, it could have been those blue eyes staring back at her. She and her father were transports from Chicago, and no matter how many years she'd lived in Texas, a southern accent on a good-looking guy never ceased to catch her attention.
"Can you take me to the River Walk?" She gave him the address to her hotel. "I have a meeting I'm going to be late for if I don't leave now." She considered going straight to her meeting but she'd dressed in jeans thinking she'd have time to change.
He appeared to be confused by her request. Then he smiled a Colgate grin and she could have sworn his teeth twinkled. She blinked.
He shrugged. "Sure thing."
The drivers in front had left enough room for him to maneuver around and, before she knew it, they were on their way.
"Bad flight?" he asked, looking at her through the rearview mirror.
She wasn't in the mood for small talk but she didn't want to come off as rude as some of the people she'd flown down with. "Terrible." Now that she was sitting and on schedule again, she forced the day's upheaval to the back of her mind. What were lousy travelers compared to whatever Jessie was going through?
"Sorry about that," he said, staring at her through the rearview mirror.
"Flying was the easy part," she replied honestly. "It was flying with crazies that sucked."
"Ah, I see. One of those flights. Too bad you couldn't fly yourself."
She sat back on the plush leather interior, closing her eyes as she rested her head. "That would be very cool. But small planes freak me out."
And whether because he believed she'd drifted off or simply understood the stress of the day, he didn't speak again until a short time later when the car stopped.
"We're here." He got out and opened her car door.
He waited for her, then reached in and helped with her bag. The man was tall, like really tall. And while she had no business checking out his ass, she couldn't help herself. Seriously, he had a southern drawl and amazing blue eyes and was wearing jeans, cowboy boots, and a hat. If that didn't scream check out my ass, nothing did. And shame on her, she was practically salivating waiting to see the full picture. Then realizing she was making a fool of herself, she dropped her head and fished through her purse for her wallet, anything for a few seconds to get a grip. She did not openly drool over men. At least not while they were looking. When he went around and popped open the trunk, Grace snuck a peek. The man didn't disappoint. He was a young Paul Newman, same soulful eyes, square jaw, kissable and friendly smile, and from beneath that hat peaked dark golden hair.
A car honked, snapping her out of her trance, and she remembered she had to pay him. She was about to ask how much she owed him when he tossed his keys to the valet and accepted the number he was handed. "Don't go far," he told the valet, then turned to her and motioned with his hand.
"Shall we?"
Grace stared at the car being driven away, then at the duffel bag in her driver's hand. Thoroughly mortified, she looked up to see him smiling.
"Figured it out, did you?"
Her face heated. "You're not a driver." And she was a dumbass.
"I've been driving for a long time, but if you mean I'm not a driver for hire, then nope. Glad to be of service, though."
"I am so sorry," she said, covering her face. She was an idiot. "Why didn't you say something?"
"I was heading here anyway. Come on, let's get checked in."
She'd not only made a fool of herself with a perfect stranger, but they were staying in the same hotel. Oh good. Her mortification was the kind that kept on giving.
Blurb:
The Investigative Collection Unit is one of the world's most renowned agencies, solving cases with—or without—the law on its side. And the Unit's men are special agents in more ways than one, with secrets that can make or break them—and the hearts of those who fall for them . . .
He's known only as Cowboy. A successful rodeo star with a string of women behind him, the ICU has given him a chance to stay put instead of constantly running away—from the past, from love, from the blood on his hands. And he's not going to screw that up, even if it means going back home to Texas to investigate the disappearance of the woman who made him start running in the first place . . .
The political exposé of a popular senator should have been Grace Irvine's story, but she thought it would be good for her best friend Jessie's career. Now, Jessie is missing and Grace will do anything to find her. But her path keeps crossing with a mysterious and charismatic cowboy who has his own reasons for finding Jessie. And as intrigue draws Grace and Cowboy deeper into danger, passion starts to play by its own rules—making promises it might not be able to keep . . .
Connect with Lucy:
Twitter: @lucyfarago
Don't forget to comment on the blog for your chance to win an ebook copy of A Necessary Lie.