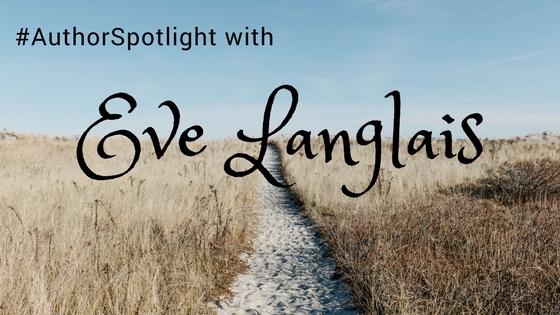 Her first book to hit the USA Today Bestseller list was Outfoxed by Love with Boris, a shifter romance about a Moose. Can't get much more Canadian than that! This week's guest is Eve Langlais.
I attended two workshops at RT where Eve was a guest speaker. Although we didn't meet in person, I was very intrigued by her fun personality, and the type of stories she writes. She's been on both the USA Today list as well as the New York Times Bestseller list, plus she's Canadian!
So let's get to know Eve!
1. Tell us a little bit about yourself.

I'm not a very interesting person, unfortunately. Mom of 3, married almost eighteen years, 2 dogs and 2 cats. We live in suburbia and I am often a taxi for the kids lol. But, once they're in school, I sit down and write sarcastic, twisted, sexy romance.
2. Can you tell us a little bit about your latest release? And what readers can expect when they open one of your books?

Assassin Next Door is a departure from my usual paranormal stuff. It features an assassin living in suburbia next door to a single mom. When trouble threatens not just him but the woman he's falling for he'll do anything-even kill-to keep her safe. Like most of my writing, it's got humorous undertones, and lots of dialogue between the main characters. I love it when they fall in love with the person before the sex even comes into play. (Although, sometimes the sexy times happen first LOL).
3. You've written some interesting characters. What have been some of your fan-favourite shifters?

The favorite shifter would have to be Boris the moose. He is a grumpy fellow with a big rack, but despite that, gun toting Jan, who loves to wears heels and pearls, still fell for him. And then there was Lucifer who began as a secondary character in my Hell books but kept stealing the show. Writing evil characters is always fun.
4. Is there any particular author or book that influenced you in any way, either growing up or as an adult?

I wouldn't say influenced so much as entranced me with their worlds. My first author crush was Stephen King. I gobbled up his early work like a starving reader, and then I discovered Johanna Lindsay and went on a romance reading rampage. She was the one who made me discover Science Fiction romance with Warrior's Woman.
5. Does/has anything in real life influence your writing? (Life experiences, films, books, celebrities, music, places, etc.)

Anything and everything can influence my brain lol. While I prefer pure silence when writing, if I'm in the car and hear Styx Mr. Roboto, I totally want to go home and write cyborgs. Seeing animals on television, especially silly ones, makes me want to write shifters. It doesn't take much to fire my imagination.
6. What do you find to be the most difficult part of the writing process?

The middle. You start out pretty easy, discovering the characters, getting a hint of the story. Then you figure out the end, but getting there is where I struggle the most. The middle is where you have to ensure there is enough character interaction to make the romance believable. Enough action to keep things moving, and weaving all the story threads so they come together in the grand finale.
---
A killer with a white picket fence.
Suburbia, a great place for a man with secrets to hide while investing in some solid real estate. The biggest drawback?
Neighbors.
In this case, a neighbor with sexy curves and a bright smile. Good thing she's not his type. Single moms with annoying ex-husbands are on the do-not-date list.

Stay away.
Calvin wants to; it's just not happening. He can't help but find himself drawn to the chaos next door. And when danger threatens his suburban lifestyle, this assassin doesn't hesitate to act.
Author website: http://evelanglais.com
Author Facebook page: https://www.facebook.com/eve.langlais.98