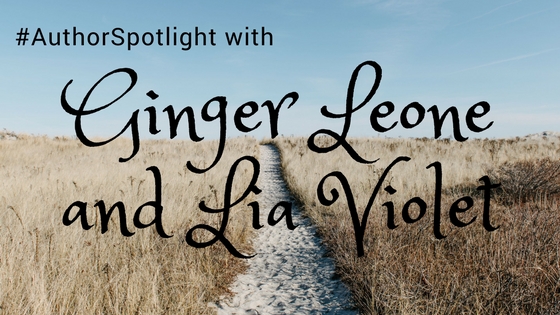 This week I've invited Ginger Leone and Lia Violet to the blog to share with us their unique writing style. When Lia told me about their stories I fell in love with the idea, and I think you will too. Both Lia and Ginger are new-to-me authors and I'm looking forward to getting to know them better.
So let's meet Ginger and Lia!
1. Tell us a little bit about yourselves.
Ginger: Ginger Leone is the pseudonym I've added most recently for the steamier stuff. I usually write fantasy/paranormal romance under a different name. My writing has always been on the sexier side but the fantasy/paranormal can get a bit dark too. I've worked in a psychiatric hospital for about 21 years, so I tend to carry a lot of that energy into my stories, but I found that when Lia and I started working on the first series Seasons of Three, that the lighter and more fun side of me came out in those stories.
On the personal side, I love dressing up and going to the renaissance faire with my son. We go several times a year and I even learned to sew in order to put together my own outfits. Sewing is another creative outlet, kind of like Lia's cooking, but unfortunately I don't have much time for this one anymore. Maybe some day 🙂
Lia: Lia Violet is my pseudonym and I am a longtime librarian and author of cozy mysteries. I have a black belt in karate and spend too much time playing cooking time management games on my ipad instead of trying to improve my impatient cooking habits. Luckily my sons and husband are better cooks! I love to read romance, especially erotica, and wanted to write ones that were funny, like those from Shaye Marlow or Christina Lauren. Ginger and I also do a book blog, Quickie Romance Reviews, where we post reviews on FB of our favorite hot reads. (link below)
2. Can you tell us a little bit about your latest release/upcoming release? And what readers can expect when they open one of your books?

Cougartales came out in June. It's the first book in our series about Ville de Cougar, where we've taken a familiar fairytale and put a spin on it then woven in a secret paranormal world where all kinds of creatures live hidden under the noses of the human inhabitants. It was loads of fun to create!
Ginger writes the fairytale stories for the series. In this volume, Barista Boy is a magical Cougar Romance featuring a hot and steamy retelling of an old favorite. Love is sure to conquer all even the divide between a billionaire heiress and her hot college barista.
Lia's stories highlight the creatures of Ville de Cougar. Mark My Words: Werewolves in Cougartown, is a hot and suspenseful ménage story about a woman who tries to hide that she's a werewolf, though she's unable to conceal her intense attraction to the sexy twin Alphas of her new pack.
3. You have a unique story writing style. Can you tell us a little bit about your process and how it works when there are two of you?
We actually started out solo with two separate ideas and two separate series but then Lia mentioned that she was starting a new project. Ginger had been thinking along the exact same lines as well only she had created a different project. We had written for, and coordinated other anthologies together under our other names and knew we would enjoy working together. So, we decided to combine forces on each of our projects and instead of putting out one story in each book, there'd be two.
We've plotted out several stories for both our Seasons of Three and Cougartales series already, along with a list of landmarks and characters. It actually took a lot of world building but the process was truly a creative one where the ideas flowed and one bounced off the other creating another and soon what first was a simple twist of a fairytale became this whole new world with a secret underworld. We're really excited for all of the stories we can spin off from this. (Ginger hasn't finished her fairytales and she's already itching to set vampires loose on Cougartown!)
We each write our own stories, sometimes with some character crossovers and cameos, and feature them together. For example, a fun crossover in Cougartales took place when some werewolves attended the Main Character's birthday party that occurred in Barista Boy. We'll read each other's story for critique and then see if we can't do something fun in the worlds. Everything else we're just winging 🙂
4. Is there any particular author or book that influenced you in any way, either growing up or as an adult?
Lia: The work of Kit Rocha and Christina Lauren is inspiring; both in their writing and in the way they manage their careers. Alexis Riley is another team that works really well together. We participated in Kit Rocha's virtual signing, as they generously allowed other authors to donate swag, and we were so impressed at how they put together the almost 500 package event so quickly. Lia loves mystery and suspense, so you see more of that in her books. There is an arc mystery in the paranormal Cougartales about the last known cougar shifters.
Ginger: I was inspired by so much growing up. I read a lot of the dark stuff i.e. V. C. Andrews, Dean Koontz, but I also liked the Sweet Valley High Series. I'm a big fantasy and paranormal fan and loved all of the fairytales as a kid, so I like to have a bit of magic although that's not in everything I write.
5. Does/has anything in real life influence your writing? (Life experiences, films, books, celebrities, music, places, etc.)
Lia: We both laugh that since we started writing erotica that many everyday phrases and activities have naughty connotations, spurring ideas for more stories. For example, a response to an email when Ginger mentioned that she can't manage "less than three of something" included many humorous questions about how many she could handle.
We are both active in RWA, Lia is on an RWA [committee] and Ginger was a chapter president. Lia will be speaking under her real name at RWA, and she finds something useful or inspiring from most members she encounters, whether it is a business tip or ideas about how to fit more words in daily writing. Lia also works part time as an author's assistant and gets promotional ideas and tricks from the many authors her firm serves.
Ginger: I think I can be influenced by almost anything: a song, a commercial, a line in a movie, a conversation with a co-worker. Anything might spur something on. I also think I'm constantly trying to memorize situations or feelings in situations or work in my head how I might describe something I'm experiencing.
6. What do you find to be the most difficult part of the writing process?
Lia: Fitting in the writing among our jobs and family life, as well as marketing under a pseudonym that is very different from our other writing is my biggest challenge. I give talks as my real self on vintage recipes and crafts, which may include different readers than those who enjoy Lia Violet's books.
Ginger: Same as above. Trying to write, do promo, still learn how to be a better business woman, and continue to write under two pseudonyms along with a job and a family.
---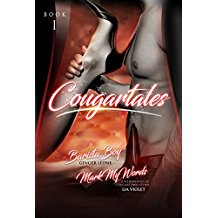 From Cougartales:
Barista Boy:
With her café mocha empty, she walked up to the counter to place another order. She stood across from him. A hunky twenty-something with brown eyes and dimples for days.
The colors of the Kit Kat Coffee Shop were a 1970's yellow and orange and the staff were forced to wear either one or the other color. Most of them looked hideous, but not him. The dark orange t-shirt he wore was snug and hugged every curve of his biceps and every muscle in his shoulders and back. Sometimes, Lisa would purposely forget to ask for things so she could see him walk back and forth in his dark denim jeans a few extra times. He had the best ass she had ever seen. If he only knew how much she wanted to grab the can of whipped cream from under the counter, cover those sweet cheeks in creamy goodness, and lick it off from front to back. She was going to hell for sure, but at least he didn't seem to notice.
God, what had become of her? But it was harmless and safe. She could observe and admire from afar without involvement. Without attachment. Without anything messy. But unfortunately that left out all of the fun stuff, too. The hot, sweaty, dirty fun stuff she bet he was talented at. So very talented at. Lisa bit her lip and felt her cheeks heat for the third time today. The heat traveled lower until it reached between her thighs and her panties dampened. If she didn't stop these thoughts she just might orgasm right there in the Kit Kat.
"So, what'll it be this time?" She stared into his gorgeous eyes that reminded her of warm caramel and somehow got lost in them. "Excuse me? Did you want to order something?"
Shaking the trance off, she managed to find some words. "Oh gosh, yes. Sorry." Lisa looked up at the menu to avoid eye contact and any further embarrassment. "I'm thinking of a flat white this time."
"Ugh, seriously?"
She jerked her eyes back to him. "What? Bad choice? You can recommend something better?"
"No, not bad but…" he paused and leaned over the register closer to her. She could smell the scent of him. Coffee and spices and fresh soap mingled together to create an irresistible combination. Inhaling deeply, she drank him in. Tingles surged to every part of her body. "Can I interest you in my secret concoction?"
Oh yes. You can interest me in an-y-thing.
Lisa lit up. "Of course. Surprise me." She suppressed a nervous laugh and shook her head. Get a grip, Lisa. She handed him her debit card and he rung her up. Her stomach fluttered like some high school girl fawning over her first crush. But she definitely had grown-up girl thoughts. Ridiculous.
"Okay, be done in a jif. I'll bring it over to you when I'm done." She hadn't noticed before how rich his voice actually was. Like velvet. Her skin pebbled at the sound.
She sat down hot, wet, and flustered and attempted to dig back into her emails. That's mostly what her day consisted of. Approving this or rejecting that. She had people to run her companies and they had people. She just basically had to sign off on stuff, which is why she couldn't understand why things were so bad when Ed was running the businesses.
"Here you go." Dimples stood by her table holding a real cup on a saucer and handed them to her. "I call it Monet's latte."
Connect with Ginger and Lia on Social Media:
Facebook:
Our Romance Review Blog
Ginger's Facebook Page
Website:
www.gingerleone.com
Twitter:
@QuickromReviews
@LiaVioletAuthor
@GingerLeone
Instagram:
https://www.instagram.com/ginger.leone/
https://www.instagram.com/liavioletauthor/
Sign up for our newsletter here:
Ginger & Lia Read and Write