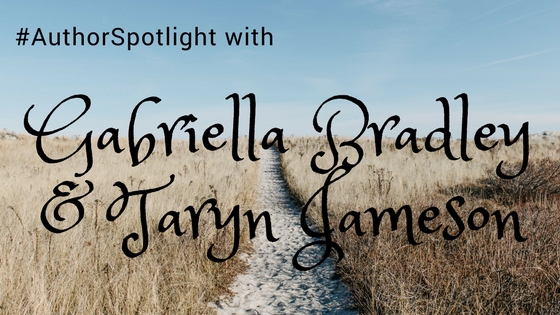 This week we have something a little different. I've invited write team Gabriella Bradley, and Taryn Jameson to tell us about their new series! Also, check the instructions at the bottom of the post to enter the giveaway!
So let's get to know Gabriella and Taryn!
1. Tell us a little bit about yourselves.
Taryn: I am the alter ego of cover artist, Angela Waters. I love being able to create and have done so for many years through art. I love jamming to heavy metal music and I have weird things all over my desk. Like a voodoo doll named Baka. One of my favorite things to do is bake. I usually bake loads of cookies every year during the holidays and I bake fresh bread and rolls often. I am a glutton for punishment so I mixed and kneaded everything by hand for years. Then my darling husband gave me a Kitchen aid mixer and a bread machine. Love. That. Man. I have no idea why I didn't bother getting them sooner!
Gabby: Like Taryn, I wear many hats. I write, I'm also an artist, I am a mother and grandmother. Like Taryn, I like to cook and experiment with recipes. But my main interest is writing.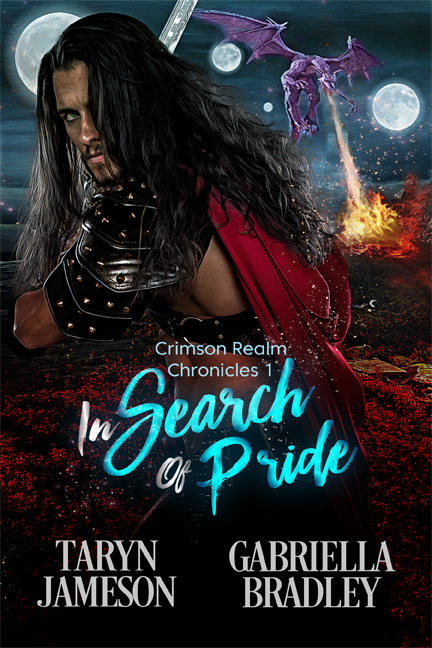 2. Your debut story was released last week. Can you tell us a little bit about it? And what readers can expect when they open one of your books?
Taryn: Carnal Twilight started out as a little short story I had written over 12 years ago. I asked Gabby to take a peek at it for me and within minutes we created a completely new world together. Our brains just clicked. The little short story became the prequel to The Crimson Realm Chronicles. Our sexy medieval warrior gets knocked for a loop when he stops to rest at a magical waterfall. You will be able to read more about our hero, Brenn, in our upcoming book, In Search Of Pride Book1 of The Crimson Realm Chronicles.1
Gabby: Taryn contacted me and asked me to read a 1200 word story she had written a long time ago. I read it, did some editing, then while talking on the phone I was giving her ideas on how to expand when Taryn asked if I would write it with her. The story expanded to almost 5000 words. That led us to build a world together that needed more books. We just completed In Search of Pride, book 1.
3. When I was at RT a few weeks ago I met a lot of writers who worked as part of a writing team to produce books. Can you tell us a little about how the writing process works when there are two of you?
Taryn: It's a mixture of passing the manuscript back and forth as well as quite a bit of plotting and planning over the phone. You may even hear some evil cackling from us if there is a plan to do something devious. The greatest part about it is how much fun we are having while we are writing and the way our minds seem to just be on the same page throughout this whole process.
Gabby is fantastic to work with and I love checking out what she wrote when it is my turn with the manuscript.

Gabby: We talk almost daily on the phone, each of us sharing different fantasies for the books. We are of the same mind and therefore blend well together. As Taryn said, we have a lot of fun writing as a team, and a lot of laughs.
4. Is there any particular author or book that influenced you in any way, either growing up or as an adult?
7. Taryn: I wouldn't say there was any particular author or book that influenced me. I am an avid reader and read pretty much any genre. When I was 6 or 7 years old, I couldn't get enough historical facts and used to make it a point to check out anything factual and encyclopedias that contain historical information. I am still an avid history buff.
8. Gabby: Nothing particular influenced me over the years. Perhaps Star Wars a little, Star Trek? H. G. Wells.
5. Does/has anything in real life influence your writing? (Life experiences, films, books, celebrities, music, places, etc.)
10. Taryn: Growing up my mother used to tell us stories of Italy, WWII and the history, legends, urban fantasies, etc. of the town she grew up in. I was always fascinated by them. Her stories of the Roman Empire and the Gauls have had the most influence. I loved playing Dungeons and Dragons when I was a teenager. I think the best game we ever played was when I was 14. We didn't use a traditional dungeon master. The dice became our dungeon master. We would ask questions and get our answers by a roll of the dice. The game lasted almost a year. By the time we were finished we had a complete world mapped out on two poster boards.
Gabby: Not writing as Gabriella. Everything Gabby writes is sheer fantasy.
6. What do you find to be the most difficult part of the writing process?
Taryn: Head hops. I am so bad about it. I am constantly going back over what I write to make sure I haven't head hopped!
Gabby: I've been writing a lot longer than Taryn so I don't find anything really that difficult. Sometimes getting stuck, if the muse isn't talking to me… then I always have other stories to turn to. Writing together helps with the muse not talking problem. Because, we become each other's muses.
---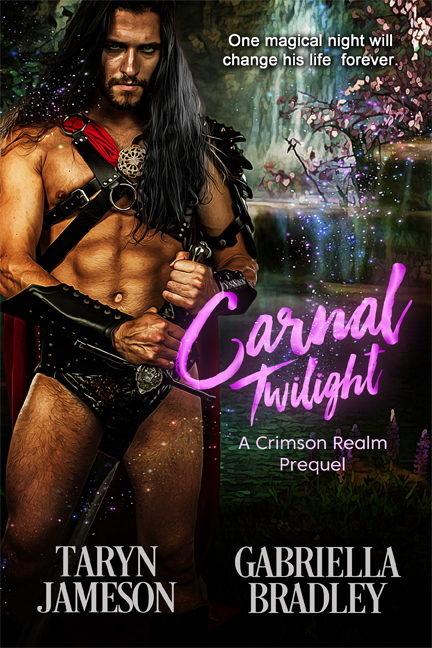 Blurb for the prequel: CARNAL TWILIGHT
The gods smile upon a weary warrior…
Brenn, a warrior returning home from battle, rests by a tempting magical pool and meets a siren who changes his life forever.
Excerpt for the prequel: CARNAL TWILIGHT
Then he saw her… Grabbing the base of his cloak, Brenn quickly wiped the water from his eyes. He shook his head in disbelief. This woman, this dainty naked nymph rising from the water, was not what the legends spoke of. Her body glowed in the moonlight, a halo of unruly raven hair framing a beautiful face and cascading down to her trim waist. Her full luscious lips parted in song, hypnotizing him, beckoning him to come to her… begging him to take her. The gods were smiling down upon him again with the gift of this beautiful creature.
Coming soon, In Search of Pride:
Brenn returns from war to find his pride missing and his village destroyed. He must learn to accept the gift he received from the gods to ensure the rescue of his people.
Brenn returns from a war far from his home to find that his village is destroyed and his pride missing. With the help of his guardian dragon, Ciara, he sets out to find his missing family and pride.
After Ciara saves Brenn's life twice, he begins to realize that he isn't as invincible as he once thought. He must accept his limitations and the help of his lifemate to keep him safe. Only then will he find and rescue his pride from the clutches of the evil sorcerer that cursed them to remain human centuries ago.
Connect with Gabriella and Taryn:
Website: www.tarynjameson.com
Facebook:  https://www.facebook.com/TarynJamesonAuthor/
https://www.facebook.com/AngelaWatersArt/
Carnal Twilight Buy Link: http://www.extasybooks.com/carnal-twilight/
Gabriella Bradley's Facebook – https://www.facebook.com/gabriellabradley
Giveaway!
Gabriella and Taryn have kindly offered up a few giveaways. Enter by visiting Taryn and Angela's websites, as well as Gabriella's, Taryn's, Angela's and my own facebook pages. Use the following rafflecopter. Gabriella and Taryn will be giving away a $10 gift card to eXtasy Books, and two copies of Carnal Twilight.
****The contest is now closed. Thanks to all those who entered. The winners have been announced in the comments***