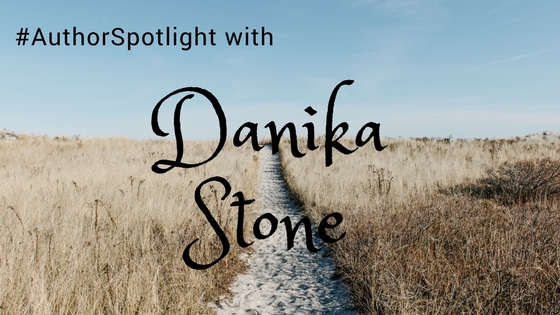 Mostly the authors I interview are from the UK or the US. Although I have had a guest who was an American living in Japan. I don't often get to play host to a Canadian, so it makes interviews like this one special, because Danika is Canadian! Last week we had Diana Sobolewski from Quebec, and today we've got Danika from Alberta! Back to back Canadian authors. I love it. 🙂
I met Danika at RT this year during one of the workshops. She's another new-to-me author, and I'm very excited to have the chance to get to know her.
So let's meet Dankia!
1. Tell us a little bit about yourself.

I've always enjoyed making things and I think of myself as a 'creative' before a 'writer'. For a while, I painted murals, then I wrote non-fiction which led into videography. Now it's books… and I am obsessed! I guess if I had to come up with an explanation, it'd be "I fangirl everything"!
2. Can you tell us a little bit about your latest release/upcoming release? And what readers can expect when they open one of your books?

My YA books tend to be tech-focused (All the Feels was about an online fandom) and Internet Famous focuses on an uber-popular online blogger. Internet Famous will definitely hit all the right notes for those people whose primary communication is online or via text. Readers should expect a lot of fun banter, a dash of romance, and a good bit of suspense!
As for upcoming releases, there is another YA from Macmillan, called Sip Sip Bang Bang, coming out next year. And the sequel to Edge of Wild, called The Dark Divide, is coming out from Stonehouse in the next year or so.
3. I think you may be the first author I've interview that writes thrillers. What do you enjoy most about writing thrillers? Do you find writing thrillers requires more plotting/planning than the YA stories you've written?

Thrillers are a different breed of book and I definitely write them in a less-intuitive way. Readers are reading the book specifically to try to outsmart you… so it keeps you on your toes! The downside is that there is a structure and your book will suffer if you divert too much from it. Upside, you have a roadmap. I'm lucky to have an excellent editor to break down the details for me. She's amazing!
That's not to say I like writing thrillers more. I love YA just as much, but it's for different reasons entirely. YA is an incredibly vibrant genre. You can write almost anything and in any format and your audience will 'get' it. I was THRILLED when I was told that Swoon would be including the text messaging and Tumblr-style posts in Internet Famous. That flexibility is really exciting as an author!
TL;DR – I love them both and don't compare. They balance me as a writer.
4. Is there any particular author or book that influenced you in any way, either growing up or as an adult?

I think every book you read – both good and bad – influences your writing. Currently, I'm obsessed with the YA Renaissance being spearheaded by authors like Angie Thomas, Nicola Yoon, Heidi Heilig and Kerri Maniscalco. These ladies are amazing! but that only scratches the surface of those books / authors that I have been inspired by! I love the YA writing community. It's one of the most supportive groups I've ever been involved with.
5. Does/has anything in real life influence your writing? (Life experiences, films, books, celebrities, music, places, etc.)

Oh my goodness – YES! For Internet Famous, it was the absolutely awesome blogger, Mark Oshiro, who runs Mark Does Stuff. He is so kind and friendly. He was also the first person I'd heard use the term "funemployment" – a word that became very important to Internet Famous' plot. I was absolutely AMAZED when Mark read Internet Famous and tweeted about it. Surreal.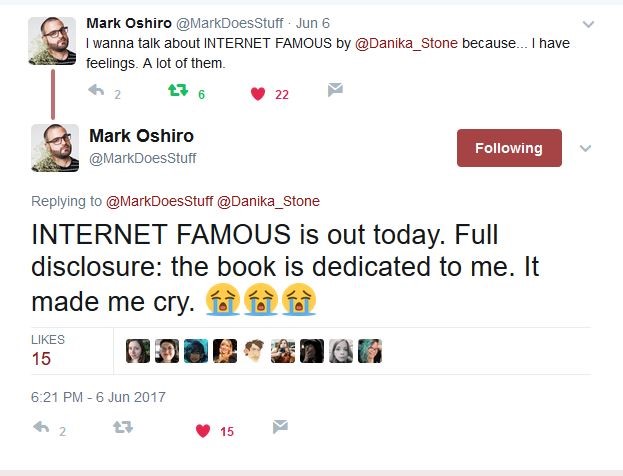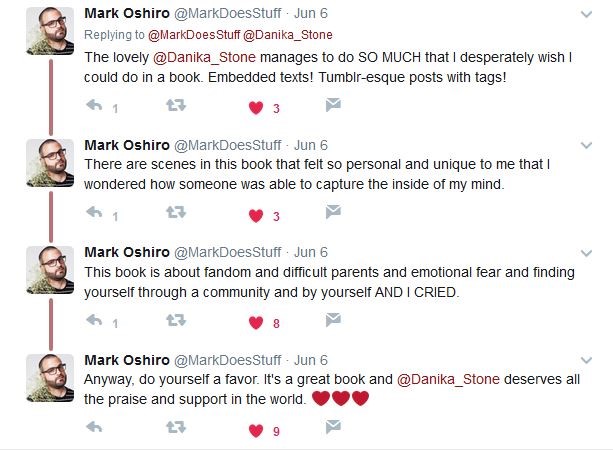 Another real life influence was my friend, E, better known as @coulsonlives. She spearheaded the online revolution to bring Agent Coulson back from the dead after his demise in Avengers. So if you enjoy Agents of Shield, you have her to thank! Although All the Feels isn't about @coulsonlives or her experience, its plot tells the story of a superfan dedicated to bringing her favorite character back to life. I had so much fun writing it!
6. What do you find to be the most difficult part of the writing process?

I am not good at editing. Period. I do it, certainly, but I really struggle with being excited about a story where I already know the ending. To get through the process, I write down every scene and chip away at it. For me, there are a LOT of rewards involved! But it works.
---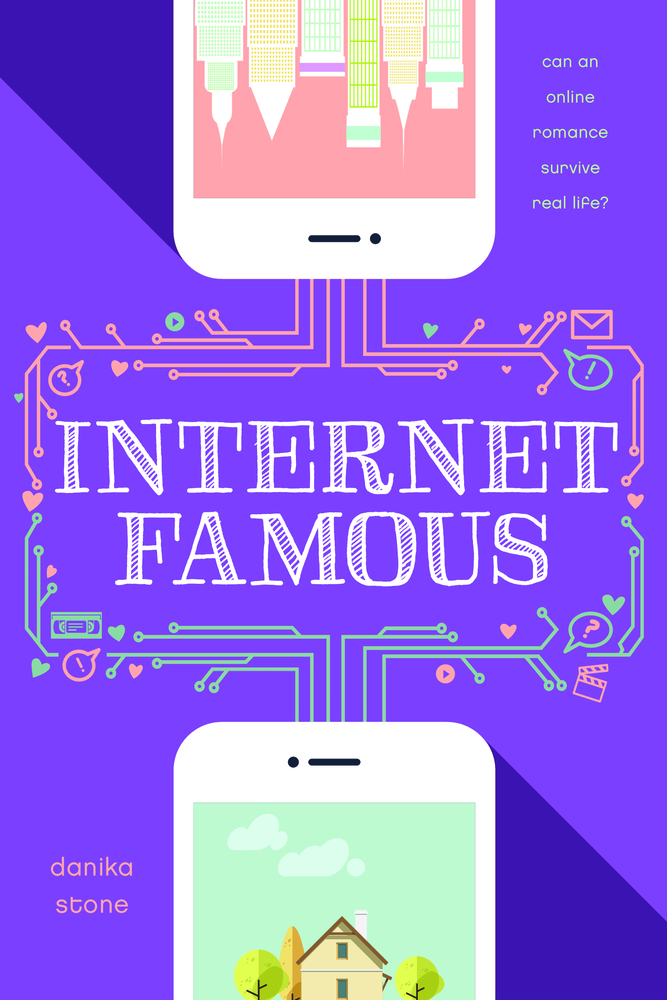 Excerpt from Internet Famous
This guy looked more like a college student than high school senior, but there were too many other clues to ignore. Madi's stomach twisted. Oh God—there's no way this is happening.
"You're Madi," he repeated. "From the MadLibs blog, right?"
"I am," she said, then forced a smile. "I know this sounds weird, but how do you pronounce your name?"
"It's Laurent." The way he said his name tipped her off: Luh-Ron. It rhymed with Lebron—the accent on the second part of the name—clearly masculine. Laurent Abelard, not Lauren Tabelard! she realized. Madi fought the urge to face-palm.
"I didn't realize it was you," she said. "I thought you were a girl."
"I didn't either. I thought you were—" He laughed. "I don't know. Someone else. I expected someone… different."
"Different?"
"I don't know. You just look like—like—"
Madi's wanton perusal came to a screeching halt. What. The. HELL.
"Like what?" she snapped.
"Like a blogger."
"A blogger? What's that supposed to mean?!"
He shrugged "I… I don't know. You're just not what I expected."
Madi drew herself up to her full height, vibrating with anger. "Sorry to disappoint you, but there are lots of people who look lots of ways—"
"But I only meant—"
"—and bloggers come in all shapes and sizes—"
"Yes, I know, but—"
"—and MadLibs has a HUGE fanbase! Hundreds of thousands of visitors come to my site each month. I'm eighteen years old. I'm an entrepreneur. I'm not some—some kid, or something!"
Laurent recoiled from the screen, his face blanching. "Ah, non! Ce n'est pas le cas! I-I'm so very sorry. I didn't mean it like that. I just—I messed up. I didn't think—I-I—Pardonnez-moi, s'il vous plaît. Je ne veux pas vous ennuyer…" His words tumbled out faster and faster, disappearing into a blur of anxiety-ridden French.
And that was the moment, Madi realized, when she knew she was going to fall and fall hard, because nothing was more romantic than a language you couldn't understand and a young man who was anything but American who was spouting apologies and wringing his hands. (That doing it onscreen made him look like a matinee idol from some brooding French film was an added bonus.)
---
Blurb for Internet Famous:
An engaging and relatable novel for the digital age that perfectly captures the complicated interaction between what goes on in our real lives and what we say online.
Internet sensation Madison Nakama has it all! Her pop-culture rewatch site has a massive following, and fans across the world wait on her every post and tweet. And now Laurent, a fellow geek (and unfairly HOT French exchange student!), has started flirting with her in the comments section of her blog. But Laurent's not the only one watching for Madi's replies…
Internet fame has a price, and their online romance sparks the unwanted attention of a troll. When Madi's "real life" hits a rough patch, she feels her whole world crumbling. With Laurent's support, can Madi rally her friends across the globe to beat the troll, or will he succeed in driving her away from everything—and everyone—she loves?
Internet Famous (Macmillan, 2017)
All the Feels (Macmillan, 2016)
Edge of Wild (Stonehouse, 2016)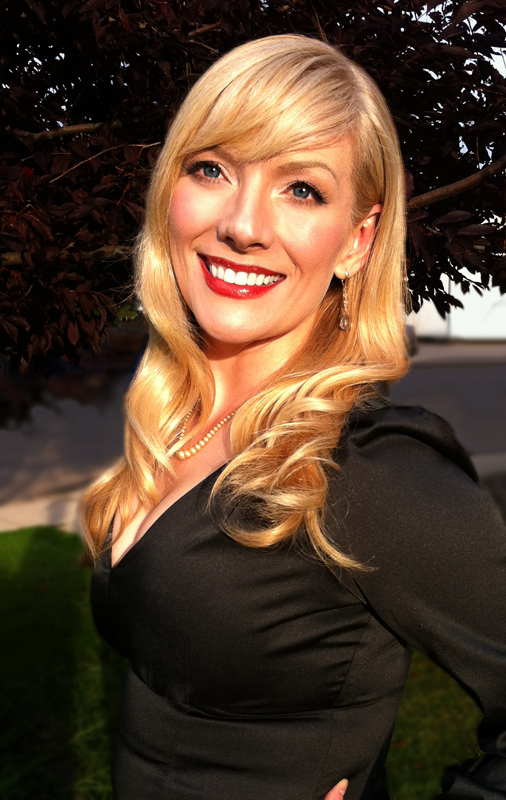 Biography:
Danika Stone is an author, artist, and educator who discovered a passion for writing fiction while in the throes of her Masters thesis. A self-declared bibliophile, Danika now writes novels for both teens (All the Feels and Internet Famous) adults (Edge of Wild and Intaglio). When not writing, Danika can be found hiking in the Rockies, planning grand adventures, and spending far too much time online. She lives with her husband, three sons, and a houseful of imaginary characters in a windy corner of Alberta, Canada.
Ms. Stone is represented by Morty Mint of Mint Literary Agency.
Connect with Danika:
Website: http://www.danikastone.com/
Twitter: https://twitter.com/Danika_Stone
Tumblr: http://danikastone.tumblr.com/
Instagram: https://www.instagram.com/danika_k_stone/
Facebook: https://www.facebook.com/Danika-Stone-Author-426003857425751/
Linkedin: https://www.linkedin.com/in/danika-stone-99783769/