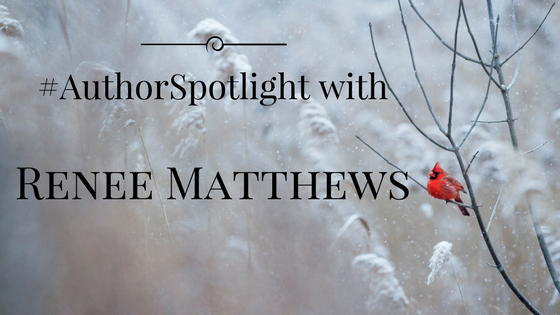 Renee Matthews is another author from EXtasy books. She gladly volunteered her time back in December to be a guest author during the launch party I hosted when My Mistletoe Master came out. She's here today to share with us a little about her own writing.
So let's get to know Renee!
1. Tell us a little bit about yourself.

Hello, I am Renee Matthews. I am happily married with two crazy but adorable kids. I am currently attending MSU for a Masters in Professional Writing. I am a lover of old TV shows/movies, books, rainy days, and coffee. I have always loved writing. My first erotic romance book was published when I was 18 years old. I currently have 7 books published with Extasy books and one that recently got a signed contract. I hope to keep adding to that number.
2. Can you tell us a little bit about your upcoming release (or most recent release)? And what readers can expect when they open one of your books?

I have a new release called The Tradition. This book takes the reader to a world where simple humans are fighting in a great war against the monsters that live within the dark forest. Only, there is more to the war and the monsters than the humans first believed. Humans start to wonder and some even fall in love. Of course, falling in love is always dangerous when everyone you know is fighting around you. The readers should be ready to doubt everything that goes with the idea of being a monster and see how love can still survive.
3. You've written in a few genres within the romance umbrella. Do you have a favorite? Is there a particular sub-genre that you have found more challenging than others?

I love fantasy and paranormal genres. I loved getting to write about all of the wild things that can exist in the world and share it with my readers. To add these sub-genres with romance, there is a chance to find love even if you are a goblin and I just love that idea. I have yet to find a sub-genre more challenging but we will see if that changes.
4. Is there any particular author or book that influenced you in any way, either growing up or as an adult?

When I was growing up, I read The Hollow Kingdom by Clare Dunkle and Warriors by Erin Hunter. These book series showed me the magical world that could exist right along the normal one. Both showed new ways to see everyday creatures or people that you may have never noticed before. Both gave a second look at the regular. It inspired me to see wonder in every day moments and places, then change them to be wonderful and magical.
5. Does/has anything in real life influence your writing? (Life experiences, films, books, celebrities, music, places, etc.)

The wonder of books, music, and films have influenced many of my works. The works of Clare Dunkle, Eion Colfer, and so many others have forever influenced my writing. I always loved books that were unusual and made you look at the world differently. I have so many books and loved how different they all were and how important they all where to me. I always wanted my books to be the same for someone else. For someone to see my book on the shelf or kindle and remember the joy of that book even if life is not so joyful.
6. Of all your stories do you have a chapter, or scene, or character that you enjoyed writing the most?

I love Lucifer (aka Luc) from the Traveler's series. He was my first character from my first published book, so that will always make him special to me. Luc was a man with a lot of attitude, determination, and love. I loved getting to write him. It let me show the wild and sarcastic side of my writing.
---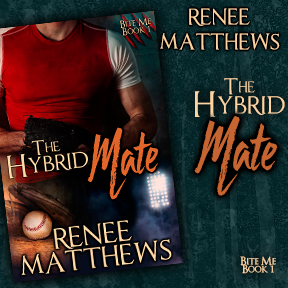 The Tradition- Renee Matthews (Excerpt)
The feel of finger tips tracing his hand had Zane waking to see Tancred, whose face held a serious expression. Zane looked down at his hand. Tancred was slowly tracing the scars that covered his hand. Zane knew there was seven scars in all, from having counted them on multiple occasions. Tancred intertwined their hands together, and Zane could see the scar.
On Tancred's left hand there was a scar that went over the top of his knuckles. It was the same size and shape as the one on Zane's left hand. Zane slid his thumb gently over the other man's scar, remembering his father's words. Looking at the other's serious face, he remembered that Tancred had not argued the fact that Arthur had given him the scar due to their bond.
"I know all your physical wounds. They would happen quickly and fade within hours. But this one was the worst. I was at home reading a book when my hand split open. Normally the bleeding would last only a few seconds, but the pain only got worse. I realized someone was hurting you. Someone was breaking, grinding, and stomping on your hand over and over. I remembered grabbing it and yelling for it to stop. I had never felt so much panic in my life. All I could think to do was run around like a mad man, looking for any demon that might be hurting you." Tancred paused with his tale, as Zane pulled him into the hospital bed with him. Zane smiled when he noticed no hesitation or protest from Tancred.
Tancred rested his head on Zane's shoulder and Zane continued to hold his hand. He enjoyed the feeling of peace and relief that filled him after the chaos. "I wanted to kill every human I met, when I realized it was a human harming you. My family was killed by humans and the thought of you being taken as well was not allowed. But when I meet you, I felt like I was betraying those I loved. My family died at the same hands that I am now holding."
Zane couldn't help tensing up at that confession. He attempted to pull away only to have Tancred snuggle deeper into his neck. "I was a coward and I caused you pain due to my own issues. I am sorry more than I can ever express."
There was no good response to that, so Zane just nodded and rested his head on top of Tancred. They remained there, just like that, until a man with blue hair and silver wings told them to "get the hell out" and that "this was not a fuck pad!" There was no words exchanged when Tancred wrapped an arm around him and pulled him in close. Zane had no issue following the other man to whatever was ahead of them. After everything that happened today, it would be terrible, after everything that happened, if he abandoned it. He was also too exhausted and the plants on the walls were too weird.
Twitter- @Matthews1Renee
Facebook https://www.facebook.com/profile.php?id=100004664835149
Yahoo- Matthewsrenee20@yahoo.com