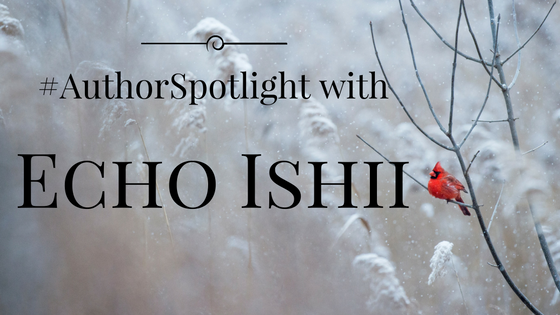 From America, but living in Japan, Echo Ishii is a fellow Passionate Inker, who is working her way toward a prominent career as an author. With one book already out, she's avidly preparing others.
So let's meet Echo!
1. Tell us a little bit about yourself, and what made you want to be an author.
I've always been fascinated by science fiction-movies, TV shows, etc. and the fantastic. I didn't watch TV a lot when I was young, but I read a lot of books. My mother took me to the library every week from the time I was four years old. I wasn't even certain what a writer did, but I wanted to be one.
2. Can you tell us a little bit about your novel Mr. Rumpel and Mr. Grimm? And what readers can expect when they open one of your books?
Mr. Rumpel and Mr. Grimm is a fantasy novella that draws from my love of myths. It's the story of two men, Claude Rumpel and Daniel Grimm, neither really human, whose relationship develops into love. It's an M/M high fantasy but the fact that it's a M/M romance was more happenstance than intentional, to be honest. I wrote a longer story with a M/F romance in it that was, well, terrible, but I loved these two side characters so I decided to give them their own story. It's fantasy with a bit of humor. Anything I write has fantastical elements in it-I can't seem to write in the real world.
3. How did you choose what genre to write in?
It chose me. I love fantasy and science fiction. I love paranormal. I can't image not trying to write those things. I was drawn to the M/M genre when I was editing my novella, and the community of writers was a lot of fun.
4. Is there any particular author or book that influenced you in any way, either growing up or as an adult?
A Wrinkle in Time. I remember first reading that series as a kid and falling in love with the speculative type of books. Nightfall. The Witching Hour. The Lord of the Rings. I read quite a few mysteries and non-fiction also.
5. Does/has anything in real life influence your writing? (Life experiences, films, books, celebrities, music, places, etc.)
Well, I probably do write in people that I've met-or at least something they have said or done. Locations are a big influence. I love to visit old temples, shrines, parks, castles. I am an avid museum fan. I think the reason I write so much fantasy is because I have favorite spots in nature that I visit and I imagine it as a fantastical setting.
6. Of all your stories do you have a chapter, or scene, or character that you enjoyed writing the most?
I'm a newbie working hard at the submission rounds. My favorite character is always the current one.  I am writing an android woman at the moment whom I really enjoy because, well, I like androids. I did have fun writing Daniel Grimm in Rumpel and Grimm because he's a bit silly and shallow, but fun to be around. His character took over my abandoned novel and was the reason I wrote the novella.
---
This excerpt also appears on the Less Than Three Press website at:
https://www.lessthanthreepress.com/excerpt-mr-rumpel-and-mr-grimm/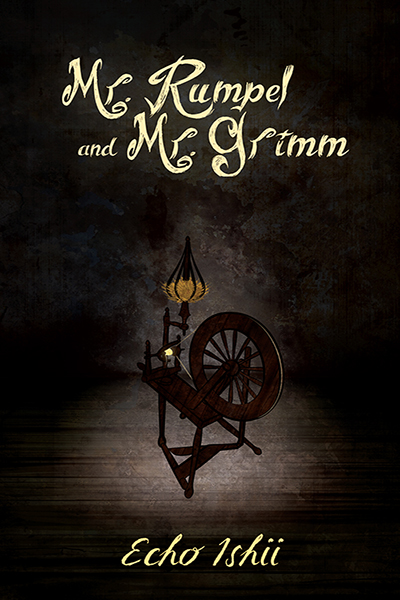 "Say my name, Daniel Grimm." Claude Rumpel straddled his conquest, holding the other man's arms against the deep brown wooden backboard. The bed creaked loudly under the weight of both men.
"If you are any more aggressive, my little inventor, you'll break this bed with both of us in it," his lover said, without so much as a gasp.
It wouldn't break; Claude knew that because he'd restored it himself. It was from the strongest wood of the original world trees; from the house of a long dead sorcerer. Nothing could break this bed. Not even the passion with which he and Daniel coupled.
Claude was dizzy with lust and on the verge of madness, wishing his stare could will his lover into compliance.
Daniel smirked, wisps of white blonde hair clinging to his face with sweat. He moved his body just slightly as if feigning a struggle.
Claude wanted to be in charge, but his will was drowning in the sea of Daniel's blue eyes.
"You can only hope to make me call your name, Mr. Rumpel," Daniel said, straining against Claude's grip. Daniel was shorter, thinner, and lighter than Claude but deceptively strong. He moved his head up and gave Claude a passionate, bruising kiss. Claude could feel the muscles in his neck strain, heard the sounds of his own moaning as Daniel's tongue wrapped up in his firing the lust between them.
Claude's shoulders relaxed; his arms grew weak. Claude had foolishly cast himself in the role of the dominant, but it was clear.
He'd never win.
Daniel released him from his ardent kiss and Claude collapsed down onto his arms, rolling off to the side. The faerie silk sheets were cool and smooth against his skin; but even they provided no comfort to the loss of Daniel's hot-blooded body and warm nakedness. Daniel snaked away from him. Claude watched Daniel's sleek body gracefully exit the bed. Daniel Grimm had long legs, firm muscles, and flawless skin covered in a sheen of sweat. His long hair, hanging messily down his back, was the only hint of imperfection.
Claude couldn't stop watching him. He propped himself up to sitting position, legs hanging down the side, speechless.
Damn Daniel! Claude cursed and praised the day he met him. He reached over and flicked a small gold switch on the bedside lamp. Light scattered across the room, much brighter than Claude expected. This pleased him. This simple brass lamp was a six months of focused work. He had wanted a lamp that shown without adding any oil for days on end.
Claude glanced at his mechanical gadgets lining the shelves. Clocks that were more accurate than those used at sea; lenses that could see creatures so small no one would believe him if he told them they were there.
He never shared them with anyone, of course. Not with the townspeople and not with the other magical people that roamed the woods. Daniel was the first one he had invited in this secret room in the back of his shop.
Daniel, still completely naked, stretched and grabbed a towel. Claude was amazed at how completely at ease he was with his nudity. Not a hint of the shame Claude felt when he undressed. He watched Daniel walk over to the basin of cold water, dip in the towel, and wash his face clean.
"I have hot water," Claude stammered. He bit his lip and blinked his eyes. Looking at Daniel too long was like staring directly at the sun.
"Truly?" Daniel looked over at him.
"Reach for that lever over there," Claude lifted a hand and pointed, "No, further to your right." He watched Daniel fumble around near the set of gears. It was confusing, Claude knew. The brass and steel contraptions he worked on were sometimes hastily designed.
Daniel pulled the lever. There was the sound of clanging as the boiler heated up. Steam came out of the top of the funnel.
"This looks dangerous, Claude." Daniel backed up a little, wrapping the towel around his waist.
"It takes a few moments," Claude swung his legs off the bed. His fixed his trousers, hands shaking as he went over to stand beside Daniel.
"I don't remember this device from the last time," Daniel said.
"It wasn't working then," Claude said. "It took me some time to do the modifications."
A few seconds later, water began to pour out of the spout. Daniel glanced at him—eyes wide. Claude nodded. Daniel reached one hand slowly under the spout. A smile spread across his face.
"Mr. Rumpel, you amaze with your inventions."
Claude was pleased. He was proud of his work. The gears and gadgets that he tinkered with each day were his source of pleasure cymbalta generic. And now with the lucrative business he had—thanks to Daniel—he had the spare coin to spend on his inventions.
Daniel whipped the towel off. He splashed warm water over his face and slowly washed his body as best as he could.
Every inch of Daniel was muscular perfection. His cock, even flaccid, was an impressive sight. Claude felt his member harden with desire.
"I can't imagine what other inventions you can make. Although, I can think of nothing better than hot water in minutes." Daniel said. He pulled on his breeches and a cotton shirt.
Claude smiled.
"There are other things as impressive but I am hoping that someday there will be a way that anyone can have a hot water machine."
"Anyone? You mean even those who haven't any magic?" Daniel looked at Claude in utter disbelief.
"Of course," Claude said. "There will come a day when anyone will be capable of amazing feats and they won't need magic."
Daniel laughed. "I can't imagine such a world."
Claude sighed. Most people couldn't… even Claude had difficulty believing his own fanciful thoughts at time. Still, he there was a small whispering in his ear that told him that a world without magic would not be such a bad thing.
---
Connect with Echo here:
Website: http://echoishiizone.wordpress.com
Twitter: @mrsbookmark
Pinterest: @mrsbookmark
To purchase your copy of Mr. Rumpel and Mr. Grimm: