A fellow author at EXtasy Books, Kellie Kamryn is an award winning romance author. She pens a wide range of stories, from sweet to erotic, contemporary to paranormal. Personally, I love a little comedy in my romance, and her newest series certainly has that!
So let's get to know Kellie!
1. Tell us a little bit about yourself, and what made you want to be an author.
I've wanted to write a book since I was a teenager. About 18 years ago, I had a health scare that made me take a look at my life and forced me to ask myself what I wanted to do in my life and why I wasn't doing it. Writing was one thing. I decided to learn how to write a book and on the advice of one of my favorite authors – Eloisa James – I joined the Romance Writers of America. I went to conferences, took workshops, took online courses, worked closely with an editor, and learned how to write a novel. Now I'm an award-winning of erotic romance and I love my new publisher, eXtasy Books.
2. Can you tell us a little bit about your most recent series? And what readers can expect when they open one of your books?
My recently published series with eXtasy Books is an erotic romance comedy series titled: The Harders. It follows a family of siblings on their journeys to find love. Each book features one of the siblings. They can be read stand alone, or as a series. The fourth book is new to the series and the rest were previously published. When a reader opens the book they can expect for it to be hot and heavy from the start. I don't hold anything back. 🙂 I also wanted the adventure of the main characters to not go smoothly so there is a lot of humor in their sexual mishaps. The first two books in the series got great reviews from Night Owl Reviews. I'm hoping readers and reviewers will enjoy the third and fourth book as well.
3. What is your writing process?
I write when I can. I don't stress about doing it every day or how long I have to do it. When inspiration strikes, I write and I keep going until I feel I'm done. With my other creative outlets, I have a lot on the go. I teach gymnastics and martial arts, and do audio book narrating too. I go with the flow! And always manage to get what I need to done. 🙂
4. Is there any particular author or book that influenced you in any way, either growing up or as an adult?
Eloisa James as I mentioned earlier gave me some great advice, and I've been fortunate to meet her a couple of times. Teresa Medeiros is another, and I've met her at a conference as well. I like their writing styles and even though I may not write in the same genre, they inspired me to keep learning and refining.
As a child, I loved the Nancy Drew series. I loved a good mystery and the small romance between Nancy and Ned always warmed my heart. I was a voracious reader as a youth, and read a lot. Agatha Christie, Stephen King… I still read a lot, but now I get paid to do it.
5. Is anything in your book(s) based on real life experiences or is it purely all imagination?
Every book I write starts with a: What IF? Real life experiences that I observe make their way into my stories as embellishments. I feel an author writes from their heart better when they can relate their fiction to real life in some way. Readers connect to your stories because they feel the emotions you're trying to convey, and can relate to what you're writing about, no matter the genre
6. Of all your stories what was your favorite chapter (or part or character) to write and why?
Hmmm… That's like asking me who my favorite child is! I enjoy writing about each character in each story. It's a chance to develop a person, with flaws, who admits those flaws, sees their good qualities and grows as a human being. It's my wish that all human beings become more self aware in order to grow as a person.
In Chocolate, Sex, and Other Tasty Treats for the Soul, I loved my heroine Marnie who wanted to find love as a bisexual woman, and she chose to go for the unconventional, polyamorous committed type of relationship. Our society doesn't understand these relationships well, and I believe real love shared between individuals is beautiful, and all people deserve to be happy.
7. Since being published what's the weirdest question you've been asked?
Probably the question you asked me in #5, albeit in a more sexual context! LOL As an author of erotic romance, men especially, are interested in whether or not I write about my real life experiences and I find it very personal. I would never ask people such a thing. sexual experiences are personal, and what other people do is none of my business unless another person and I choose to share such information. But I've had men and women ask me this a lot.
Thank you for hosting me!
---

Blurb: Chocolate, Sex and Other Tasty Treats for the Soul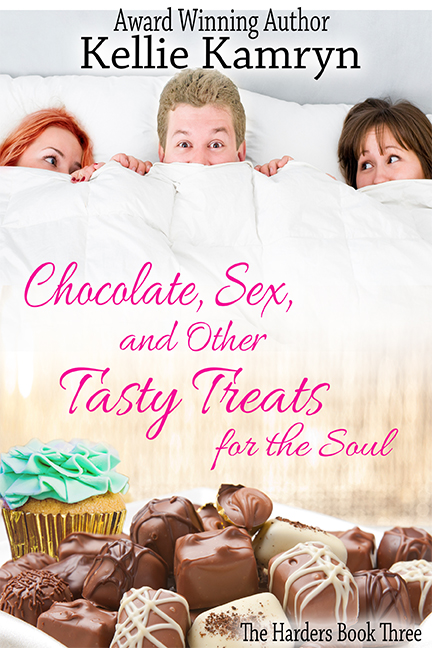 As far as Marnie is concerned—two's company, and three is never a crowd.
Marnie Harder wants to find love like everyone else. The only catch—she desires to be the third in couple. She has her sights set on her hot neighbor, Madison Williams, and her boyfriend, Drake Ellison. The night Madison knocks on Marnie's door to borrow some sugar, Marnie gets a taste of something sweet. And when Madison's boyfriend joins the party, Marnie binges on more than the candy he brings with him.
Leave it to her family and her brother's meddling monkey to spoil the morning after. But in the wake of candy wrappers, wild passion, and broken furniture, will Marnie be left craving more, or will love sweeten the deal?
---
Excerpt: Chocolate, Sex and Other
Tasty Treats for the Soul
Oh, great line. Madison swallowed the saliva pooling in her mouth from sneaking a peek at Marnie's cleavage. Since the day Marnie had brought them cake, all she'd been able to think about was interesting places to eat cake off of Marnie's body. She loved Drake with all her heart, but as a bisexual female, there was something special about being with a woman, and she missed it.
Since she and Marnie had only spoken a handful of words, she couldn't explain the fierce attraction she had for the green-eyed brunette. She cleared her throat, hoping to rid her head of dirty thoughts at the same time. Lifting her chin to indicate Marnie's attire, she said, "I hope I'm not interrupting anything."
"Nope. Not really. Just me. Home. Alone. On a Friday night." Marnie's cheeks coloured.
So cute! But why would she be embarrassed to be caught at home alone? Unless she's done something naughty. Madison liked naughty. Inhaling, she caught a whiff of pussy. As the delicious scent permeated her senses, a jolt of desire slashed through her abdomen and travelled straight to her cunt.
What am I doing? Her desire for her new neighbour overrode common sense. She had to find out first if Marnie was even into women, never mind a threesome between her and her boyfriend. One thing at a time.
Drake had embraced Madison's bisexuality with enthusiasm, telling her that any time she found a woman she wanted to fuck, he'd be there. What more could a woman ask for?
A woman. This woman in front of me. Deep in her gut, she knew her sexy neighbour could make everything complete. But, even if Marnie happened to be into women, that didn't mean she'd be into men, too.
Marnie folded her arms across her chest, squishing her tits together. The sight made Madison's mouth water all over again.
"So… You really need to borrow some sugar?" Marnie asked.
"Um… Yeesss…"
Marnie raised an eyebrow, but stepped aside to let Madison enter. "Sugar?"
"Yes, sugar." As Madison entered the apartment, her arm grazed Marnie's breast through the fabric of the robe. The distinct scent of pussy grew stronger, and Madison couldn't stand it any longer. It would be a bold move but her brain insisted she get right to the point.
As Marnie shut the door, Madison blocked her, forcing the brunette against the door. Green eyes widened with surprise as Madison stepped into her personal space, leaving only centimetres separating them. "I sure hope you have some sugar for me." Her voice came out a sexy purr.
Marnie's brows scrunched together in confusion. "What do you mean exactly?"
Courage faltering, she cleared her throat lisinopril price. Just go for it. Madison inhaled deep through her nose and closed her eyes for a second, letting the scent of pussy fill her senses once more. Her eyes popped open, her gaze boring holes into green sparkly ones. "Are you busy tonight?"
Marnie wiggled in a nervous gesture under Madison's intense stare. "Um, no… Why?"
"I want to crash your party for one." Madison could tell she'd taken Marnie completely by surprise. Damn. At that moment, she wanted to slap herself. I'm coming on too strong. Whatever happened to "Hi, how are you? Nice weather we're having…" Oh no, she just came out and embarrassed the one woman who had haunted her sexual thoughts for a few weeks now.
Oh, well. In for a penny as they say. "I've wanted you since the first time I saw you," she blurted, placing her hands on the door on either side of Marnie's head.
Marnie's eyes popped open wide in disbelief. "Really?"
"Yes, really." Madison hung her head and raked a hand through her hair. "Sorry! God, I've messed this up."
"You… are direct. More than I have been."
"It's a bad habit," she admitted, tone sheepish. "Wait—what did you say?"
"You are far more direct than me." The blush on Marnie's cheeks deepened.
"You mean you want my sugar?" Madison asked.
"Well, I did bring you a cake." A small smile crinkled at the corners of Marnie's mouth.
Madison grinned. "And it was good cake, too."
Marnie giggled. "Believe me, if you knew my family, this isn't the worst way anyone has been direct about anything."
The two women stared at each other.
Madison spoke first. "So."
"So."
Madison drew a few strands of Marnie's hair down between her fingers. "Soft, like I'd imagined."
"You've really thought about me?" Marnie questioned.
"Yeah. A lot." Madison sighed. She'd fantasized about Marnie between her legs even when Drake was getting her off.
---
Bio:
Award-winning author Kellie Kamryn is a retired elite gymnast and competitive coach. These days she is captain of her crew of four wearing many a hat: chauffeur, cook, maid, and arm chair psychologist, although her favourite title, and the one she answers to the most, is "Mom". Even with her busy life, she creates time for Baguazhang (Bagua) training at least twice a week, a challenging martial art form. While her friends would describe her as sweet, her readers know she's got a sassy side, and with fourteen books and two anthologies to her credit since 2011, most days she can be found channeling her sass into writing stories and poetry that sweep readers away into other worlds. When her muse requires a break, she channels her creative energy into bringing many a tale to life through her work as a narrator.
Winner of the RONE (Reward of Novel Excellence) Award for Best Erotica 2012, Kellie is also a workshop presenter, and motivational speaker, having presented at the Moonlight and Magnolias GRWA Conference in 2011, and most recently her in-person and online workshop – A novel Creation. One of her latest books, Sugar Daddy Wanted: Now Accepting Applications, was nominated for Best Novella in the RONE Award for 2013, with other 5-star reviews to her writing credits.
Readers are welcome to join her on Facebook in her Sweet & Sassy Divas and Dudes group! It's the first place she mentions contests, articles and much, much more! Come join in the fun!
Kellie is also a former columnist for Evolved World, now writing for The Aquarian Online, a local print and e-zine dedicated to inspiring and bringing enlightenment to individuals. Follow the links to check out her other writing.
Website: www.kelliekamryn.com
Facebook: https://www.facebook.com/KellieKamryn/   Twitter: https://twitter.com/KellieKamryn