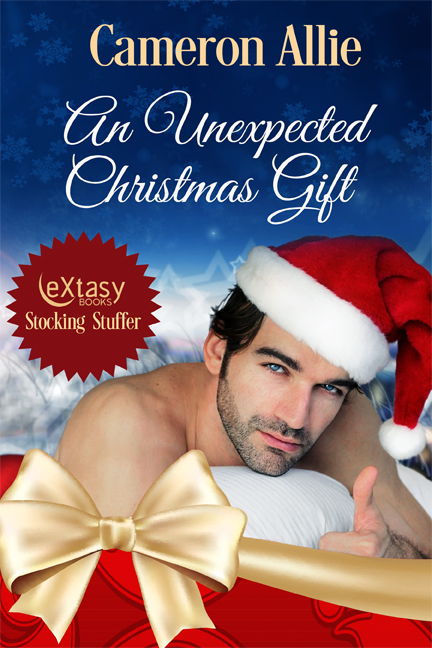 Unexpected Changes Series
Published: December 2017
Genre Information: Contemporary, Erotic Romance, Holiday
Length: 10,454
Available now at eXtasy Books, Kobo, and Amazon. Coming soon to other third party sellers.
Book Blurb:
A holiday party. Two lonely people. Can one night of passion change what started out as a miserable night?
After a recent breakup, Brent is dragged by his cousin to the Fuller's Annual Christmas Party. There's plenty of food, good music and lots of pretty women. Brent's only problem is his mood. He has no interest in partying. That is, until he meets Amy.
Upset with one friend and missing another, Amy is suffering through what is normally the best party of the year. Trying to solve a problem for her friend, Amy is distracted and frustrated when she encounters Brent. She wonders if she can fix her problem and walk away with the sexy stranger from the patio, or will the evening end the way it began?
---
Excerpt:
"I really don't want to go to this party," Brent complained as he and his cousin Josh stepped out of the cab.
"It's a little late for that," Josh replied. They stared up at the Manor, an extravagant building usually reserved for weddings and proms, but each year at Christmas the Fuller family rented it to throw the biggest Christmas bash in town.
"It wasn't too late the first five times I said it. The first of which was last week."
Josh's shoulders tensed. "Listen, you've been bumming me out for weeks now."
It wasn't his fault Mia had dumped him right before the holidays.
"I needed to get you out of the house, and this seemed like a good time to do it. Come in, have a few drinks, talk to a few pretty girls, and dance a bit. That's all I'm asking."
"You make it sound like I've been sitting around the house in my boxers eating cheese puffs all day."
Following Josh, Brent climbed up the front steps of the Manor. After giving their names at the door, Josh glanced at him. "When was the last time you left the apartment?"
"I go to work every day."
"Not for work. To socialize." Josh took them to the coat check area, where they abandoned their outer wear to a volunteer.
"I've been busy at work."
"That's a load of crap." Josh headed into the crowd. Brent had dragged his feet, so they were late arriving, and now it seemed the party was in full swing. A buffet line started in the hallway and wound through a dining room, past a long table of food. In another giant room was a DJ and what seemed to be a full dance party. "Where do you want to start?"
Back at the apartment with a new Netflix original, and an icy beer, Brent thought. He knew better than to voice it though, but that didn't seem to matter. His cousin read him like a book.
"This. Will. Be. Fun." Obviously losing patience, Josh gritted his teeth and punctuated each word. Relaxing a bit, he patted Brent on the shoulder. "You didn't even notice the coat check girl checking you out."
"What?" Brent looked back toward the entrance.
"Come on." Josh threw his arm around Brent's shoulders to lead him further into the party. "That girl was probably still in high school, only here as a volunteer. Let's see if we can't find you someone more age appropriate."
Brent hoped this wasn't going to turn into a whole big production. If he had to suffer through tonight, first he wanted a beer, and then a little breathing room to survey the crowd. He wasn't ready to get back into the dating scene so soon after being dumped, but Josh was right. It didn't hurt to look.
---