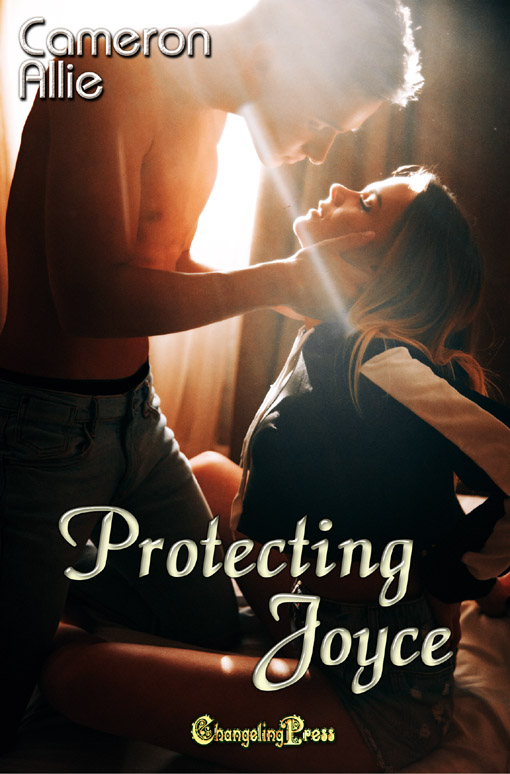 Love Me or Leave Me Book Five
Published: October 11, 2019
Length: 25,500 Words
Available at: Changeling Press, Amazon, iBooks, Barnes and Nobles, Kobo
Blurb:
After Alex saves her from being assaulted on the side of the road next to her broken down car, Joyce quickly discovers the only way she feels safe is by sleeping in his arms. But despite the security he gives her, there are questions about Alex that Joyce can't seem to bring herself to ask. Will he ever want a commitment? What does he feel for the woman who used to have a "friends with benefits" relationship with him for over a decade? More importantly, can he ever love Joyce with the same intensity she feels for him?
Alex has never met a woman more perfect than Joyce. Her innocent sensuality delivers a hard kick to his gut. She's sweet and talented and brave. She's more than he could have ever dreamed of, and their relationship seems, at times, to be too good to be true. So what's keeping him from saying those three little words he longs to say?
---
Excerpt:
The sound of his cell phone woke him.
Rapidly sitting up, he searched for the TV remote, dropping his iPad onto the floor as he did so. When he finally found the remote, wedged between two couch cushions, he muted the TV. He wasn't even sure what program was playing anymore.
How long had he been asleep?
He dug his phone out of his pocket. Unknown number. It was nearly eleven o'clock at night. Who would be calling now?
He answered anyway. "Hello?"
"Alex?"
Running a hand through his hair he frowned. "Yeah. Who's this?"
"It's Joyce."
"Oh." Settling back into the sofa, he couldn't help but smile. Thoughts of Joyce had been tangling him up this past week. Sometimes he was worried about her.
Sometimes he remembered the attack she'd suffered, but most often it was some sort of sexual fantasy she starred in. He felt guilty thinking about her that way, but he couldn't help it. She was pretty and sweet and he couldn't help the direction his mind wandered to when he thought about her.
"I'm sorry, did I wake you?"
"No," he lied. "Well, yeah, but I hadn't gone to bed yet. Seems I passed out on the couch." He was still in his dress clothes from work. It had been a long day. "What's up?"
"This is going to sound like an odd request, but can I come over?"
"Come over?" His cock jumped at the idea. He sent his lap a stern glare. He doubted sex was what she meant.
"Yes. Well, you see, I haven't really been able to sleep, and I was hoping…" she trailed off.
He knew a good cure for insomnia. Something that would wear them both out.
Alex got up from the couch and headed to the kitchen for a glass of cold water. Maybe that would help get his sex drive under control.
The water didn't help, but when he heard her sniffle through the phone, that doused his fire. She was crying. Or almost crying. Great. He didn't hesitate. "Yeah, you can come over."
"I really wouldn't bother you." She sniffed again. "But it's been days. I can't sleep, and I was thinking because you were there, maybe seeing you would help."
He didn't know how he could help, but she was welcome to come cry on his shoulder. "I already agreed, babe."
"Oh, right. I'm not thinking clearly. Where do you live?"
After he offered to come get her, he gave her the address. Not ten minutes passed before she was at his door. He'd barely had enough time to put away his take-out container from dinner and tidy up a few things.
His smile was wide when he opened door, but it quickly vanished. She was a mess. More correctly, she was a wilted, tired shell of herself. Sure, her hair was combed, she had a bit of makeup on, slightly smudged beneath her eyes, and her clothing looked fresh, though perhaps a little stained from working in the kitchen that night. But the big dark circles under her eyes showed her exhaustion. She hadn't been lying. She looked ready to fall through the doorframe and sleep where she fell on the floor.
When was the last time she'd had a decent night's rest? He ushered her inside.
"I'm so sorry to do this to you." She wrung her hands as she spoke. "I hate to disrupt your life." Her eyes widened. "I didn't even think! Is anyone else living here? You're not married or something are you? I don't want to interrupt –"
Alex cut her off. "I live alone. No interruption. Don't worry."
She sighed.
"Come. Have a seat." He directed her to the living room. She perched on the edge of his couch. He pointed to her gauze wrapped finger. "What happened there?"
She glanced down at her left pointer finger. "I sliced it at work. Four stitches."
He winced. "Oh, got it good."
"I'm really tired, and made a mistake. My hand slipped. My dad was mad. He thinks I should be taking a few days off."
"Why don't you?"
She looked up at him, tears in her eyes. "What good will that do me? I can't seem to sleep anyway. What would being at home worrying help?"
He supposed that was true. Wanting to put his arm around her, he took a seat next to her, but didn't dare touch her. How bad was her PTSD after the attack? Would the touch of a man, even a compassionate touch, send her spiraling?
"Look, I know this is an imposition, and will sound like an odd request, but can I sleep here tonight?"
Here? He supposed she could. He could sleep on the couch. He'd been doing that before she called. "I guess so. If you think being in a house with another person will help."
She shook her head. "No, you misunderstand. I've been staying at my parents' place the last few days. Being with others doesn't help. I think I need you." She let out a shuddering breath. "I think I need to be close to you to sleep. It's odd, I'm sure, but I feel safe when you're around."
He supposed that made sense. Seeing as he was the first man she saw after the attack.
"So can I sleep here tonight? Like, I mean, in your bed?"