What Christmas books do I have?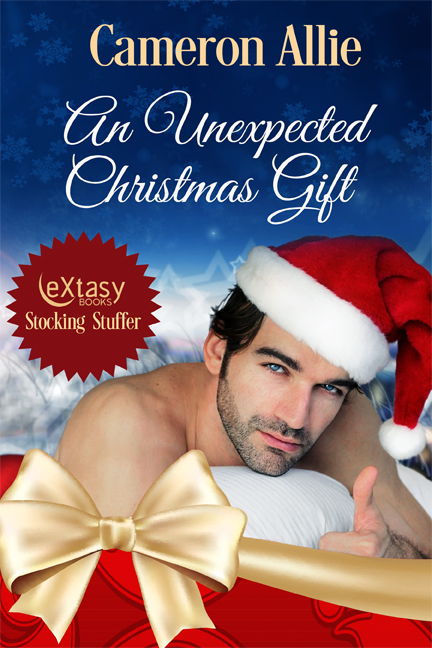 Type of story: Short Story
Spice: Explicit love scenes but nothing super kinky.
Is it connected to any other story?
Yes. It belongs in the Unexpected Changes series. This story can be read before, or after My Mistletoe Master, or as a standalone. Brent and Amy are side characters in My Mistletoe Master. In this story we also get to see Amelia and Nick (the main couple in My Mistletoe Master)
Book Blurb:
A holiday party. Two lonely people. Can one night of passion change what started out as a miserable night?
After a recent breakup, Brent is dragged by his cousin to the Fuller's Annual Christmas Party. There's plenty of food, good music and lots of pretty women. Brent's only problem is his mood. He has no interest in partying. That is, until he meets Amy.
Upset with one friend and missing another, Amy is suffering through what is normally the best party of the year. Trying to solve a problem for her friend, Amy is distracted and frustrated when she encounters Brent. She wonders if she can fix her problem and walk away with the sexy stranger from the patio, or will the evening end the way it began?
Type of story: Short novel
Spice: Very spicy. Light BDSM.
Is it connected to other stories?
Yes. It can be read as a standalone, but several characters from the story are featured in other books. You can check my reading order page for more information on those secondary characters.
Book Blurb:
Nick has always wanted Amelia Fuller, his best friend's little sister, but is he capable of overcoming a past that threatens to come between them?
Amelia Fuller has been in love with her older brother's best friend for the better part of two decades. After working up the courage to finally tell him how she feels, he broke her heart. Now, three years later, she's home for the Christmas holidays and finds Nick's feelings toward her suddenly changed.
Nick doesn't like to make the same mistake twice. When Amelia arrives home after a three-year absence, Nick Kelly decides he's no longer going to hide the way he feels about her. His friendship with her brother and a past that left him feeling ashamed were the only things holding him back, but missing her for three long years has finally put things in perspective for Nick.
After Nick catches Amelia enjoying a little fetish pornography, he convinces her to agree to a hot fling, but much to Nick's displeasure, she wants to keep their affair secret. Sneaking around and indulging in risky sexual play while staying at her parent's home for the holidays won't get Amelia everything she's always dreamed of. Terrified to expose her heart once more, Amelia struggles to discover whether they can overcome their past.
Type of Story: Small novel
Spice: Very spicy. BDSM club. Sharing of heroine. Probably my hottest book.
Is it connected to other stories?
Yes. This story can be read as a stand alone. But the heroine's sister also has her own story, so we see these characters again.
Book Blurb:
Can Kylie be naughty enough to get on Santa's list this Christmas?
When Kylie confesses that she's never enjoyed sex, she didn't expect her friend to suggest joining her at a BDSM club. Every December, the club's Santa picks one woman from his naughty list to take home for a night of uninhibited, wild sex. The catch? She has to prove she can be naughty enough to please him.
Already nervous, the last thing Kylie anticipated when she walked into the club, was that she'd recognize Santa. She certainly hadn't expected the holiday Dom to be her brother's, nicer than nice, best friend.
Type of story: Short novel
Spice: High heat level.
Is it connected to other stories?
Yes, it connects to The Naughty List. But both stories can be read as stand alones.
Book Blurb:
A notorious snoop with a voyeuristic streak has her own secrets. When one is discovered, will her world unravel?
Emmett has jumped multiple hurdles in his pursuit of Janet, but finally he's found the perfect opening. While rummaging in her office, Emmett unearths a binder containing boudoir photos, clearly from her personal stash. Emmett puts this new information to use, inviting her to watch him with another woman.
From the front seat of her car, Janet watches Emmett make love. It's hot, it's dirty, and it makes her realize something—she wants Emmett to herself. No more hiding, no more fighting her attraction to him. But is hot sex enough to overcome her past hurts? Can she trust him with her heart, her body, and secrets she's never dared to share before?
Type of story: Short story
Spice: f/f/m menage story, high heat level
Is it connected to other stories? No.
Book Blurb:
Three lonely people. One chilly winter evening. Multiple bottles of wine. A crackling fire. One hot night that might lead to more…
Brandi is interested in having a sexual affair with her friend Emily. Brandi thinks one hot night will be enough to cleanse her need for Emily, the only problem: Emily's straight.
Emily has a crush on their friend Reed, who has recently been dumped. Brandi sees this as an opportunity to help Emily capture Reed's attention, while also scratching her own itch. Quiet, bookish Emily agrees to Brandi's wicked plan, and finds herself more than a little intrigued by the idea of surprising Reed with a three-way.
Type of story: short story
Spice: Lower levels of spice. Still explicit love scenes.
Blurb:
Can a holiday miracle save their relationship?
With his relationship on the rocks and a wicked winter storm keeping him from his destination, Shane wonders if his relationship with Vicky is in its final days. Can a holiday miracle save them?
Shane and Vicky had plans to meet their friends at a secluded little cabin for some winter skiing fun. After months of stress and fighting, Shane hopes a weekend away will do their relationship some good. He'd hoped for hot cocoa near a roaring fireplace and maybe some hot make up sex.
But after getting a late start, losing the GPS signal, and getting lost in a snow storm, all his hopes are dashed. Things between them are tenser than they've ever been, and soon they find themselves at the mercy of a hotel clerk with a very limited selection of available rooms.
Can Shane find a way to reach Vicky through the frustration and anger? Can he find a way to save their relationship?
Type of story: short story (m/m)
Spice: Lower spice level, but love scenes are still explicit
Is it connected to other stories? Yes. This story is the second in the Our Love Story. All three short stories feature the same couple, but can all be read as stand alone shorts.
Book Blurb:
Jordan is tired of waiting for his boyfriend to come out of the closet. He's waited long enough to share their news, and as far as he's concerned, it's now or never.
After two years, Lance still refuses to tell his family he's gay and Jordan has had just about enough. At Christmas dinner, Lance's parents try to set him up with a family friend. For Jordan, that's the breaking point. Walking out on a good meal, and a great relationship, Jordan leaves Lance to figure out just what their relationship is worth. Is this the last Christmas they'll spend together?
Officer Mason's Christmas To Do List
Type: Very short story
Spice: It's basically just a bonus sex scene. Enjoy!
Is it connected to other stories? Yes. This is a bonus scene that features Heath and Riley from Tempting Officer Mason.
After dropping her son off at her mother's, Riley is desperate to attack her massive
Christmas shopping list. Her fiancé Heath has other plans. Plans that might just land
them on the naughty list, but first he has to convince Riley that her to do list can wait
just a little bit longer.